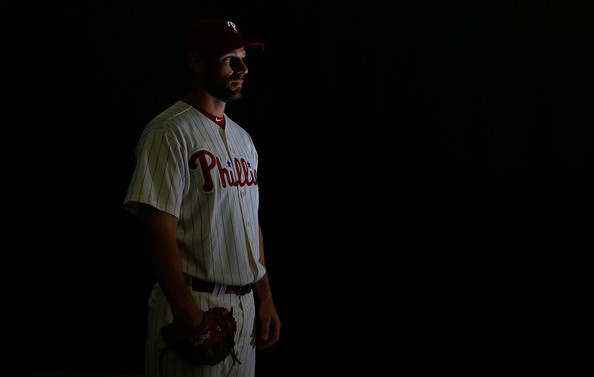 A new month begins today, which means it's time for another trip through the MLBTR archives. We looked at November 2010 last month, so now we'll dive into December 2010. The 2010-11 offseason was headlined by Cliff Lee's free agency, plus contract talks with Derek Jeter and to a lesser extent Mariano Rivera. Those were the biggest stories.
December is a crazy hot stove month thanks mostly to the Winter Meetings. The 2010 Winter Meetings were in Orlando from December 6th through 9th. The 2015 Winter Meetings are next week in Nashville. I've been to both places for the Winter Meetings. Orlando is a gazillion times better than Nashville. As a reminder, we're looking back at this stuff for fun, not to mock the MLBTR crew or anything. They're great. Let's get started.
December 1st, 2010: Yankees Re-sign Sergio Mitre
The Yankees have re-signed Sergio Mitre to a one-year, $900K deal, reports Jerry Crasnick of ESPN (via Twitter).  The right-hander could earn up to $200K more through incentives.  Mitre was entering his third year of arbitration eligibility.
Alright, starting with a bang. Mitre earned a World Series ring with the 2009 Yankees as a late-season swingman, then hung around as a tolerable long man (3.33 ERA and 4.69 FIP in 54 innings) in 2010. The Yankees re-signed him following that season, then traded him to the Brewers at the end of Spring Training. Then, after Milwaukee got tired of him, the Yankees brought Mitre back in a cash deal at midseason and he allowed nine runs in 4.1 innings. He hasn't pitched in MLB since that season or anywhere since 2012. The Sergio Mitre Experience was something else.
December 2nd, 2010: Derek Jeter Rumors: Thursday
2:28pm: The Yankees informed Close today they're willing to improve upon their three-year, $45MM offer to Jeter, reports ESPN's Jayson Stark.  Jeter's side lowered their request, adds SI's Jon Heyman on Twitter.

8:03am: Derek Jeter and his agent Casey Close reached out to the Yankees to set up Tuesday's meeting in Tampa, report Mark Feinsand and Bill Madden of the New York Daily News.  Hal Steinbrenner, Randy Levine, and Brian Cashman attended for the Yankees.
Talks with Jeter's camp finally got serious in early-December. Things got a little messy in November, with Cashman telling Jeter to look around and see what else the market had to offer. That was also when he told him he'd rather than Troy Tulowitzki. Anyway, the three-year, $45M offer ended up being close to the final number. The two sides weren't far apart at this point.
December 2nd, 2010: Minor Deals: Gotay, Rays, Duckworth, Carlyle
The Yankees signed right-hander Buddy Carlyle to a minor league deal, according to Joel Sherman of the New York Post. Carlyle, 32, spent the 2010 season in Japan after posting a 5.61 ERA with 6.9 K/9 and 3.4 BB/9 in parts of six big league seasons.
Buddy Carlyle! I totally forgot he was a Yankee. He spent most of the 2011 season with Triple-A Scranton but did make a cameo in the Bronx, allowing four runs in 7.2 mop-up innings. Carlyle spent 2012-13 season bouncing around Triple-A before pitching quite well with the 2014 Mets (1.45 ERA and 2.65 FIP in 31 innings). He was hurt most of this season but did get the save for the Mets on Opening Day.
The Mets went to the World Series this season, you know. Bullpens are so weird.
December 2nd, 2010: American League Non-Tenders
Yankees: Alfredo Aceves, Dustin Moseley
The Moseley non-tender made sense but man, the Aceves non-tender was really surprising at the time. He was pretty awesome for the 2009 Yankees (3.54 ERA and 3.75 FIP in 84 innings) but was limited to only 12 innings in 2010 due to back problems. His season ended in early-May. Aceves then broke his collarbone in a bike riding accident in November.
The Yankees were pretty desperate for rotation help during the 2010-11 offseason and, if nothing else, Aceves had the repertoire to start. Between that and his effectiveness in 2009, cutting him loose and getting nothing in return seemed insane. That the Red Sox picked him up and he had a fine 2011 season (2.61 ERA and 4.03 FIP in 114 innings) only made matters worse. That looked like a major blunder at the time.
Of course, Aceves' back then continued to be an ongoing problem and he is borderline crazy, so he was never effective after that 2011 season in Boston. He had a 5.39 ERA (5.13 FIP) in 140.1 innings from 2012-14 — that includes a brief return to the Yankees in 2014 — and spent the 2015 pitching ineffectively in Mexico (6.10 ERA in 87 innings)
Letting Aceves go during the 2010-11 ended up to be not that big a deal — the Yankees found rotation help and won the division — but man, that was a very surprising move at the time. Then again, we didn't know the extent of his back and attitude issues, so yeah.
December 3rd, 2010: Olney On Crawford, Berkman, Konerko
The Yankees are very much engaged in conversations with Crawford, though it's unclear whether they have the flexibility to spend on him and Cliff Lee (Twitter links). The Yankees plan to set up a meeting with Crawford, according to Jon Heyman of SI.com (Twitter link).
This is right about the time Cliff Lee panic was starting to become a thing. Up until this point the Yankees had signed pretty much whoever they wanted, so we were all confident they'd land Lee, but the Rangers were making a strong push and Lee didn't jump at New York's offer, so there was some doubt about whether they'd actually land him.
As for Carl Crawford, the 2010 outfield was the productive Nick Swisher, Curtis Granderson before his back-to-back 40+ homer seasons, and Brett Gardner coming off his strong first full season (112 wRC+). Jorge Posada was penciled at DH too, so there was no obvious spot the Crawford. The idea being tossed around was — and stop me if you've heard this before — sign Crawford then trade Gardner for a pitcher. That didn't happen, thankfully. Gardner has massively outproduced Crawford since.
December 3rd, 2010: Rosenthal On Greinke, Lee, Rangers, Yankees
The Rangers' main competition for Lee, the Yankees, could afford to have both pitchers in their rotation, but Rosenthal says "the Yankees don't view a Greinke trade as realistic" since they "still have reservations" about Greinke's ability to pitch in New York.
This was back when Zack Greinke was still with the Royals. They traded him to the Brewers that offseason and he later signed with the Dodgers. Does anyone still doubt Greinke's ability to pitch in a big market? He had a 2.30 ERA (2.97 FIP) in three years with the Dodgers and had a 2.38 ERA in six postseason starts. Can we put this all to bed now? Okay, good.
December 5th, 2010: Cliff Lee Rumors: Sunday
The Yankees have yet to make a formal proposal to Lee and his agent Darek Braunecker is hoping to get a deal done in Orlando, says Joel Sherman of the New York Post (Twitter links).
I remember the outrage when we found out the Yankees had yet to make a formal offer to Lee, though in reality it was no big deal. The two sides had talked and talked. The Yankees just didn't put a piece of paper in front of him to sign, which is the very last step in the process. It's not like the two sides send formal offers back and forth. They talk it out, then draw it up. The hot stove can be a real bitch.
December 6th, 2010: Blue Jays, Yankees, Mariners Interested In Diaz
3:15pm: The Yankees and Mariners are interested in Matt Diaz as a possible platoon player. New York would mix Diaz in with Brett Gardner and Curtis Granderson, according to Ed Price of AOL FanHouse.
Five years later and we still talk about finding a right-handed platoon partner for Gardner and the other outfielders. The more things change, eh?
December 6th, 2010: Russell Martin Suitors
FRIDAY, 9:16am: The Yankees, who tried to trade for Russell Martin this week, are one of six teams interested in the 27-year-old free agent, according to Ken Rosenthal of FOX Sports. Michael S. Schmidt of the New York Times reports that the Yankees nearly sent Francisco Cervelli to the Dodgers for Martin (Twitter links). In fact, the Yankees and Dodgers even exchanged medical records on Wednesday. 
Martin's 2010 season ended in August due to hip surgery and there was a lot of concern about his health at the time. The Dodgers were unable to work out a trade then ended up non-tendering him earlier in December. The Yankees tried to make a trade for him (obviously) but the Dodgers didn't want Cervelli. They chose nothing instead. Weird.
So, what happens if Cervelli-for-Martin deal goes down? Do the Yankees re-sign Martin following the 2012 season because they don't have Cervelli waiting in the wings? Gosh, that would change everything. No Brian McCann, no Justin Wilson … I wonder where the extra money (and draft pick!) goes. I'm not sure you can definitively argue the Yankees would have been better or worse.
December 6th, 2010: Yankees Notes: Feliciano, Wood, Pettitte
The Yankees are interested in re-signing Kerry Wood, according to MLB.com's Bryan Hoch (Twitter link). GM Brian Cashman says he isn't interested in paying Wood "closer money."
Wood was really awesome for the Yankees after coming over from the Indians at the 2010 trade deadline. He had a 0.69 ERA (3.39 FIP) in 26 innings and emerged as Joe Girardi's top setup reliever. Wood then allowed two runs in eight postseason innings. He ended up taking a steep discount to return to the Cubs (one year, $1.5M), which is admirable, and yet I still can't help but feel like #CashmanFailed.
December 7th, 2010: Odds & Ends: Yankees, Giants, Astros, Marlins
Mark Feinsand of the New York Daily News has some quotes from Yankees GM Brian Cashman, including praise for Boston's Adrian Gonzalez acquisition and an explanation that Dustin Moseley was non-tendered because he was looking for something greater than what New York had offered, and New York didn't want to go to arbitration.
Moseley was another one of those guys the Yankees seemed to like more than anyone realized. He wasn't very good in 2010 (4.96 ERA and 5.99 FIP in 65.1 innings) and ended up hooking on with the Padres after the season. Moseley was pretty good for them in 2011 (3.30 ERA and 3.99 FIP in 120 innings) before tearing up his shoulder swinging a bat. He's thrown 39 innings between MLB and the minors since. Stupid NL rules.
December 7th, 2010: At Least Seven Teams Checked In On Rich Harden
The Yankees, Twins, Rays, Diamondbacks, Brewers, Mariners, and Rockies have checked in on free agent righty Rich Harden, writes Jon Paul Morosi of FOX Sports.  Morosi says some teams like Harden as a starter, others as a reliever.
Fun fact: Yesterday was Harden's 34th birthday, meaning he was only 29 during the 2010-11 offseason. He had a 5.58 ERA (6.31 FIP) in 92 innings for the Rangers in 2010, but man, teams couldn't resist the lightning in his arm. At his peak, Harden had some of the nastiest stuff you'll ever see. Injuries, most notably a torn shoulder capsule, ruined his career.
I'm certain I wanted the Yankees to sign Harden during the 2010-11 offseason, even just to see what he looked like out of the bullpen, but it didn't happen. He took a one-year contract worth $1.5M to return to the Athletics and was terrible in 2011 (5.12 ERA and 4.69 FIP in 82.2 innings). Harden hasn't pitched at any level since. Injuries suck. This guy was as exciting as any pitcher in the game early in his career.
December 7th, 2010: Yankees Re-Sign Derek Jeter
The Yankees officially re-signed shortstop Derek Jeter to a deal worth a guaranteed $56MM, if he exercises a fourth-year player option.  A press conference is scheduled for this afternoon.
There it is. The two sides went back and forth in November but got serious and hammered out a deal in early-December. The deal was actually worth $51M over the first three years with a fourth year player option that included escalators for awards finishes. The Yankees and Jeter eventually tore up the option and replaced it with a new one-year contract.
Jeter rebounded to hit .297/.355/.388 (104 wRC+) in 2011, the first year of the deal, after putting up a .270/.340/.370 (93 wRC+) line and showing serious signs of decline in 2010. The Cap'n was even better in year two of the contract: .316/.362/.429 (117 wRC+) with an MLB leading 216 hits. Year three was marred by lower leg injuries (only 17 games).
The on-field production doesn't necessarily match the salary but I have little doubt the Yankees got their money's worth out of this contract. Jeter's marquee value is unmatched. He helped sell a ton of tickets, a ton of merchandise, and who knows how many advertising dollars he generated.
December 7th, 2010: Yankees, Rangers Finalists For Mark Prior
Cliff Lee isn't the only pitcher the Yankees and Rangers are bidding against each other on. Those two clubs are the finalists for Mark Prior, according to Tom Krasovic of AOLFanHouse (on Twitter). The 30-year-old right-hander has a connection to both clubs; he pitched in the Rangers' minor league system last year and the Yankees selected him 43rd overall in the 1998 draft, but were unable to sign him.
Similar to Harden, Prior was interesting because of who he used to be, not who he was at the time. Prior had just turned 30 and had thrown literally one inning from 2007-10 due to ongoing arm problems, including multiple shoulder capsule tears. There was no logical reason whatsoever to think he could contribute to an MLB team at that point. And yet good, smart teams like the Yankees and Rangers wanted him.
December 7th, 2010: Cliff Lee Rumors: Tuesday
The Yankees are on the verge of making Lee a lucrative offer and are awaiting the go-ahead from Braunecker, according to Andrew Marchand of ESPNNewYork.com. GM Brian Cashman says he's ready to get serious.
There were a lot of rumors at this point saying Lee was sitting on multiple six and seven-year offers, none of which were apparently true. The Yankees and Rangers had emerged as the major suitors at this point with some other clubs (Angels and Nationals, mostly) on the periphery. The Phillies were lying in the weeds. This was day two of the Winter Meetings in Orlando and the Lee market was really starting to heat up.
December 8th, 2010: CC Sabathia Unaffected By Cliff Lee
Yankees ace C.C. Sabathia has the ability to opt out of the remaining four years and $92MM remaining on his contract after the 2011 season.  It's been suggested that a Cliff Lee megadeal could prompt Sabathia to bail in search of more money or years, but he told George King of the New York Post, "It has no effect on me at all."
As long as he stayed healthy, Sabathia was always going to opt-out of his contract following the 2011 season. And the Lee deal did affect him in a way. It set the market for an ace-caliber starter near this 30th birthday. Lee signed for five years and $120M guaranteed. The new value of Sabathia's contract after his extension? Five years and $122M. Lee's contract may not have convinced Sabathia to opt-out, but it did help establish the price.
December 8th, 2010: Seven Teams Interested In Octavio Dotel
Seven clubs are interested in Octavio Dotel, according to Enrique Rojas of ESPNDeportes (on Twitter, in Spanish). The Diamondbacks, Blue Jays, Orioles, Twins, Pirates and Yankees have inquired on the right-hander, Rojas writes.
Dotel was one of those guys we talked about the Yankees potentially signing every offseason, it seemed. He was 37 during the 2010-11 offseason and managed to hang around three more years. Dotel eventually signed a one-year, $3M deal with the Blue Jays that offseason and was traded to the World Series winning Cardinals at the trade deadline. He had a 3.50 ERA (3.23 FIP) in 54 innings that year. Not bad. Not bad at all.
December 8th, 2010: Cliff Lee Rumors: Wednesday
The Yankees offered Lee a six-year deal worth $140MM, according to Mark Feinsand of the New York Daily News (on Twitter). George A. King III of the New York Post hears that the team is comfortable offering between $137.5MM and $150MM.
This was the first time we heard details of a contract offer. The Yankees reportedly ended up making two offers: seven years and $150M or six years and $138M with a $16M player option, so King's report was pretty much spot on. As a reminder, the Yankees did indeed make Lee the largest contract offer. The two largest offers, in fact.
December 9th, 2010: Andy Pettitte Rumors: Thursday
Brian Cashman spoke to Pettitte again on Wednesday, with the southpaw still on the fence about his decision, tweets Marc Carig of the Star-Ledger.
According to SI.com's Jon Heyman (via Twitter), Pettitte told the Yanks that pitching itself isn't a problem, but following his groin injury, he's not sure he can still do all the work necessary to pitch.
I love Andy Pettitte. Every Yankees fan does. But man, the "will he or won't he retire" thing was so exhausting. It seemed like he was leaning in a different direction every other day. There were also rumblings Pettitte was waiting to see what happened to Lee, because if Lee didn't sign with the Yankees, Andy was going to increase his demands. That never happened. Pettitte announced his retirement in February. His first retirement, anyway.
December 9th, 2010: Twins Would Consider Trading Slowey
The Twins would consider trading Kevin Slowey – especially if they re-sign Carl Pavano – reports Joel Sherman of the New York Post.  Sherman says the Twins have actually received inquiries on ace Francisco Liriano from the Yankees and others, but a team official can't imagine moving the lefty.
At the time, Liriano was similar to Carlos Carrasco now. He was a year younger but also had an okay 3.62 ERA (112 ERA+) with dynamite peripherals in 2010: 24.9% strikeout rate, 7.2% walk rate, 53.6% grounder rate, and a 2.66 FIP. Liriano only had two years of control remaining, however. Not three plus two options like Carrasco does now.
I remember being a big fan of pursuing Liriano that offseason — I wanted him even if the Yankees signed Lee because they needed multiple starters — but didn't expect it to happen. He remained in Minnesota, then wasn't very good (5.09 ERA and 4.54 FIP in 134.1 innings) and got hurt in 2011. The same thing happened in 2012 (5.34 ERA and 4.34 FIP in 156.2 innings). It wasn't until Liriano latched on with the Pirates in 2013 that he turned things around.
December 9th, 2010: Russell Martin Rumors: Thursday
Martin is weighing offers from the Yankees, Red Sox, Blue Jays and a mystery team, according to Marc Carig of the Star Ledger (on Twitter). The mystery team has proposed a multiyear deal.
Ah yes, the mystery team. They're always very aggressive in the offseason but rarely seem to actually land a player. That must be annoying for mystery team fans.
December 9th, 2010: Cliff Lee Rumors: Thursday
The Yankees have just gone to a seventh year for Lee, tweets SI's Jon Heyman.  With Carl Crawford and Jayson Werth getting deals of that length, it'd be hard to sign Lee without matching.  The Yanks' previous offer was reported to be six years and $140MM, so this one could nudge Lee past C.C. Sabathia for the largest contract ever given to a pitcher.
And there's the seventh year. The Yankees did lower the average annual value slightly, which seems to be their thing. Last offseason they agreed to the fourth guaranteed year for Chase Headley and Andrew Miller in exchange for a lower annual salary, which helps the luxury tax. I dunno, seems like the Yankees should use their financial might to do the opposite. Pay higher annual salaries to keep contracts short.
December 9th, 2010: Odds & Ends: Giambi, Upton, Crawford, Yankees
Yankees GM Brian Cashman told Jack Curry of the YES Network that the team dined with Crawford's representatives even though they weren't interested in signing the outfielder. Curry suggests the dinner could have been a bluff.
Crawford had signed with the Red Sox at this point. It came out later the Yankees never really had interest in him. They were just involved to drive up the price for Boston and put some pressure on Lee's camp, showing their many millions of dollars could end up elsewhere. The former may or may not have worked. The latter didn't.
December 12th, 2010: Cliff Lee Rumors: Saturday
Sherman's colleague, George A. King III writes that the Yankees will not increase their offer to Lee again. The Yankees have extended three offers, the longest of which is believed to be in the seven-year, $160MM range.
We heard on Saturday that some Yankees officials were expressing "a bit of skepticism" about the team's chances of landing Lee. ESPN.com's Buster Olney says the same thing today in his Insider-only blog. According to Olney, one Yankee exec told another team's GM that he figures the odds of New York signing Lee are about 50-50.
This was the first time we heard a) the Yankees had three different offers on the table (though I'm guessing that's not uncommon), and b) the Yankees express some doubt about landing Lee. Again, we were all in "the Yankees will sign whoever they want" mode at the time. For the first time, many Yankees fans were about to feel the burn of losing out on a top target.
December 13th and 15th, 2010: Phillies Sign Cliff Lee
The wait is over. In a surprising development that leaves two top American League teams empty-handed, Cliff Lee has signed a five-year, $120MM deal with the Phillies, the team announced today. The contract includes a $27.5MM vesting option for 2016 with a $12.5MM buyout, plus partial no-trade clause. 
The contract was officially announced on December 15th but word got out Lee agreed to sign with the Phillies late on the 13th. Here's our post on Lee signing with the Phillies. The old comments were nuked when we switched over to Disqus a while back — we have the comments database file but restoring them would be a pain — but I assure you, it was pure rage, especially since the Red Sox had just made the Crawford and Gonzalez deals.
Anyway, this was a major shock to the system. The Yankees didn't get the guy they so badly wanted — the last time that happened was 1991 with Greg Maddux — and the Phillies pretty much came out of nowhere at the 11th hour. New York's rotation was underwhelming at best — it was Sabathia, Phil Hughes, A.J. Burnett, Mitre, and the unproven Ivan Nova at that very moment — and while Lee alone wouldn't have fixed everything, he would have been a major help.
Remember, the Yankees went to the ALCS in 2010 and were two wins away from returning to the World Series when they lost to Lee and the Rangers. The thinking at the time wasn't "how do the Yankees get back to the postseason" like it is now. It was "they're going back to the postseason because they always go to the postseason, and Sabathia and Lee would be an unstoppable one-two punch."
The Yankees didn't get the pitcher they wanted and suddenly they had a lot of money burning a hole in their pocket. Their austerity plan had not yet fully kicked in and the team was very willing to trade top prospects. They were in full blown win-now mode and the greatest win-now piece had just taken less money (and fewer years) to go elsewhere. Ouch.
December 13th, 2010: Yankees Have Some Interest In Jerry Hairston Jr.
The Yankees appear to have inquired on Jerry Hairston Jr., according to Marc Carig of the Star Ledger (on Twitter). The 34-year-old played second, third, short and all three outfield positions with the 2009 World Series Champion Yankees. 
Fun fact: Hairston was in left field when the 27th out of the 2009 World Series was recorded. Johnny Damon scored from second on Hideki Matsui's single in the third inning and pulled his calf. He was lifted after the inning and Hairston took over. Melky Cabrera got hurt earlier in the series, so if the Yankees didn't win Game 6, chances are the Game 7 outfield would have been Hairston, Swisher, and the then-unproven Gardner.
Anyway, Hairston spent that half season in New York, signed with the Padres in 2010, played way too much (82 wRC+ in 476 plate appearances), then wound up signing with the Nationals. I liked the idea of signing Hairston as the bench guy — he played everywhere and had a .325 OBP from 2008-10, what more could you expect? — but understood he was probably going to go somewhere that offered more playing time. He had 376 plate appearances with the Nats in 2011, about twice as many as I hoped he'd get in New York.
December 13th, 2010: Zack Greinke Rumors: Monday
12:09pm: Royals GM Dayton Moore is "actively gauging" the trade market for Zack Greinke, reports ESPN's Jerry Crasnick.  Moore "has focused on adding up-the-middle position players who are close to major league ready," and the Yankees, Rangers, and Brewers are not considered among the best matches.

…

Brett Gardner's name has come up in talks between the Royals and Yankees, according to Crasnick. 
Gardner was the only player the Yankees had who fit the "MLB ready up-the-middle guy" mold. They had traded Austin Jackson in the previous offseason to get Granderson and Eduardo Nunez was hardly a top prospect. I don't think the Yankees were ever serious about Greinke because they were concerned about him in New York, but, even if they did want him, they didn't have the pieces to get him.
December 14th and 15th, 2010: Yankees Sign Russell Martin
The Yankees' $4MM deal with Russell Martin is official now that he has passed his physical, according to ESPN.com's Buster Olney (Twitter links).  With Jorge Posada moving into a designated hitter role next year, Martin should be the Yankees' starting catcher.  Since Martin has less than five years of service time, he's under team control for 2012 as an arbitration eligible player.
The Yankees and Martin agreed to the contract on the 14th and it became official a day later. Nowadays the Yankees keep things so quiet we go from rumor to reports of an agreement to a press release in a matter of hours. In November we heard the Yankees were planning to move Posada to DH and Martin was signed to be the starting catcher.
What we didn't know at the time was the value of pitch-framing and stuff like that. Ben Lindbergh, a former Yankees intern, explained the team discovered the value of framing during the 2009 season, and it surely was a driving force behind the Martin signing. He was a top notch defensive catcher, the framing metrics loved him (as we later found out), and he had some pop.
Not many were thrilled with the Martin signing — he went from a 122 wRC+ in 2007 to 112 in 2008 to 87 in 2009 to 90 in 2010, after all — but, in hindsight, getting him for $4M (!) plus another year of control through arbitration was a damn steal. The Yankees were way ahead of the curve on the whole catcher defense/framing thing.
December 14th, 2010: Cliff Lee Signing: The Fallout
From Joel Sherman of the New York Post: "One Yankees executive likened what they now face as losing out on Microsoft stock and instead having to diversify the portfolio to keep it strong."  The Yanks have added Russell Martin and will probably look into innings-eaters or reclamation project starters.  They're also expected to add two relievers and a righty-hitting fourth outfielder.  So, they'll spread the wealth.
GM Brian Cashman preached that "Plan B is patience."  He feels that prices will go up with teams, and I assume agents, sensing blood in the water.  He's also willing to wait until the season to make an acquisition.
I vividly remember fans taking the "Plan B is patience" line not well. After Lee signed with the Phillies, there were calls to fire everyone, to trade every prospect, to tear it down and rebuild, basically every nonsensical thing you could imagine. It was something else.
There was no obvious second free agent pitcher to target that offseason. The best free agent hurlers behind Lee were Pettitte and Hiroki Kuroda, and Kuroda re-signed with the Dodgers during the exclusive negotiating period and never actually became a free agent. So spreading the wealth around and having patience was the best thing to do. It was the only thing to do, really.
December 14th, 2010: Yankees Re-Sign Mariano Rivera
The Yankees re-signed Mariano Rivera to a two-year deal, the team announced today. The contract will pay Rivera $30MM, according to Christian Red of the New York Daily News. 
Nice and easy. A painless negotiation. In November we'd heard the Yankees wanted to limit Rivera's deal to one-year but eventually they gave in. Contracts talks with Rivera were pretty much the opposite of talks with Jeter, possibly because Rivera had shown few if any signs of decline. Jeter's production took a big step back in 2010.
December 15th, 2010: Yankees Sign Mark Prior
It's not Cliff Lee, but the Yankees have added a big-name pitcher. They signed Mark Prior to a minor league deal, the team announced today. ESPN.com's Jerry Crasnick first reported the deal (on Twitter). Prior will earn $750K in the major leagues and could earn $750K more in incentives, according to Jon Heyman of SI.com (on Twitter).
A bunch of very original "World Series here we come!" remarks followed the Prior signing. The snark was laid on extra thick after the Lee signing. Prior threw 12 innings for the Yankees in their farm system in 2011 before getting hurt again. The Red Sox and Reds gave him chances in 2012 and 2013, respectively, but injuries continued to be a problem. Prior officially announced his retirement in December 2013. Sucks.
December 15th, 2010: Minor Deals: Yankees, Chulk, Van Every, Coats
The Yankees signed Doug Bernier, Buddy Carlyle, Neal Cotts and Gustavo Molina to minor league deals, the team announced.
We discussed Carlyle earlier. Bernier spent 2011 in Triple-A and never got called up. Cotts failed his physical in Spring Training and was released. Molina was on the 2011 Opening Day roster though. I kid you not. Cervelli fouled a ball off his foot in Spring Training and suffered a fracture, forcing him to start the season on the DL. Thanks to all the April off-days, Martin started 22 of the team's first 24 games that year. Molina started the other two. He went 1-for-6 with a double before being sent to the minors when Cervelli returned in early-May. Forgotten Yankee Gus Molina.
December 15th, 2010: Yankees Rumors: Pettitte, Lefty Relievers, Lee, Martin
Bill Madden of the New York Daily News says Carlos Zambrano is a "likely target" for GM Brian Cashman. Like new addition Mark Prior, Zambrano knows Yankees pitching coach Larry Rothschild from their time in Chicago.
This didn't pass the sniff test. The Yankees needed pitching after losing out on Lee, but Zambrano had started to decline and he had shown throughout his career that he's a loose cannon. The Yankees had already started emphasizing makeup to a high degree by this point and there's just no way Zambrano was going to fit. He had a 4.82 ERA (4.59 FIP) in 2011 and has been out of baseball since 2013. Nope. Nope nope nope.
December 16th, 2010: "Heavy Action" On Bobby Jenks
WEDNESDAY, 9:07pm: It's a good time to be a free agent reliever, and one of the biggest on the market (both literally and figuratively) is former White Sox closer Bobby Jenks. Ken Rosenthal of FOX Sports tweets that there is "heavy action" on the right-hander, with both the Rays and Yankees showing interest. Jenks is not close to a decision, however.
Jenks was still a pretty big name at the time and he had better peripherals (2.59 FIP in 2010) than run prevention (4.44 ERA) numbers, plus he was a Proven Closer™, so teams wanted him. The Yankees didn't sign him and got killed for it, especially after losing out on Lee. Boston eventually gave Jenks a two-year, $12M contract and he had 6.32 ERA (4.19 FIP) in only 19 innings during the contract because of serious back problems and off-the-field issues.
December 16th, 2010: Odds & Ends: Nady, Rangers, Felix, Gregg
The Yankees called the Mariners about Felix Hernandez and heard that he is absolutely not available, according to Jon Heyman of SI.com (Twitter link).
Felix was only 24 at the time. Hey, you're never going to get Scott Kazmir for Victor Zambrano if you don't ask.
December 16th, 2010: Yankees Rumors: Soriano, Hall, Garcia, Joba
The Yankees are not in on Rafael Soriano, according to Joel Sherman of the New York Post (Twitter link). They aren't anxious to pay closer money for a pitcher who will set up for Mariano Rivera. ESPN.com's Buster Olney agrees that the Yankees are not in on Soriano (Twitter link).
The Yankees were not in on Soriano … yet. A few weeks later Scott Boras more or less spooked ownership — losing Lee and the Red Sox's big offseason gave him plenty of fuel — into panic signing Soriano.
December 17th, 2010: Yankees To Sign Pedro Feliciano
The Yankees have agreed to sign Pedro Feliciano, according to Jon Heyman of SI.com (Twitter link). MDR Sports represents the left-hander. The two-year deal will be for $8MM and include an option for 2013.
Feliciano blew out his shoulder in Spring Training and never did appear in a game for the Yankees. $8M for zero pitches is good work if you can get it. Feliciano did briefly resurface with the Mets in 2013, and he spent some time in Triple-A with the Cardinals in 2014, but that's it. He didn't pitch at all in 2015. The Feliciano signing was a disaster, but, on the bright side, it convinced the Yankees to stop paying top dollar for lefty specialists. At least until they gave Matt Thornton two years and $7M three years later.
December 17th, 2010: Odds & Ends: Angels, Greinke, Tigers, Gregg
The Yankees have spoken to the Astros about acquiring Jeff Keppinger for their bench, Rosenthal and Jon Paul Morosi report. The infielder is available, but a trade does not appear close.
People still go nuts over Jeff Keppinger types. Those okay but not really good and super versatile types. Keppinger had a good year with Houston in 2010 (104 wRC+ in 527 plate appearances), didn't get traded, then stunk in 2011 (88 wRC+ in 400 plate appearances). The Yankees, meanwhile, went into the season with Nunez and Ramiro Pena as their backup infielder options after fudging around with Hairston and Keppinger.
December 17th, 2010: Minor Deals: Antonelli, Parraz
The Yankees have claimed outfielder Jordan Parraz off of waivers from the Red Sox, tweets Jon Paul Morosi of FOX Sports.  The 26-year-old's time in the Boston organization was rather brief as the club claimed him off of waivers from the Royals just three weeks ago.
Parraz was a middling prospect at the time and the Yankees grabbed him because they had very little outfield depth at Triple-A, unlike today. The Triple-A outfield at the time was Greg Golson, Chris Dickerson, and a potted plant. Parraz hit .289/.362/.440 (123 wRC+) with nine homers in 495 plate appearances for the Scranton Yankees then became a minor league free agent after the season. He's bounced around the minors since but did not play at all in 2015.
December 17th, 2010: Odds & Ends: Hall, Wood, Jenks, Angels
The one-year, $1.5MM guarantee that Kerry Wood received from the Cubs isn't close to the bids he received from the Yankees and Red Sox, tweets Jon Heyman of Sports Illustrated.  In fact, the Yankees would have bid $10MM over two seasons if the right-hander was interested.
Like I said, Wood took a sweetheart deal to go back to the Cubs. I wonder if re-signing Wood would have meant no Soriano signing. Probably not. That doesn't seem like the kind of deal that would prevent anything else, plus there's always room for another arm in the bullpen.
December 19th, 2010: Yankees Sign Luis Vizcaino
The Yankees have signed right-hander Luis Vizcaino to a minor league contract according to Marc Carig of The Star Ledger (via Twitter). If he makes the team, he'll earn $750K.
The Viz! Vizcaino had an okay year with the Yankees in 2007, then left as a free agent — the Yankees got a draft pick for him (!) under the old system and used it on Jeremy Bleich — and both stunk and got hurt with the Rockies. The team liked what they saw out of him in winter ball and rolled the dice. Vizcaino then got hurt in Spring Training and was released. The Viz didn't pitch at all in 2011, though, at age 41, he was still active in 2015. He had a 7.20 ERA in 20 innings for two teams in Mexico.
December 20th, 2010: Yankees, Mets, Others Considering Freddy Garcia
The Yankees, Mets, and others have asked for medicals on free agent starter Freddy Garcia, tweets SI's Jon Heyman.  Mark Feinsand of the New York Daily News was first to report the Yankees' request.  The White Sox have also checked in, tweets Feinsand's colleague Andy Martino.  Heyman opines that Garcia is the best free agent starter left after Carl Pavano.
Man, I hated the idea of Garcia as a rotation option. All those arm injuries turned him into a junkballer and he had a 4.64 ERA (4.77 FIP) in 157 innings for the White Sox in 2010. I though he would be a total disaster in Yankee Stadium and the AL East. You can't overstate how anti-Garcia I was at the time. This is your regular reminder that I have no idea what the hell I'm talking about.
December 20th, 2010: Odds & Ends: Pavano, Greinke, Soria, Pettitte
Greinke fired his agents at SFX after the Winter Meetings because he felt they were responsible for his not being traded, tweets Yahoo's Jeff Passan.  Passan adds that SFX facilitated a deal with the Nationals, but the pitcher rejected it.  SI's Jon Heyman tweets that the Royals sought Jesus Montero and Eduardo Nunez from the Yankees, but they weren't convinced New York was right for Greinke.  The Royals also wanted Manuel Banuelos or Dellin Betances, tweets Joel Sherman.
The idea of Montero plus Banuelos (plus Nunez) for Greinke was preposterous at the time and is a total no-brainer in hindsight. Heading into the 2011 season Baseball America ranked Montero as the No. 3 prospect in baseball …

… and Banuelos as the No. 41 prospect (Betances was No. 43), and giving up that much for two years of a pitcher seemed crazy, even a pitcher as good as Greinke. Fans (and teams) seem much more willing to trade prospects for established big leaguers these days, thankfully. Do the Royals win the 2015 World Series if they trade Greinke for Montero plus Banuelos (or Betances) plus Nunez? Almost certainly not.
December 21st, 2010: Odds & Ends: Garcia, Yankees, Red Sox, Konerko
The Bronx Bombers also make their share of major deals and, as Ronald Blum of the AP notes (via the Miami Herald) the Yankees were hit with an $18MM luxury tax for their 2010 spending. The Red Sox were the only other team hit with a tax; they owe $1.5MM.
The Yankees have been paying approximately $20M in luxury tax for a few years now, give or take a few million bucks. It's wasted money, I get that, but man I still hate that the Yankees haven't increased payroll at all since the new Yankee Stadium opened. The luxury tax is working. The playing field is being leveled and the owners are getting richer.
December 22nd, 2010: Jeff Francis Suitors
The Mets, Nationals, Pirates, Rangers, and Yankees have varying degrees of interest in free agent lefty Jeff Francis, tweets ESPN's Jerry Crasnick.  Crasnick named five interested clubs a month ago: the Pirates, Mariners, Brewers, Astros, and Rockies.  It appears that a few teams dropped out and others jumped in; this is the first we've seen of the Yankees' interest.
In the week after Lee signed with the Phillies, the Yankees appeared to go into full blown dumpster diving mode with Garcia and Francis. They didn't sign Francis — the Royals did and he was bad in 2011 (4.82 ERA and 4.10 FIP in 183 innings) — but the fact they were interested in guys like this, pitchers coming off injuries and bad years (Francis had a 5.00 ERA and 3.88 FIP in 104.1 innings for the 2010 Rockies), really drove home how desperate the Yankees were for pitching and how little the market had to offer.
December 22nd, 2010: Yankees Interested in Johnny Damon
The Yankees are interested in bringing Johnny Damon back to New York and are discussing a potential reunion with him, according to Newsday's Ken Davidoff. Davidoff reports that the Yankees are open to bringing the 37-year-old back as a part-time left fielder and DH. Though the sides have had multiple conversations about possible deals, Damon would ideally like more guaranteed playing time.
The Yankees let go of Damon at just the right time. He had a great year in 2009 (122 wRC+) but his performance slipped with the Tigers in 2010 (107 wRC+). Between that and his bad defense, Damon was a below-average player overall at that point. As far as we know talks between the Yankees and Damon never did get serious during the 2010-11 offseason, so he landed with the Rays, where he had a 108 wRC+ as their primary DH in 2011.
December 23rd, 2010: Odds & Ends: Yankees, Blanton, Garza, LaRoche
The Yankees have "had internal chats" about signing Manny Ramirez, tweets Jack Curry of the YES Network.  Curry rates the odds of Ramirez in pinstripes as even slimmer than those of the Yanks signing Johnny Damon, which Curry says "is also unlikely."
I remember being pro-Manny at the time. The Yankees didn't have an obvious place to put him — the outfield was full and Posada was set to play DH — but he had just hit .298/.409/.460 (140 wRC+) with nine homers in 90 games for the Dodgers and White Sox in 2010. It was never going to happen though. Manny joined Damon with the Rays and was suspended for performance-enhancing drugs for the second time just a few days into the season. He hasn't played in MLB since.
December 28th, 2010: Soria Wouldn't Block Trade To Yankees
The Royals have looked firm this offseason in their unwillingness to ship off Joakim Soria. The All-Star closer, on the other hand, appears comfortable with migrating to another market and, more specifically, to New York. In an interview with the Mexican paper Vanguard (link in Spanish), Soria told Roberto Espinoza that he doesn't give much weight to the no-trade clause in his contract, which reportedly allows him to block trades to the Yankees, Red Sox, Tigers, Phillies, Cardinals, and Cubs.

"I didn't put it there, my agent did, as a strategy," Soria said. "But if the Royals decide to trade me to New York I would gladly go to play with the Yankees or any other team… I repeat, I would not block a trade to the Yankees. I like to play baseball and I would play with any team."
Whenever we find out a player includes the Yankees in his no-trade clause, people also say he doesn't want to come to the New York. That's not always the case though. Players routinely include big market clubs in their no-trade clauses to create leverage. Those are the teams that can pay to get the player to accept a trade. They can guarantee an option or work out an extension, something like that. It's just leverage, it has nothing to do with not wanting to play somewhere.
Anyway, Soria was ridiculously good at the time (2.01 ERA and 2.76 FIP from 2007-10) but the Royals kept him that offseason, he had a down 2011 season (4.03 ERA and 3.59 FIP in 60.1 innings), then blew out his elbow and missed the entire 2012 season following his second Tommy John surgery. Soria left as a free agent after that season and Kansas City ended up getting nothing in return for one of their top trade chips at a time when they were knee deep in a rebuild.
December 30th, 2010: Rangers, Yankees, Indians Interested in Bartolo Colon
Bartolo Colon's work in the Dominican winter league has continued to draw the attention of major league teams, and the 37-year-old starter sounds eager to sign. According to an AP story out of Santo Domingo, Colon told reporters in the Dominican Republic yesterday, "Texas, Cleveland, and the Yankees are interested in me" (link in Spanish).
Ah yes, more so-called dumpster diving. Colon, who did not pitch at all in 2010 and threw only 257 ineffective innings from 2006-09 (5.18 ERA and 5.02 FIP) due to arm trouble, joined Garcia and Francis in the ewww they really might sign him? pile in the post-Lee world. But he was throwing well in winter ball — Tony Pena was his manager — and the Yankees liked what they saw, so they picked him up. Garcia and Colon combined to give the Yankees a 3.82 ERA in 311 innings in 2011. Friggin' wild, man.