We have to interrupt Retro Week for a no good, very bad reason. Greg Bird will undergo surgery to repair a torn right labrum in his shoulder later today, the Yankees announced yesterday. Although Bird was not projected to be on the Opening Day roster, he is still an important piece of the organization, and chances are his absence will be noticeable in 2016. I have thoughts.
1. Bird missed a month with a right shoulder strain in Double-A last summer and the Yankees acknowledged in yesterday's press release this injury is a "reoccurrence of a right shoulder injury sustained in May of 2015." It's fair to wonder whether the Yankees missed the injury in May or underestimated the severity, but I don't think that's the case. Bird hit well in the minors after returning and he mashed in the big leagues, swatting eleven homers in 46 games. There was no indication his shoulder was an issue.  The injury could have worsened due to the wear and tear, plus this is one of those things that could have been exacerbated as he ramped up his weightlifting in the weeks leading up to Spring Training. (Brian Cashman told Chad Jennings this popped up within the last ten days or so.) It sucks. Injuries happen.
2.. The long-term effect of the surgery is a legitimate concern. It is Bird's right shoulder, so his front shoulder when hitting, and several players have lost power after having surgery on their front shoulder in recent years. Brian McCann, Matt Kemp, and Adrian Gonzalez are the three most notable examples. Here's a really quick graph I whipped up: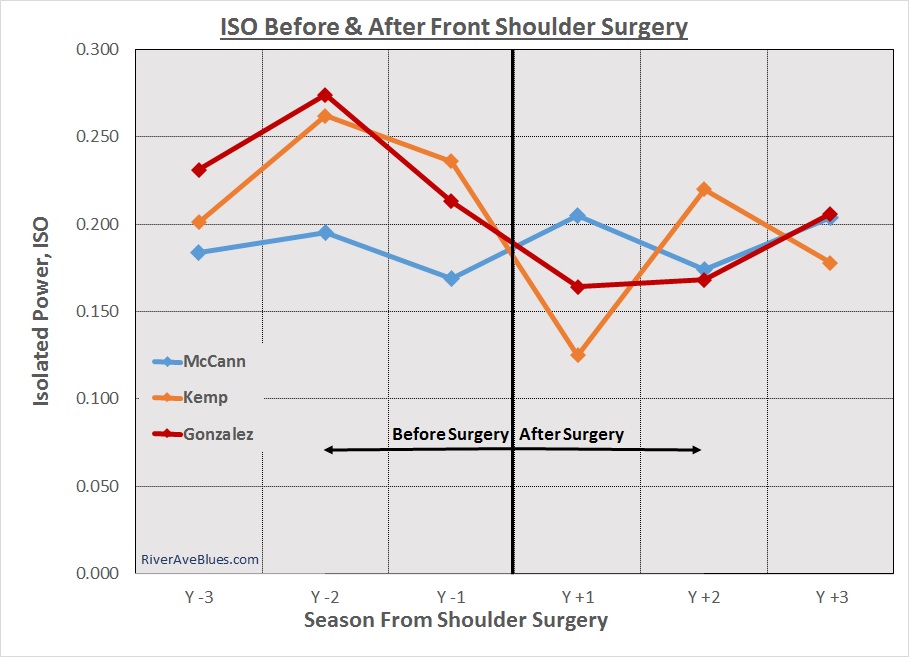 Y+1 is the first year after the player had surgery. Y+2 is the second year after surgery. Y-1 is the year before surgery. Got it? McCann's power numbers actually held steady before and after the surgery, but both Kemp and Gonzalez suffered significant power hits. Gonzalez has never really regained his pre-surgery power either. Kemp needed a full year to bounce back. So these three represent the three possible outcomes: Bird comes back fine (like McCann), Bird gets back to normal after a year or two (like Kemp), or Bird never gets back to where he was (like Gonzalez). The injury stinks for 2016. I'm much more concerned about the long-term impact.
3. The injury changes the outlook of Mark Teixeira's impending free agency, doesn't it? Before Bird got hurt it was pretty easy to assume the Yankees would simply let Teixeira walk next offseason, and maybe make him the qualifying offer depending on his production. The shoulder injury has made Bird a big question mark for 2017. No one knows what to expect from him following surgery. Suddenly re-signing Teixeira to a short-term deal doesn't seem so far-fetched. There's still an entire season that has to play out before we can seriously talk about the Yankees re-signing Teixeira, and by then we'll have much more information. About Bird's rehab, about Teixeira's ability to produce, all sorts of stuff. Point is, Bird's injury increased the odds of Teixeira returning to the Yankees in 2017 by some amount. I'm not sure how much exactly, but by some amount. (At the very least, the Yankees will need a capable Plan B at first base in 2017 behind Bird.)
4. I couldn't tell you how many people I saw suggesting the Yankees sign Pedro Alvarez after the news yesterday. Bird was not going to be on the MLB roster and chances are Alvarez is not looking to take a minor league contract. Alvarez wasn't a great fit for the roster anyway because he's essentially a platoon DH. The opportunity for playing time in the Bronx has increased only slightly because Bird's injury doesn't open up a big league roster spot. Now, if Teixeira were to get hurt in Spring Training, then it would be different. Hopefully that's not the case. Right now the Yankees lost a depth player, not a 2016 MLB piece. Alvarez still is not any kind of solution unless he's willing to go to Triple-A. (Cashman did confirm the Yankees will look for first base help on a minor league contract. Maybe Ike Davis?) That's where the roster hole is right now. In Scranton. Maybe this will push the Yankees to sign Juan Uribe, who has first base experience. That would be sweet. It would also mean spending money.
5. Dustin Ackley was and still is the backup first baseman on a day-to-day basis. Whenever Teixeira needs a day off his feet or whatever. The real issue is the Yankees no longer have someone who can step in to play first base should Teixeira go down for several weeks, which he has done a few times in recent years. Maybe Ackley's late season power surge is real and he can be that long-term fill-in. History suggests that is not the case though. Eric Jagielo has been traded, so he's no longer an option. The first base security blanket is gone, and given Teixeira's propensity to get hurt, that could potentially be a big problem in 2016. Bird was a piece of Grade-A depth at a position where the Yankees figure to need that depth at some point this coming season.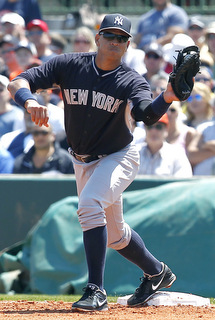 6. I've said this before and I'll say it again: I'd like the Yankees to give Alex Rodriguez some time at first base in Spring Training so he could play the position once in a while during the regular season. Not everyday or even once a week, but every so often, just to increase his versatility. Having a player who is incapable of playing the field really hurts roster flexibility. I don't expect the Yankees to give A-Rod any time at first base — or third base, for that matter — in Spring Training. They've made it pretty clear he is a DH and a DH only at this point of his career. Too bad. Maybe they'll give Rob Refsnyder some reps at first base. What else are they going to do with him?
7. Last week I went through the projected Triple-A Scranton roster in an attempt to figure out who fits where, and based on the available players, Tyler Austin looked likely to get stuck in Double-A. The Bird injury opens up first base with the RailRiders and could create regular playing time for Austin. (Brian Cashman told Brendan Kuty they're not planning to play Austin at first, for what it's worth.) The 2016 season is basically Austin's last chance to carve out a future with the Yankees, and if he's able to show something offensively at Triple-A and handle first base — he's played the position a bunch in his career, that shouldn't be a problem, the concern is his bat — he could step in as Bird's temporary replacement, both in 2016 and possibly 2017 if he needs time to get back to normal.
8. Possible silver lining: more playing time for Gary Sanchez. The Yankees could give McCann more regular reps at first base, freeing up time behind the plate for Sanchez. The service time benefit of sending Sanchez to Triple-A for 35 days is too great to ignore — 35 days in the minors in 2016 equals control of Sanchez's age 29 season in 2022 — and I'm still on board with sending him to the RailRiders for a few weeks. But, once Sanchez is with the big league team, maybe McCann sees a little more time at first base, especially if Teixeira is nursing some kind of injury. I'm grasping at straws here. There's nothing good about a young player like Bird undergoing major surgery. Make no mistake, his injury is very bad for 2016 and potentially beyond, regardless of whether Sanchez sees more playing time.