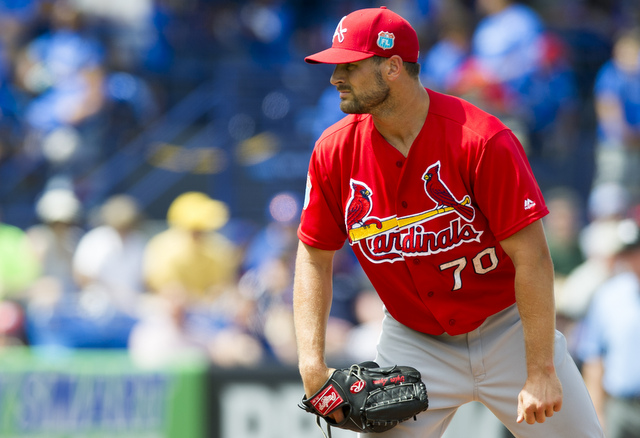 Each year at the end of Spring Training, there is always a flurry of minor trades as teams finalize their Opening Day rosters. Most of those deals feature out of options players, the guys who have to go through waivers to be assigned to the minor leagues. Rather than lose them for nothing on waivers, teams trade those guys for whatever they can get. Cash, a middling prospect, whatever.
The Yankees have three out of options players: Dustin Ackley, Ivan Nova, and Austin Romine. Ackley and Nova will be on the Opening Day roster in some capacity. Romine is battling for the backup catcher's spot and could very well end up out of the organization before the start of the regular season. Over a hundred players are out of options this year and the majority have Opening Day roster spots locked up. Very few are actually available.
The out of options market appears to have less to offer than usual this year. I mean, the out of options market is not a gold mine or anything, but usually there's one or two useful players without roster spots. Not this year. As a result, there are very few out of options players who make sense for the Yankees. With an assist from MLBTR, here are five out of options players of potential interest.
IF Cristhian Adames, Rockies
2016 ZiPS: .284/.327/.386 (78 wRC+), 7 HR, 10 SB, +1.1 WAR
Why? Utility infielder Daniel Descalso took a pitch to the hand and broke a bone last week, clearing a bench spot for Adames. He's a 24-year-old switch-hitting infielder who came up as a shortstop and also has experience at second and third bases, making him a candidate for that last bench spot. Adames has no power, but he's had decent contact rates throughout the minors, and he has a reputation for being a strong glove man. He's basically a taller, switch-hitting version of Ronald Torreyes. The Descalso injury creates a need for the Rockies though, so Adames figures to stick around in Colorado for a little longer.
LHP Tyler Lyons, Cardinals
2016 ZIPS: 3.98 ERA (3.89 FIP), 20.7 K%, 5.1 BB%, +1.4 WAR
Why? The Yankees drafted Lyons with their tenth round pick in 2009, but he opted to return to Oklahoma State for his senior season, then the Cardinals grabbed him in the ninth round in 2010. Lyons, 28, has starter stuff — four and two-seamers right around 90 mph, low-80s slurve, low-80s changeup — but no rotation spot. He doesn't have a bullpen spot either since it is "more likely than not" the Cardinals will carry Rule 5 Draft pick Matt Bowman into the season, according to Adam Rubin.
The Yankees don't have any room in their rotation either, but they definitely have room in the bullpen, and Lyons could be another long man who serves as rotation insurance. He's handled heavy workloads and shown the ability to bounce back quickly, so his arm is pretty resilient, and that's a plus. If the Cardinals can't squeeze Lyons onto their roster, I suspect more than a few teams will come calling.
RHP Neil Ramirez, Cubs
2016 ZiPS: 2.94 ERA (3.34 FIP), 27.4 K%, 9.9 BB%, +0.5 WAR
Why? Right now the Cubs have eight relievers for seven bullpen spots, and it looks like the last spot will go to either Ramirez or veteran lefty Clayton Richard. Ramirez was limited to 14 innings last year by shoulder problems and Richard signed a $2M contract over the winter, so yeah. Safe to say Richard is the favorite for that spot right now.
Ramirez, 26, is an ultra-rare four-pitch reliever. He lives in the 91-95 mph range with his two and four-seam fastballs, and he also throws a mid-80s slider and an upper-70s curveball. As a result, Ramirez has had a minimal platoon split in his career, and he misses an awful lot of bats. The shoulder trouble is a concern, as is the elbow inflammation he dealt with in 2014, so he's risky. If healthy though, Ramirez could be a nice little middle innings weapon.
RHP Michael Tonkin, Twins
2016 ZiPS: 3.88 ERA (3.72 FIP), 20.9 K%, 6.5 BB%, +0.4 WAR
Why? Tonkin might throw too hard for the Twins. Okay, fine, that joke is outdated, but it does appear the Twinkies don't have room in the bullpen for the 26-year-old Tonkin and his mid-90s gas. J.R. Graham, Ryan Pressly, Alex Meyer, and Ryan O'Rourke are his competition for a bullpen spot. Tonkin spent most of last season in Triple-A and he owns a 3.35 ERA (4.07 FIP) in 53.2 big league innings over the last two seasons.
For what it's worth, I don't think Tonkin makes sense for the Yankees given their shuttle relievers. He's not much different than, say, Branden Pinder or Nick Goody. They're all fastball slider guys, except Pinder and Goody have options and Tonkin doesn't. Adding another arm to the stable is never a bad idea, but Tonkin can's start like Lyons and he doesn't offer four pitches with a history of missing bat like Ramirez. He's just another guy.
RHP Steven Wright, Red Sox
2016 ZiPS: 4.58 ERA (4.50 FIP), 16.3 K%, 7.1 BB%, +0.8 WAR
Why? As with Lyons, the knuckleballing Wright could be another long man/rotation insurance plan. He wasn't all that good last year, but the good thing about knuckleballers is their resiliency. They can throw three innings today, another two innings tomorrow, then three innings two days after that. That's a nice trait to have in a long man. Two problems: 1) the Red Sox probably aren't eager to trade with the Yankees (and vice versa), and 2) the Red Sox aren't going to move Wright as long as Eduardo Rodriguez's knee is acting up. Stocking up on rotation depth is always a good idea. It's just hard to think Wright would ever actually be available to the Yankees.
* * *
The Yankees have some open spots in the bullpen and that last bench spot is up for grabs, but unfortunately the out of options market doesn't have a whole lot to offer. Lyons and Ramirez are the two most interesting out of options players in my opinion, and it's not impossible they stick with the Cardinals and Cubs come Opening Day. There's nothing here that is clearly better than what the Yankees already have in house.