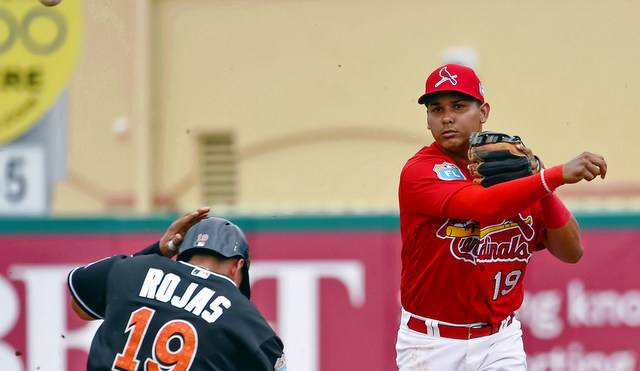 I missed this the other day: According to Brendan Kuty, the Yankees offered former Mets infielder Ruben Tejada a minor league contract with an invite to Spring Training. Mark Feinsand says Tejada rejected the deal because he was holding out for a Major League contract. The Cardinals signed him to a one-year deal worth $1.5M over the weekend.
Tejada, 26, opened last season as a utility infielder before taking over as the Mets starting shortstop in the second half. He hit .261/.338/.350 (95 wRC+) overall and played his usually solid defense. Tejada broke his leg on Chase Utley's infamous NLDS take-out slide, though he had completed his rehab and was playing in Grapefruit League games before the Mets cut him loose.
The Mets released Tejada to save money — they only had to pay him $500,000 of his $3M salary — and it's no surprise the Cardinals scooped him up. They recently lost Jhonny Peralta for half the season and didn't have a steady fill-in. The only way the Yankees were going to get Tejada was by claiming him and his $3M salary off waivers. Once he became a free agent and St. Louis could offer their starting shortstop job, it was over. No other team had a chance.
Here is our Scouting the Market post on Tejada. The Yankees are currently looking for a true backup third baseman — Rob Refsnyder has done a nice job in his limited time there this spring — and bringing in middle infield depth is never a bad idea. Tejada can legitimately play short. Always nice to have a guy like that in reserve should injury strike.
For now the Yankees figure to carry Refsnyder as their backup third baseman and use Starlin Castro as their backup shortstop. Pete Kozma, Donovan Solano, Jonathan Diaz, and Ronald Torreyes are among the infield options they'll have stashed in Triple-A. Hopefully they don't need any of them. Unfortunately, chances are they will. That's baseball.