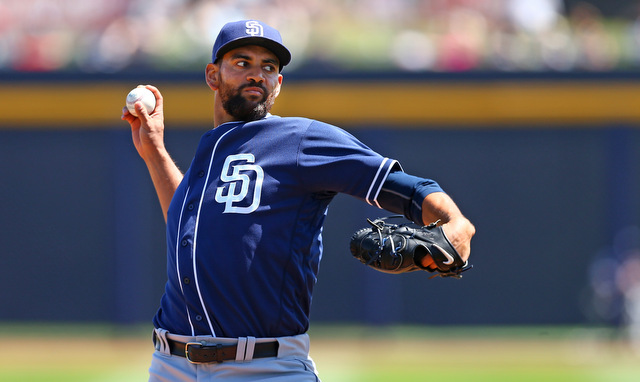 According to Joel Sherman, the Yankees tried to trade for Padres right-hander Tyson Ross prior to the trade deadline last July. The Yanks and Pads were reportedly discussing a deal involving Jorge Mateo and Craig Kimbrel before the deadline, and it's unclear if Ross was included in those talks as part of a blockbuster deal, or as part of a separate trade entirely.
Ross, 28, has emerged as one of the better pitchers in all of baseball the last few years. He had a 3.26 ERA (2.98 FIP) in 33 starts and 196 innings last season with great strikeout (25.8%) and ground ball (61.5%) numbers, but a poor walk rate (10.2%). Among the 78 pitchers who qualified for the ERA title in 2015, Ross ranked 11th in strikeout rate, third in ground ball rate, and 77th in walk rate. His peripherals are on the extremes.
Here's some video from last season so you can get a look at Ross' ridiculous two-seam fastball/slider combination:
The Padres have baseball's third longest postseason drought — they haven't been to the playoffs since 2006, only the Mariners (2001) and Marlins (2003) have longer droughts — and last year they attempted a quick fix that saw GM A.J. Preller build an imperfect roster full of big names. They were way too right-handed heavy and way short on defense. I'm pretty sure ownership told Preller to go all-in. Either way, it didn't work.
San Diego didn't trade anyone away at the deadline last year, but they did move some pieces over the winter, most notably Kimbrel, Joaquin Benoit, Jedd Gyorko, and Yonder Alonso. They've reportedly been listening to offers for their entire rotation — they're supposedly pushing James Shields and Andrew Cashner more than Ross — and have set a high price for Ross. That makes sense. He's good and under team control through 2017.
The Yankees were looking for controllable pitching all winter and it's easy to understand why. Luis Severino is the only one of their six big league starters who can not become a free agent within the next two years. Ross does not satisfy the "controllable behind 2017" requirement but he is very good and would help any team win in the short-term. And who knows, maybe the Yankees would be able to flip Ross for a young controllable arm at some point.
The Padres don't figure to be any good this season — for what's it worth, FanGraphs and Baseball Prospectus project San Diego to win 74 and 76 games in 2016, respectively — which means Ross will be involved in a ton of trade rumors this summer. He could easily be the best player traded this July. If the Yankees had interest last year, I assume they'll still have interest again this year. As always, the question is whether the price will be right.