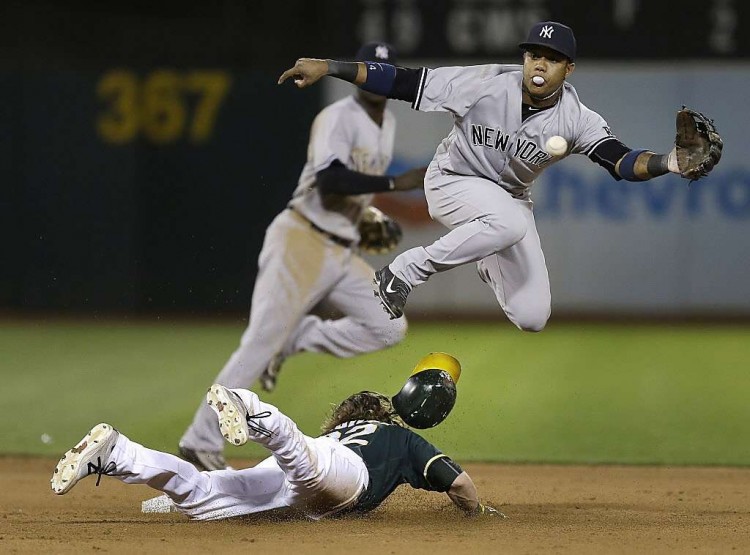 Supernova sinks the A's
Given the massive hole the Yankees had dug themselves into during the first month of the season, and coupled with their recent struggles in the Bay Area, this weekend's trip to Oakland was foreboding.
Entering the series, the Yankees were 2-8 at the Oakland Coliseum since 2013, their worst road record against any AL team in that span. They'd lost four straight series in Oakland, their longest such streak since dropping 12 series in a row at the ballpark from 1985-91.
Not ideal. The Yankees buried that trend from the get-go with a much-needed win in the series opener on Thursday night.
Ivan Nova was a model of efficiency on the mound, firing 62 pitches in six innings while giving up just one run on four hits. His sinker was in peak form, averaging its most horizontal movement and second-best downward movement of the season. The A's went 2-for-14 when putting a two-seamer in play, as he pounded the bottom of the strike zone with the pitch.
Nova is now 2-0 with a 1.65 ERA in three starts this season and hasn't allowed more than one run in any of those outings. The last Yankee to be unbeaten through his first three starts while giving up one run or fewer in each game was Kevin Brown in 2004.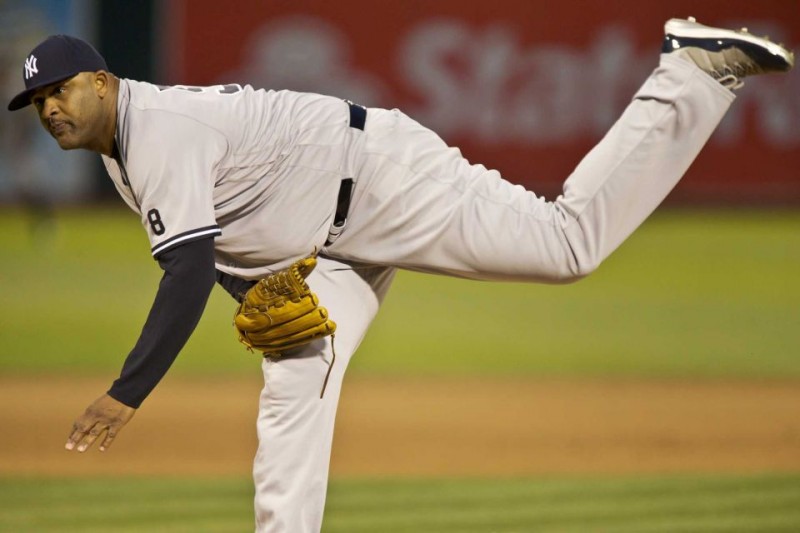 Welcome back, Large Lefty
Breaking news: The Yankees finally put together a win streak of more than two games after beating the A's, 8-3, on Friday night. The Astros are now the only team in baseball that hasn't won at least three games in a row this season.
There were plenty of heroes for the Yankees, starting with their new (old) ace, Carsten Charles Sabathia. Pitching for the first time since going on the DL two weeks ago, Sabathia spun another gem with one run allowed and eight strikeouts in six strong innings. He's now won back-to-back games, surrendering no more than one run in each outing, for the first time since 2011.
Sabathia wasn't the only veteran that turned back the clock on Friday night. Thirty-nine-year-old Carlos Beltran went 3-for-5 with three doubles and three RBI to lead the Yankees' latest offensive outburst.
Beltran is the oldest player in franchise history with three doubles in a game, and just the fifth guy in major-league history age 39 or older to hit three doubles and drive in three runs in a game. The four others are David Ortiz (2015), Tony Perez (1985), Pete Rose (1980), and Joe Judge (1933).
#TANAK
The Yankees continued their winning ways with a 5-1 victory on Saturday that gave them their first road series win of 2016, ending a streak of six straight winless series away from the Bronx. That was their longest such drought to begin a season since 1991.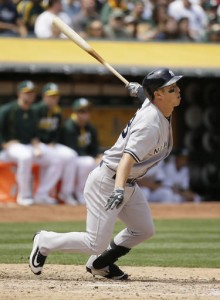 Thanks to a Blue Jays loss in Minnesota, the Yankees also climbed out of the basement in the AL East for the first time since April 23. That was their longest stretch in last place since spending the final four months of the 1990 season at the bottom of the division.
Masahiro Tanaka continued the Yankees' recent stretch of terrific starting pitching as he went seven innings and allowed one run for his second win of the season. He's now 3-0 with a 1.31 ERA in three career games against the A's, and has allowed one earned run or fewer in each of those outings.
The only other Yankee since 1980 to win three straight starts versus the A's without giving up more than an earned run in each game was Andy Pettitte (1997-2000).
Broom Broom
The Yankees capped off this successful West Coast swing with a 5-4 win, completing their first four-game sweep in Oakland since July 1979. They also avoided losing their fourth straight season series against the A's, something that hadn't happened in this rivalry since they dropped seven season series in a row to the Philadelphia A's from 1908-14.
Consider the amazing turnaround that the Bombers have engineered in the past week. When the Yankees started this road trip, they were:
Without a win streak of more than two games … Done.
Without a road series win … Done.
Without a series sweep … Done.
And stuck in last place in the AL East … not anymore. With the win on Sunday, they're now in third place, their highest rank in the standings since April 17.
Two players that had struggled mightily this season were surprise key contributors to the win. Michael Pineda, riding the longest losing streak of his career (0-5 in prior seven starts), tossed a quality start for his first victory since April 6. His 6.60 ERA entering Sunday was the highest among qualifiers in the AL and second-highest in the majors.
Mark Teixeira brought a .133 batting average against righties into this game, the worst among 286 players with at least 50 plate appearances versus right-handed pitchers this season. Also, he'd yet to record an RBI in his 48 at-bats with two outs this season, the most two-out at-bats without an RBI by any player.
So, of course, he delivered the game-tying hit in the sixth inning via a two-out RBI single off righty Jesse Hahn.
"Well, Suzyn, you know, you just can't predict baseball!"