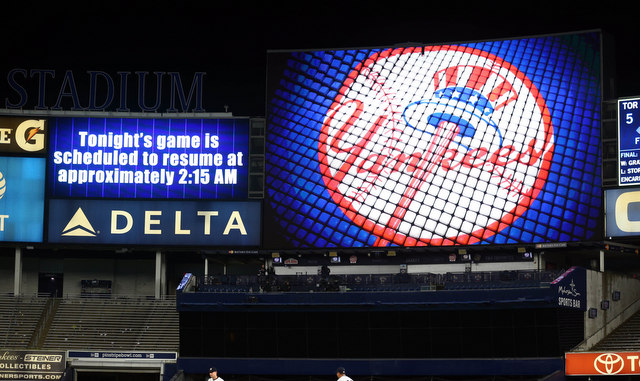 Man did last night's game suck. The worst part about it was that you could see the loss coming a mile away too, yet we had to sit through that awful rain delay anyway. Not the best baseball watching experience I've had.
Anyway, tonight is a new night. That's the good thing about baseball. It gives you a chance to forget about those ugly losses pretty quickly because they play every damn day. The Yankees are trying to get back to .500 again (lol) so I guess a lot is on the line tonight? I dunno. I'm out of game thread ideas. Here's the Rangers' lineup and here is the Yankees' lineup:
CF Jacoby Ellsbury
RF Carlos Beltran
DH Alex Rodriguez
1B Mark Teixeira
2B Starlin Castro
SS Didi Gregorius
3B Chase Headley
LF Aaron Hicks
C Austin Romine
LHP CC Sabathia
Bad news: there's more rain in the forecast tonight. It doesn't look like it'll be anything heavy, but that's what the internet told be last night, and it lied like hell. I guess we'll just have to see. Tonight's game is scheduled to begin at 7:05pm ET. You can watch on YES. Try to enjoy.
Roster Move: The Yankees called up Conor Mullee and optioned Kirby Yates to Triple-A Scranton, the team announced. No surprise there. I didn't realize Yates had an option left. How about that.