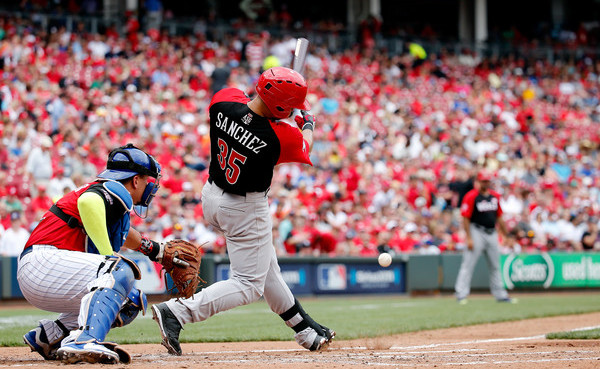 Shortstop Jorge Mateo and catcher Gary Sanchez will represent the Yankees at the 2016 Futures Game next month, MLB announced earlier today. Here are the full Team USA and World Team rosters. Baseball America also has free mini-scouting reports for every player selected for the game, so check that out.
Mateo, 21, is heading to his first Futures Game. He is hitting .275/.333/.417 (122 wRC+) with five homers and 26 steals in 37 attempts (70%) for High-A Tampa this season. Mateo has actually been slumping pretty hard of late; he's hitting .207/.250/.241 (45 wRC+) in 21 games this month. Still, the Futures Game is a showcase for the game's top prospects, and Mateo certainly qualifies.
This is the second Futures Game selection for Sanchez, who also played in the game last year. The 23-year-old is hitting .279/.324/.500 (135 wRC+) with eight homers for Triple-A Scranton this season. Sanchez missed about three weeks with a thumb fracture after being hit by a foul tip. Last summer he went 1-for-2 with a double off Giants right-hander Tyler Beede in the Futures Game.
Teams do have some input into the Futures Game rosters. I remember last year there was talk the Yankees declined to let Luis Severino participate because there was a chance he would get called up before the All-Star break. That was never confirmed and Severino wasn't called up until early-August. Still though, the Yankees wanted to be prepared in case they needed him.
Last year Sanchez and Aaron Judge represented the Yankees in the Futures Game. The year before it was Severino and Peter O'Brien. The year before that it was Rafael DePaula. The 2016 Futures Game will be played in Petco Park on Sunday, July 10th. Trevor Hoffman will manage Team USA and Moises Alou will manage the World Team.