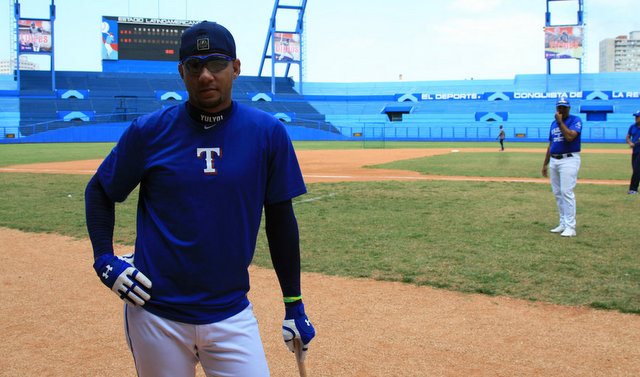 According to George King, the Yankees have interest in Cuban infielder Yulieski Gurriel, who was recently declared a free agent by MLB. Gurriel will reportedly work out for teams privately rather than hold open showcases. No word on whether the Yankees will bring him in for a workout. They probably will. They always do.
I covered everything you need to know about Gurriel and the Yankees the other day. He's said to be a Yankee fan because his favorite player in Alex Rodriguez, plus he's close friends with Aroldis Chapman, though who knows if that will influence his decision. I imagine money will be Gurriel's top priority. It is for most, after all.
"This is a veteran player with a lot of experience. This is not a rookie. He has all the qualities needed to be a good player at this level," said Chapman to King. "He is a really good player and a really good person. He is a great contact hitter with power, a quality swing."
The Yankees need to rebuild their offense because the guys they've been counting on for so long, like A-Rod and Mark Teixeira and Carlos Beltran, aren't going be around a much longer. We saw the other day what the lineup looks like without them. Starlin Castro, Chase Headley, and Didi Gregorius batting 3-4-5 is just … no. It's just no.
In recent years the Yankees have brought pretty much every big name Cuban free agent in for a workout. They just haven't signed any of them. Gurriel is not a kid, he just turned 32, and he's been a star in Cuba for a long time. Everyone expects him to be an impact bat right away, and boy, the Yankees sure could use one of those going forward.