According to Jon Heyman, Brian Cashman said the Yankees are not planning to pursue outfield help this offseason. Not surprisingly, the team won't overreact to Aaron Judge's contact issues these last few weeks. Also, there's no real benefit to announcing your offseason plans, especially not at this point of the season.
The Yankees are in the middle of what they've been calling a "transition," and bringing in veterans usually doesn't fit that kind of plan. Not trading prospects for them, and not giving out huge free agent contracts. That said, these things happen on a case-by-case basis, so if something worthwhile presents itself, the Yankees will act. I have some thoughts on this.
1. The Yankees have a ton of outfielders already. Last week the Yankees traded Ben Gamel to the Mariners for two pitching prospects, and even after that, the team is still loaded with outfielders at the upper levels of the minors. Here's the outfield depth chart at the moment:
In MLB: Brett Gardner, Jacoby Ellsbury, Aaron Hicks, Judge
In Triple-A: Mason Williams, Cesar Puello, Jake Cave, Clint Frazier
In Double-A: Dustin Fowler, Billy McKinney, Mark Payton, Michael O'Neill
That doesn't include Tyler Austin and Rob Refsnyder, who are primarily infielders but can play the outfield. Now obviously there's some uncertainty here. Puello will be a minor league free agent after the season and is no lock to return. Cave is Rule 5 Draft eligible again, and if he's selected a second time, he can elect free agency rather than return to the Yankees. The team has to plan as if he's a goner. McKinney's a good prospect having a down year while Payton and O'Neill are fringe prospects. Hardly sure things.
Frazier is New York's top prospect and Fowler is a very good prospect as well. It stands to reason Fowler will join Frazier and Williams in Triple-A next season, and since Williams is already on the 40-man roster, he figures to be first in line for a call-up. Point is, the Yankees have plenty of outfielders right now. They're set at the MLB level and it looks like they'll be in good shape in Triple-A next season too. Outfield is not an area of need.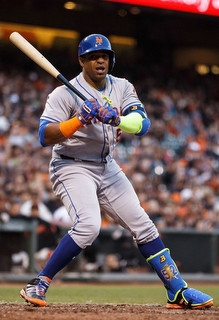 2. Spending on outfielders wouldn't be smart anyway. The upcoming free agent class is pretty weak overall, but it does have some quality players at two positions: relief pitcher and outfield. Among the outfielders scheduled to hit the open market are Jose Bautista, Michael Saunders, Ian Desmond, Dexter Fowler, Josh Reddick, and Carlos Beltran. Yoenis Cespedes as well, assuming he uses his opt-out clause.
The Yankees are working to reduce payroll (by getting younger) so they can get under the luxury tax threshold at some point in the future. The sooner, the better. They still run a high payroll, but Hal Steinbrenner is not as free-spending as his father, so it's unlikely we'll see any budget busting moves anyway. Given their outfield depth and the rest of the roster, spending whatever free agent dollars are available on an outfielder doesn't make sense. There are better places to spend it. (Pitching. Lots and lots of pitching.)
3. The Yankees are in position to trade away outfielders. Not only do the Yankees not need to add any outfielders, they're actually in position to trade some away. Even after the Gamel deal. There's been plenty of Gardner trade speculation over the last year or so, and the Yankees would be able to replace him from within if the right deal comes along. Same with Ellsbury or Hicks or whoever.
Right now the Yankees don't have any untouchable players. Not in my opinion. Even guys like Judge and Frazier and Gary Sanchez should be on the table in trade talks. Does that mean the Yankees should give them away? Of course not. But don't make them off-limits. Cashman always seems willing to consider everything. If an offer comes along that involves Frazier or Judge, the team's two prized outfield prospects, I'm sure he'd listen. The outfield is an area of depth and the Yankees should explore every way to use it, including trades.