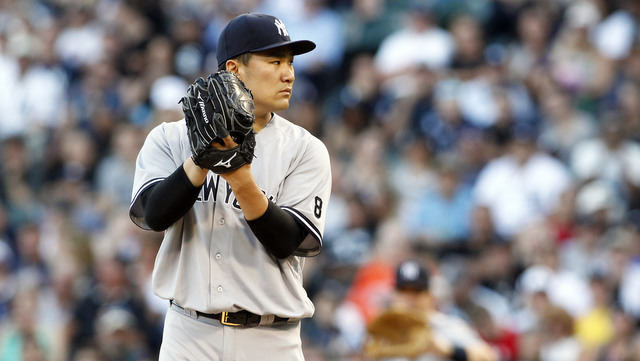 Masahiro Tanaka's first two seasons with the Yankees were rather eventful. He was dominant for long stretches, especially early in the 2014 season. There were also injuries, including the partially torn elbow ligament and wrist and hamstring problems. And for a while last year, Tanaka was extremely homer prone. He was never actually bad though. Even with the dingers, he was still really good.
In 2016, Tanaka had his best and first full season with the Yankees. He wasn't as overwhelmingly dominant as he was early in 2014, but he was consistently excellent and one of the best pitchers in the entire league. In fact, Tanaka was so good that when the Cy Young voting results are announced next Thursday, he figures to be among the top five or six names. Any doubts about Tanaka being an ace were answered in 2016.
Six Months of Excellence
With most players, I'm able to split these season review posts into different sections for different parts of the season. A hot start, a slow finish, things like that. It's not possible with Tanaka. He was outstanding from start to finish this summer, and even his one "bad" month wasn't even bad. It would have made for a fine season for any of the team's other starters. Check it out:
April: 2.87 ERA (2.86 FIP)
May: 2.91 ERA (3.68 FIP)
June: 4.12 ERA (3.32 FIP)
July: 2.45 ERA (3.52 FIP)
August: 3.00 ERA (2.94 ERA)
September: 2.70 ERA (5.17 FIP)
Tanaka made 31 starts and he allowed no more than two runs in 20 of them. That was the fourth most such starts in the league. He had 12 starts of at least six innings and no more than one run allowed. That was third most in the league. His five starts of at least seven scoreless innings were the most in the league.
The best outing of Tanaka's season came against the home run happy Orioles on May 5th, and in true 2016 Yankees fashion, they lost the damn game. He allowed five singles and one walk in eight scoreless innings at Camden Yards, striking out seven. Then the bullpen blew it. Womp womp.
Against the Yankees' three biggest division rivals, the Red Sox and Blue Jays and Orioles, Tanaka pitched to a 1.80 ERA (2.92 FIP) in seven starts and 45 innings. His
worst
start against one of those three teams came on April 12th in Toronto, in his second start of the season. Tanaka allowed two runs on five innings. That was his worst start against those teams.
Down the stretch in August and September, when the Yankees were making that little late-season run at a postseason spot, Tanaka had a 1.86 ERA (2.77 FIP) in eight starts and 53.1 innings. Overall this year, opponents hit .236/.272/.373 against him. That's essentially Michael A. Taylor (.231/.278/.376). Tanaka turned everyone into an up-and-down fourth outfielder.
Tanaka's season ended prematurely due to what Joe Girardi called a "slight, slight, slight" forearm strain. It was in the muscle up near his wrist, not near the elbow ligament. Tanaka skipped one start, and after the Yankees were eliminated from postseason contention, they decided to play it safe and shut him down completely. Had they been alive in the race, he would have made his scheduled start in Game 161. (Or so they say.)
All told, Tanaka made a career high 31 starts this year — that includes his time in Japan, he never made more than 28 starts in a season for a Rakuten Golden Eagles because the season is shorter in NPB and starters pitch every sixth day instead of every fifth — and he fell one stupid little out short of 200 innings. Here's where he ranked among AL starters:
Innings: 199.2 (10th)
ERA: 3.07 (3rd)
ERA+: 142 (t-3rd)
FIP: 3.51 (5th)
WHIP: 1.08 (5th)
K%: 20.5% (19th)
BB%: 4.5% (3rd)
GB%: 48.2% (11th)
HR/9: 0.99 (9th)
K/BB ratio: 4.58 (4th)
Pitches per Inning: 14.7 (1st)
bWAR: 5.4 (3rd)
fWAR: 4.6 (6th)
By almost any measure, Tanaka was one of the top five or six starters in the American League this season. Had he not missed those last two starts, we'd be able to argue he was one of the top three or four. Tanaka was that good this year. He'll get some well-earned Cy Young votes — he won't win the Cy Young, but he'll get votes — and will perhaps finally be recognized as one of the top starters in the game. A man can dream.
The New Look Tanaka
There's a common misconception about Tanaka, that his fastball velocity has not been the same since his elbow injury in 2014. It's not true. Tanaka's four-seamer averaged 92.7 mph in 2014 and 92.7 mph in 2015. It was 92.1 mph this season. A starter losing half-a-mile an hour across three seasons is not unusual, especially considering his career workload. Furthermore, Tanaka's fastball topped out at 96.7 mph in 2014, 96.3 mph in 2015, and 96.7 mph in 2016. The top end velocity is there too.
What has changed, specifically this past season, is the type of fastball Tanaka throws. Home runs were a real problem last year. Tanaka had a 1.46 HR/9 (16.9 HR/FB%) and a 47.0% ground ball rate last season. In an apparent attempt to keep the ball in the park, he started throwing more sinkers. From Brooks Baseball: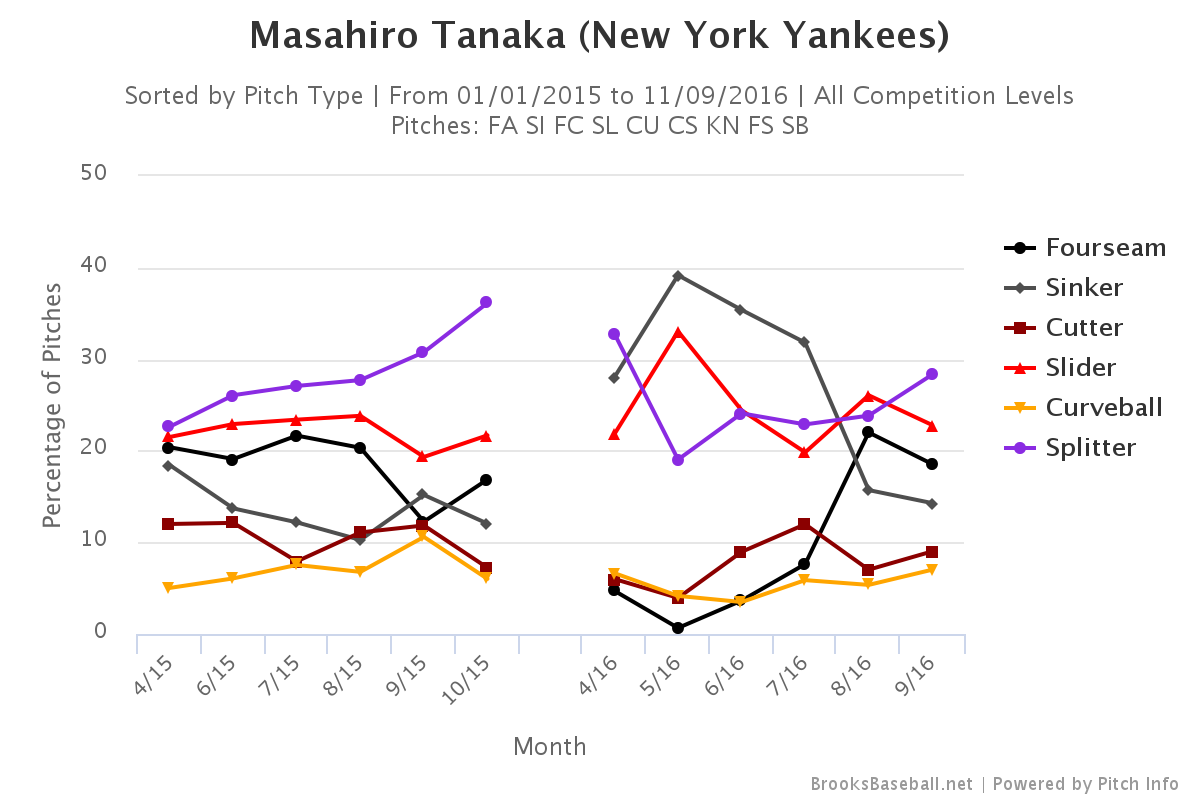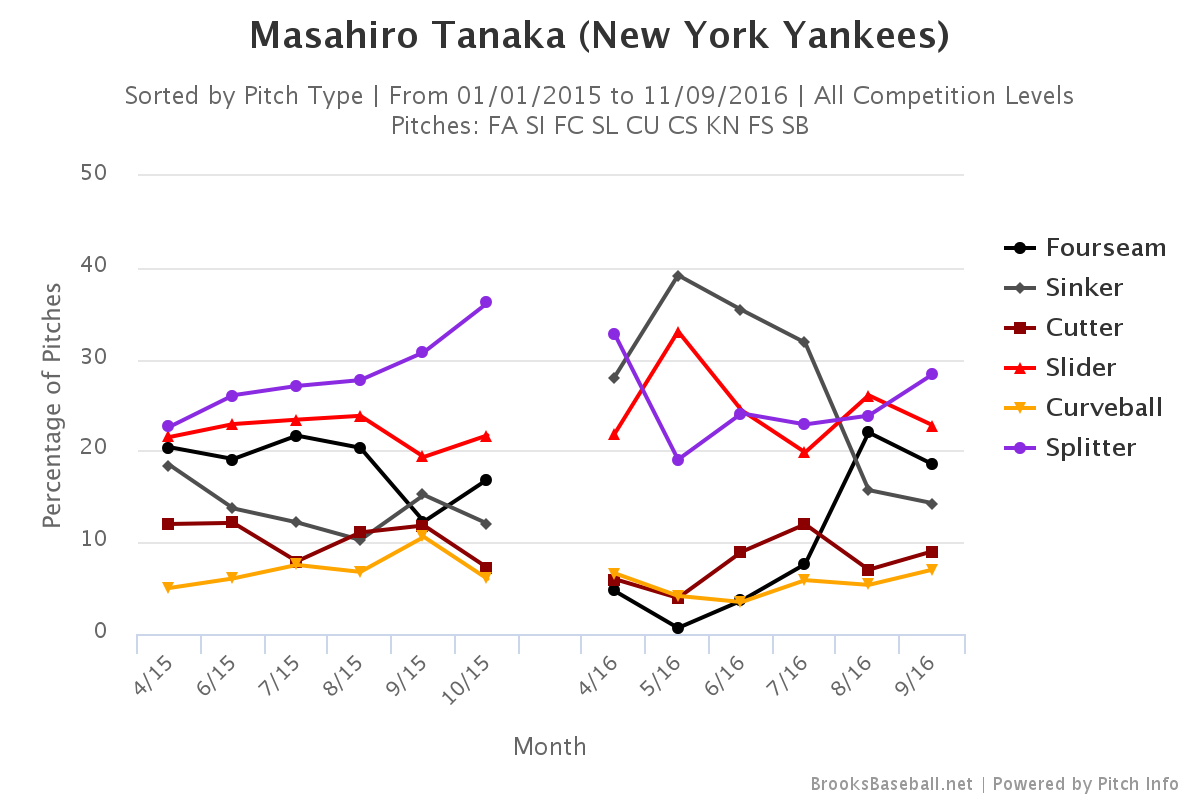 The sinker didn't have the same velocity as the four-seamer — it averaged a mere 90.4 mph and topped out at 95.0 mph in 2016 — but gosh, the thing moved all over the place. PitchFX says Tanaka's sinker average 8.2 inches of horizontal movement, fourth most among all sinkers, and 6.0 inches of vertical movement, which was eighth most. Replacing a straight four-seamer with a moving sinker sure seems like a good way to curtain home runs.
Sure enough, Tanaka's home run rate dropped to 0.99 HR/9 (12.0 HR/FB%) this year even though his overall ground ball rate (48.2%) didn't increase much. That extra movement is often the difference between the hitter squaring the ball up and hitting it off the end of the bat though. And keep in mind homers were up big time around the league this year. Tanaka cut his homer rate by one-third despite the league-wide increase in pop.
Now, as you can see in the graph, Tanaka didn't sustain his sinker heavy approach all season. By August and September, he was again throwing his four-seamer more than the sinker. Why? I'm not sure. Perhaps hitters were starting to adjust to the sinker and Tanaka adjusted back. Coincidentally (or maybe not), Tanaka's two worst home runs months of the season were August (1.15 HR/9) and September (1.69 HR/9). Hmmm.
One thing we've come to learn about Tanaka these last three years is that he's really crafty. He's not a blow-you-away type. He succeeds with deception and trickery. He outsmarts hitters. He doesn't overpower them. Tanaka throwing more sinkers in response to the homers was a smart adjustment that seemed to work. I'm not sure why he stopped throwing the sinker later in the season, but I guess we'll see what happens in 2017.
Outlook for 2017
Next season is a very important season for Tanaka and the Yankees. He'll be able to opt out of his contract after 2017 and enter free agency, and as long as he's healthy, I fully expect him to do that. Tanaka would be leaving three years and $67M on the table, and if he repeats his 2016 effort in 2017, he'll clear that easily in free agency. Heck, his performance could slip some and he'd still clear that easily. That's the market these days.
The opt-out is not something worth worrying about now. That's a problem for next offseason. It goes without saying that for the Yankees to have any shot at contention next season, even for a dinky second wildcard spot, they need Tanaka to be on top of his game. He's an ace. He is. And if the Yankees lose him for any stretch of time or he pitches at something less than ace-level, their playoff chances will take a huge hit. This summer, Tanaka showed he's up to the task of leading the rotation.