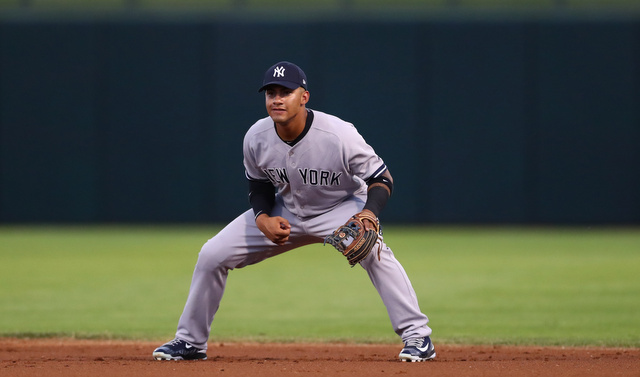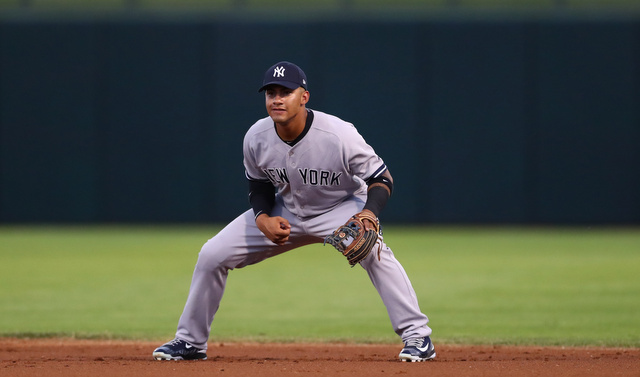 I totally missed this two weeks ago, but the crew at Baseball Prospectus posted their annual look at the top ten prospects in the Yankees' farm system. The list is available for everyone. The rest of the piece is behind the paywall, unfortunately. Here's the top ten with some thoughts:
SS Gleyber Torres
OF Clint Frazier
SS Jorge Mateo
OF Blake Rutherford
LHP Justus Sheffield
RHP James Kaprielian
OF Aaron Judge
RHP Albert Abreu
SS Tyler Wade
RHP Chance Adams
1. Still high on Mateo. It's very easy to be down on Mateo these days. He didn't have a great regular season, he was suspended two weeks for an undisclosed violation of team policy, and he hasn't done much in winter ball either. There's no other way to slice it, 2016 has been really disappointing for Mateo. At the same time, he just turned 21 in June and is immensely talented. He has the most exciting tools in the farm system, I think, even moreso than Gleyber. Development isn't always linear. There are often bumps in the road and hopefully that's all Mateo experienced this year, a bump(s) in the road. Something he can learn from and use as a development tool going forward. Baseball Prospectus still has Mateo very high on their top ten list and it's not in any way unreasonable given his tools.
2. Down on Judge. On the other hand, the Baseball Prospectus crew is down on Judge, who they ranked as the 18th best prospect in baseball prior to 2016. Based on their preseason rankings, both Mateo (No. 65) and Kaprielian (not ranked) managed to jump Judge despite a disappointing season and an injury-marred season, respectively. I get why folks are down on Judge. He struggled in his brief big league cameo and there have long been concerns about whether big league pitchers would exploit his massive strike zone. We saw a 95 plate appearance manifestation of those concerns. Unless Judge shrinks about five inches, there's not much he can do about the strike zone. That's life. But he has a history of starting slow at each new level before making the necessary adjustments, and until he shows otherwise, I feel like we have to assume the same is happening at the MLB level. The biggest difference between Judge and other prospects on this list, like Mateo and Kaprielian and Gleyber, is that he's had a chance to fail at the big league level. Everyone else is getting the benefit of the doubt because they haven't had that same opportunity.
3. Wade gets some love. I'm a pretty big Tyler Wade fan and it seems I'm not alone. Ranking him ninth in this system is pretty lofty. "Wade is a favorite of many scouts and evaluators because of his energy, playing style, and instincts. He'll grow on you the more you see him," said the write-up. Wade is not a future star or anything, and that's kind of a problem in a system with this many shortstops. Torres and Mateo, two guys with star-caliber tools, are right behind him climbing the minor league ladder. Others like Hoy Jun Park and Wilkerman Garcia have higher ceilings too. Unseating Didi Gregorius and Starlin Castro at the MLB level won't be easy either. The Yankees had Wade play some outfield in the Arizona Fall League to prepare him for a utility role, which is by far his best path to MLB playing time with New York. If I were another team with a long-term need a shortstop (coughPadrescough), I'd be all over the Yankees trying to get Wade in a deal. He hits for no power and won't wow you with big OPS or wRC+ numbers, but a lefty hitter who can hit for average, draw walks and get on base, steal bases, and play good defense at shortstop is a nifty little player.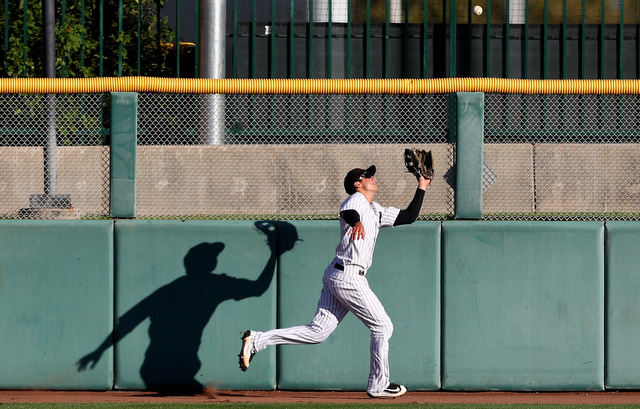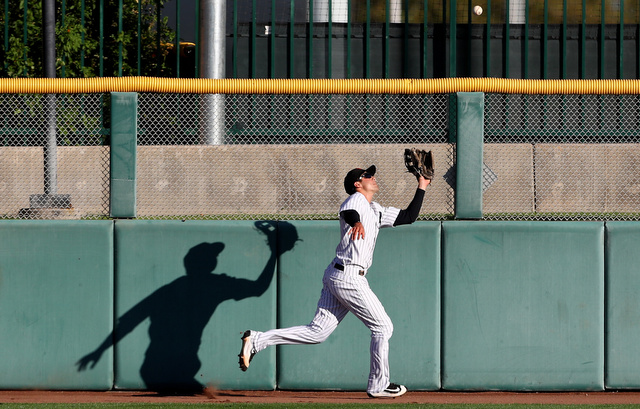 4. Others of note. Each year the Baseball Prospectus farm system write-ups include information on players beyond the top ten. Among the other Yankees singled out: 3B Miguel Andujar, LHP Jordan Montgomery, OF Dustin Fowler, OF Billy McKinney, RHP Dillon Tate, and RHP Erik Swanson. Swanson's an interesting guy who is easy to overlook in this system. He came over in the Carlos Beltran trade. "Swanson touched as high as 98 in a June viewing, regularly sitting 91-96. He also flashed a hard slider and a more usable change than one often sees from a power profile at the Low-A level," said the write-up. Swanson turned 23 in September and he missed most of 2015 with a forearm issue, but he's healthy now and has enough stuff to possibly start long-term. If not, don't be shocked if he moves very quickly as a fastball/slider reliever.
5. The top ten 25-and-under talents. My favorite part of Baseball Prospectus' annual system write-ups is their list of the top ten talents age 25 and under in the organization. For the Yankees, the 25-and-under list is essentially the same as top ten above, except with C Gary Sanchez at the top, 1B Greg Bird sixth (between Rutherford and Sheffield), and RHP Luis Severino tenth (behind Judge). A year ago Judge and Severino were first and second. Now they're ninth and tenth. Part of that is Judge's strikeouts and Severino's inability to pitch well as a starter, but it also speaks to how the Yankees' long-term outlook has improved over the last 12 months. Sanchez emerged as a force and so many young players — five of the team's top eight prospects, according to Baseball Prospectus — have been added to the system within the last six months or so. It's really hard to read these prospect lists and not get very, very excited about where the Yankees are heading.