There are 13 questions in this week's mailbag. For some reason there were a lot of "couldn't the Yankees trade Starlin Castro for Jose De Leon???" questions in the inbox this week and … no. Just no. Anyway, RABmailbag (at) gmail (dot) com is the place to send us questions throughout the week.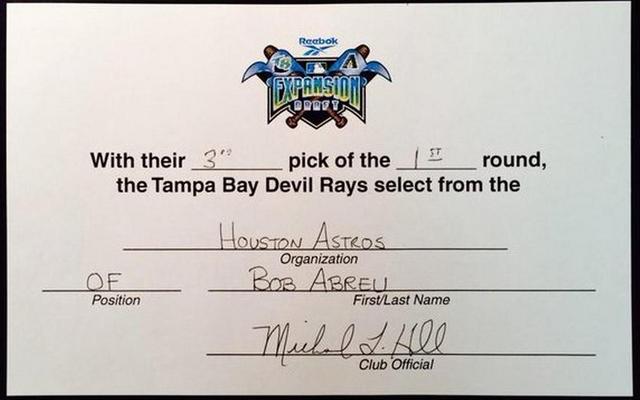 Drew asks: It seems like there is enough ML talent that the league could institute an expansion draft. When do you think MLB could see an expansion draft, and how would the process work?
Commissioner Rob Manfred insists the Rays and Athletics need new parks before MLB expands again, and I get that. You've got to take care of the teams already in the league before adding two more. MLB could probably expand right now though. The game is flush with cash, there are plenty of viable cities (San Antonio? Portland? Las Vegas?), and MLBPA will happily take all the extra jobs.
The expansion draft rules have been a little different each time MLB has expanded. Back in 1997, when the Devil Rays and Diamondbacks joined the league, each existing team was allowed to protect 15 players from the expansion draft. That covered both 40-man and non-40-man roster players. Players selected in the two most recent amateur drafts (1995 and 1996) were exempt from the expansion draft, and players set to become free agents after 1997 didn't have to be protected. There were three rounds to the expansion draft, and each team could only lose one player per round. Also, they could protect three additional players after each round. Got all that? Good.
So, based on those rules, these are the I would protect if I were running the Yankees and MLB held an expansion draft this year:
First 15: Masahiro Tanaka (no-trade clause), Jacoby Ellsbury (no-trade), Aroldis Chapman (no-trade), Dellin Betances, Greg Bird, Starlin Castro, Clint Frazier, Didi Gregorius, Aaron Judge, Jorge Mateo, Jordan Montgomery, Gary Sanchez, Luis Severino, Justus Sheffield, Gleyber Torres.
Next Three (after first round): Miguel Andujar, Luis Cessa, Chad Green.
Next Three (after second round): Albert Abreu, Tyler Austin, Bryan Mitchell. (Dustin Fowler and Tyler Wade are next in line.)
I feel like I might be missing someone obvious, but that seems to be it. Blake Rutherford, James Kaprielian, and Chance Adams are all exempt because they were acquired in the two most recent amateur drafts. Also, I assume players with no-trade clauses have to be protected. Technically a no-trade clause is a no-assignment clause, and being selected in the expansion draft is an assignment. CC Sabathia has a no-trade clause but will be a free agent after the season, so he doesn't need to be protected.
Historically, teams have loaded up on pitching during the expansion draft, which is why I'm opting to protect Montgomery over Andujar in the first round. As a near MLB ready southpaw, Montgomery would be a goner in the expansion draft. No doubt about it. There's at least a chance of keeping Andujar through the first round. My guess is the Yankees would lose Cessa or Green in the first round. I have no idea who I'd leave out of the original 15 to protect them, however. There's no reason to protect Brett Gardner and Chase Headley. Losing them for nothing would suck, but expansion teams traditionally don't take veterans on big contracts in the draft.
I think (hope) we'll see MLB expand and add two teams within the next ten years. It would even out the leagues at 16 teams apiece and eliminate the need for constant interleague play. Also, as someone who writes about baseball, I think covering an expansion draft would be fun as hell.
Michael asks: Last year the Yankees hosted an orientation type meeting for highly regarded prospects. They called it the "Captain's … something". Sorry but I do not remember the actual name. It seemed like a good idea last year but I have not seen anything to indicate they are repeating it this year. Have you seen anything yet?
Captain's Camp, and they've done it a few years in a row now. I haven't seen anything about it this year, though in the past we didn't hear about the event until it was over, so who knows. Players are starting to head to Tampa — Rutherford, Austin, and Ben Heller are already there, based on their Twitter feeds — so it's possible Captain's Camp will begin fairly soon.
I have no reason to think the Yankees have shelved Captain's Camp. They just had their Winter Warm-Up event last week, which featured many top prospects, plus MLB's rookie development program was the week before that — Torres was there, not sure who else though — so the kids have been pretty busy. With Spring Training now fewer than three weeks away, I'm guessing Captain's Camp will start fairly soon. I'm sure we'll hear about it when the time comes.
Update: Severino, Sheffield, Adams, Dermis Garcia, and Wilkerman Garcia are also among those already in Tampa, reports Erik Boland.
Mark asks: Mailbag question for you – who is your biggest surprise comeback/break out player on the Yanks for 2017?
Severino is an easy call for comeback player, isn't he? Maybe not in the entire league, but for the Yankees. He was terrible as a starter last season, truly awful, so performing like a league average starter in 2017 would qualify as a huge improvement and a comeback in my eyes. As for the breakout player, I'll pass on taking the easy way out with Judge and instead say Cessa. I'm a fan. I've said it before and I'll say it again. He throws four pitches and he throws strikes, and I'll take my chances with that. With fewer meatballs over the plate to curb the home run problem going forward, the Yankees could really have something there.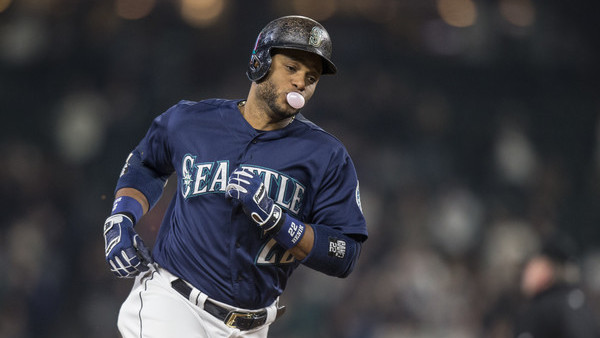 Marc asks: All the HOF talk has me thinking, does Robinson Cano make it into the HOF and if he does, does he go in as a Yankee?
Yes and yes. Cano just turned 34 in October and he's well on his way to 3,000 hits (2,210 at the moment), 600 doubles (479), 400 homers (278), a lifetime .300 average (.307), and +75 WAR (+62.4). Seven All-Star Games and five top six finishes in the MVP voting helps too. I think Robbie is about 95% of the way to the Hall of Fame. He's already built an excellent foundation and now just needs to hang around and compile a little more, and since there are still seven years left on his contract, he'll get plenty of opportunity to do so.
There's a chance Cano will retire having played more games as a Mariner than as a Yankee — he needs to average 129 games per season over the final seven years of his contract for that to happen — though he had his best years in pinstripes and emerged as a true star as a Yankee. He also won his World Series ring in New York. Barring something crazy, like two MVPs and a few World Series titles these next seven years, Cano should go into the Hall of Fame as a Yankee.
(For what it's worth, Jay Jaffe's JAWS system says Cano is just short of the established Hall of Fame standards for second basemen. With another good year or two, he'll get over the threshold.)
Dan asks (short version): I was thinking about the 2017 trade deadline. If the team is not doing good by July, what Yankees players could you see on the move for the July trade deadline and for what kind of packages?. Personally, I can see Betances, Holliday, Clippard, and probably Tanaka as well.
Brian Cashman was asked about the possibility of selling again this summer at the team's town hall last week. It was a typically long and wordy Cashman answer, so I'm not going to transcribe it, but you can see his answer at the 27:30 mark of this video. The short version of his answer is: "It was really hard for Hal Steinbrenner to sell at the trade deadline and he might not be willing to do it again. I'll recommend selling if I feel it's necessary though."
If they are out of the race and decide to sell, Matt Holliday and Tyler Clippard are the two obvious trade candidates as veterans approaching free agency. I don't think Clippard will fetch much (remember what the Yankees gave up for him?), though maybe Holliday rakes and gets them a Carlos Beltran caliber return. Sabathia could be another candidate as an impending free agent. Maybe he'd be willing to waive his no-trade clause to join a contender, assuming he repeats his 2016 success in 2017.
Remember, the Yankees tried to sign Chapman to an extension last season, and Hal only agreed to trade him after he declined an extension and said he wanted to become a free agent. Selling at the deadline was not necessarily Plan A. I'm not convinced the Yankees will do it again if they're out of the race. If they do, Tanaka and Betances are obviously the top trade chips. I think it's more likely guys like Holliday and Clippard would go.
Jackson asks: Comparing the trades the Yanks made at the deadline with the ones made recently this off season (e.g., Forsythe for Deleon), is there any doubt now that the best returns, if you're a seller, are gotten during a pennant race? That being the case, don't expect trades of any consequence by Cash, for e.g., BG, Headley, Dellin or Tank until the end of July, right?
That seems to be the case, though I can't help but wonder whether this past trade deadline was just an anomaly. The Yankees got far more for a half-season of Chapman than the Royals got for a full season of Wade Davis or the Rays got for two seasons of Logan Forsythe. The Yankees were dealing with a desperate Cubs team, a team clearly built to win right now with a 108-year-old monkey on its back. Same with the Indians and Andrew Miller. They haven't won a title since 1948. The pressure was on.
Things really fell into place for the Yankees last July. They had two extremely valuable assets in Chapman and Miller, and two very motivated buyers in the Cubs and Indians. Yes, I definitely think teams have more urgency to improve midseason than they do in the offseason — clubs seem much more willing to be patient in December and January, when everyone is 0-0, but things change when the standings are staring you in the face — but I don't think we can expect Chapman/Miller caliber trades every year. Those seem to be special cases.
Bruce asks: When a player is added to the 40 man roster does the 6 year period of control before free agency start at that point, or when added to 25 man roster…or when? If 40 man roster, a player in low minors like Mateo might spend 3 more years in minors, meaning only 3 years of team control at Major league level.
Nope, it's six years of service time, and players only accrue service time while on the MLB active roster or MLB disabled list. Mateo was added to the 40-man this offseason, so his time in the minors in 2017 won't count as service time. It's six full years in the big leagues before free agency. Betances was added to the 40-man roster in November 2010, spent the next three years in the minors before finally sticking in the show for good in 2014, and now he's halfway through his six years of MLB control.
A.J. asks: If social media was around in the '90s when the Yankees traded a ton of high-ranking prospects, which player traded would have caused the most outrage from fans? I'm thinking Eric Milton, Russ Davis, or Ed Yarnall. Thoughts?
The first name that jumped to mind is Ruben Rivera. The Yankees traded him to the Padres for Hideki Irabu in April 1997 — San Diego won Irabu's rights through the posting system, but he refused to pitch for them — and from 1995-97, Baseball America ranked Rivera no worse than the ninth best prospect in baseball. And, in 1996, he hit .284/.381/.443 (107 OPS+) in 46 games, his first extended taste of the show. The Yankees had a revolving door in left field and a budding megastar, then they traded him. The internet would have broken.
Milton and Davis are two other really good candidates. Milton was New York's first round pick in 1996 (20th overall). He pitched very well in the minors in 1997 and was ranked the 25th best prospect in baseball by Baseball America following the season. Then the Yankees traded him for Chuck Knoblauch, who went from a 143 OPS+ in 1996 to a 110 OPS+ in 1997 with the Twins. I don't think that would have gone over well at the time.
Davis went to the Mariners in the Tino Martinez trade. The Yankees traded Davis, a three-time top 100 prospect per Baseball America, and Sterling Hitchcock, a two-time top 100 prospect, for Martinez, who was a year away from free agency. The team had late career Wade Boggs at the hot corner and they had just traded Davis, their long awaited third basemen of the future, for Tino. Imagine how the internet would have reacted to that nowadays. Teams definitely value prospects much more highly than they did in the 1990s. That's for sure.
Anonymous asks: How about Jake Peavy as a low risk signing?
Not a bad idea, though the Padres are reportedly trying to bring Peavy back, and I think he'd return to San Diego before subjecting himself to Yankee Stadium and the AL East. Peavy is nearing the end of the line. He'll turn 36 in May and last summer his fastball averaged 88.9 mph, and he had a 5.54 ERA (4.36 FIP) in 118.2 innings. He's never been much of a ground ball guy, and when you combine a lack of grounders (36.4% in 2016) with an upper-80s fastball, you get a lot of homers (1.37 HR/9 in 2016) even in an extreme non-homer stadium like AT&T Park. Now that Brett Anderson is with the Cubs, I really don't like any of the available free agent starters. Jon Niese seems most appealing.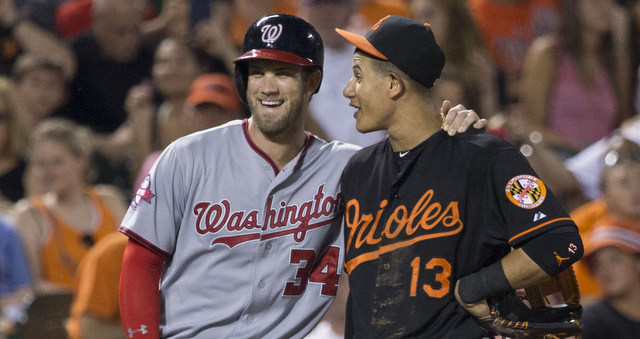 Michael asks: Talk is always about the Yanks signing Harper or Machado in 2019, but is there any chance (assuming they get under the luxury tax in 2018) that they could sign both?
Is there a chance? Sure. I'd never rule it out. That said, if Bryce Harper and Manny Machado stay on their current trajectories, they're probably going to be $400M players in two offseasons, and I'd bet against any team handing out two $400M contracts in one offseason. Then again, I never expected the Yankees to sign Sabathia and Mark Teixeira back in the day, when $150M contracts were still rare. If the kids like Sanchez and Torres and Judge develop into the players we hope, giving the Yankees a strong young (and cheap) core, I could see them splurging for both Harper and Machado, especially since they'll both be in their mid-20s. That would be fun, huh?
Lou asks: With HOF voters limited to 10 votes, has voting option of "reserve for future consideration" been considered? So guys like Posada don't get squeezed by the 10 vote limit? It would seem to me to smooth the voting out, and allow writers some time to contemplate a candidate.
Nothing like that has been considered as far as I know. The BBWAA tried to get the ballot expanded to a maximum of 12 votes a year or two ago, but the Hall of Fame said no, so the rule of ten remains. John Harper recently suggested a three-year minimum stay on the ballot and I like that idea. That would have given Jorge Posada a chance to stick around a little longer and possibly build momentum. (Jim Edmonds, Kenny Lofton, and Kevin Brown were all undeserving one-and-dones in recent years too.) It's going to be a few years until the ballot starts to unclog, so this will remain an issue a little while longer. Voters will essentially have to choose their ten "most deserving" players until then, which is absurd.
Rubaiyat asks: Is there a chance for Jorge to still make the HOF? I know he's dropped off the ballot, but could one of the new subcommittees elect him in?
Yes, there's still a chance, but it's a slim one. Last year the Hall of Fame revamped the Veterans Committee into four subcommittees. Posada falls under the Today's Game Era Committee, which covers players from 1988 to the present. The committee met last month and doesn't meet again until December 2018. It's a 16-person committee and 12 votes are needed for induction. There's no guarantee Posada will even be on the next Today's Game ballot — he has to pass through a screening committee first, which will determine whether he's even worthy of further Hall of Fame consideration — but it's his only shot at induction at this point. (Aside from getting in as a manager.) I don't expect Posada to get in either way. An appearance on the Today's Game ballot would be cool though.
Adam asks: Fully understanding that it's way too early to start thinking about the 2017 draft, as a fun exercise do you have any early predictions of who we might hear about the Yanks being connected to at No. 16.
Bet on Southern California kids. I'm not joking. Scouting director Damon Oppenheimer is a SoCal guy and he goes back to that well often. Four of New York's last six first round picks have been SoCal kids (Rutherford, Kaprielian, Kyle Holder, Ian Clarkin) and one of the other two was from Central California (Judge), which should count as half-credit or something. This goes back to the days of Ian Kennedy and Gerrit Cole too. When in doubt, bet on the prospect from Southern California.
MLB.com released their top 50 prospects for the 2017 draft a few weeks ago, and among the 50 are 12 kids from Southern California: HS RHP/SS Hunter Greene (No. 1 on MLB.com's list), HS SS/OF Royce Lewis (No. 3), HS RHP Hans Crouse (No. 20), HS OF Calvin Mitchell (No. 21), HS SS Francis Parker (No. 26), HS RHP/C Hagen Danner (No. 27), HS OF Garrett Mitchell (No. 31), UC Irvine 2B/OF Keston Hiura (No. 37), UCLA RHP Griffin Canning (No. 39), HS LHP/1B Nick Pratto (No. 42), HS RHP Jeremiah Estrada (No. 43), and HS RHP Kyle Hurt (No. 48). Wondering who the Yankees will draft with the 16th overall pick this summer? Those 12 names are as good a place to start as any.