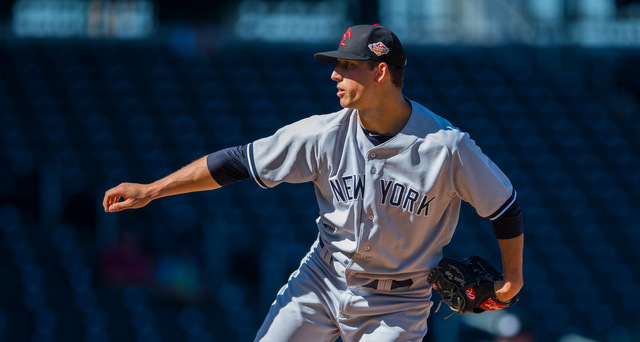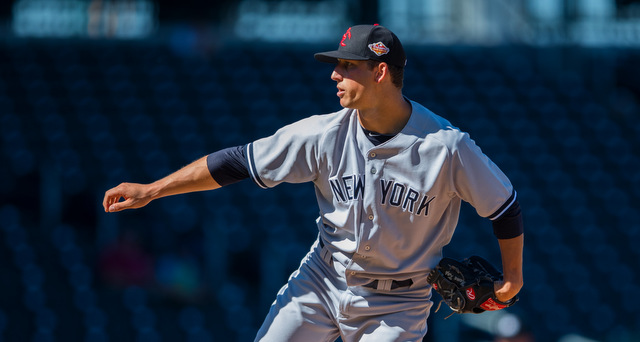 All throughout the week, ESPN has been publishing Keith Law's annual top 100 prospects list bit by bit. Here are Nos. 1-20, 21-40, 41-60, 61-80, and 81-100. It's all behind the Insider wall. You should buy it. It's worth it for Law's stuff alone. Anyway, Red Sox OF Andrew Benintendi sits in the top spot. Braves SS Dansby Swanson and Mets SS Amed Rosario round out the top three. Six Yankees made the top 100:
4. SS Gleyber Torres
22. OF Blake Rutherford
27. OF Clint Frazier
28. RHP James Kaprielian
44. OF Aaron Judge
88. LHP Justus Sheffield
Last week Law ranked New York's farm system as the second best in baseball, behind only the hard-tanking Braves. SS Jorge Mateo went from No. 55 on Law's list last year to out of the top 100 this year, which isn't a total shock following his poor statistical season and suspension. It's possible Mateo will make an appearance on Law's list of prospects who just missed the top 100 when it's released tomorrow. Until then, here are some thoughts on the top 100.
1. Law is a big Rutherford fan. Such a big fan that Rutherford ranks ahead of Phillies OF Mickey Moniak, the first overall pick in last year's draft. The Yankees got Rutherford with the 18th pick. Only Reds 3B Nick Senzel (second overall pick) and Red Sox LHP Jason Groome (12th overall pick) rank higher among 2016 draftees. This isn't a complete surprise, of course. Law ranked Rutherford as the sixth best prospect in last year's draft (subs. req'd), and that was before he went out and wrecked rookie ball competition in his pro debut. Still, going from high schooler to the 22nd best prospect in baseball in the span of eight months is a hell of a thing. Baseball America recently ranked Rutherford third in the system behind Torres and Frazier and I was surprised to see him that high. Now Law has him second behind only Torres? I guess I'm underrating the kid.
2. The Frazier scouting report might not match your preconceived notions. Following the trade last year Frazier struggled with Triple-A Scranton, hitting .228/.278/.396 (90 wRC+) with three home runs and a 27.8% strikeout rate in 25 games. As a result, many folks seem to have assumed Frazier's a bit of a hacker who is going to hit for middling averages and sock some massive dingers. Law's scouting report is almost the exact opposite. A snippet:
He has absolutely electric bat speed that produces above-average power, probably never in the 30-homer range but certainly 15-20 on a consistent basis with high batting averages and a lot of doubles … Given how he's hit to date, with consistently high BABIPs because he makes hard contact, he's one of the best bets in the minors to hit .300+, and with moderate power and 50-60 walks a year that would make him at least an above-average regular.
Did Frazier struggle at Triple-A? Of course he did. But he's not the first prospect to do that and he won't be the last. Frazier will be under the microscope after being the headliner in a major trade, so the scrutiny is inevitable, but objectively speaking, the kid is incredibly talented and he has a chance to be an impact two-way player for the Yankees. Oh, and by the way, Frazier jumped from No. 72 on Law's list last year to No. 27 this year. That is: cool.
3. Kaprielian climbs big time despite injury. In most cases, when a pitcher misses close to an entire season with an arm injury, he drops in the rankings. Kaprielian instead climbed from No. 87 on Law's list last year to No. 28 this year. A 59-point jump despite a flexor strain! Incredible. As always, Law's ranking considers everything, from present stuff to upside to injury risk, and the fact Kaprielian returned from his injury and looked like his normal self in the Arizona Fall League was encouraging. Encouraging and enough for Law to run Kaprielian way up the rankings. "I've got him ranked here to reflect the greater risk of a catastrophic injury that I think he has compared to pitchers who have never missed this kind of time," said the write-up. "But do not mistake the ranking for a lack of faith in Kaprielian the pitcher, who has ace probability commensurate with those near the top of the 100."
4. Judge slips, but not by much. Even though he remains a no-doubt top 100 caliber prospect, Judge has slipped in the various rankings this winter. That's not a complete shock given his strikeout heavy big league debut in the second half a year ago. Last year Law ranked Judge as the No. 36 prospect in the game. This year he's No. 44. Eight spots isn't much of a drop at all, especially once you get this deep in the rankings. The difference between, say, No. 42 and 44 is nothing. The difference between No. 36 and No. 44 really isn't all that significant either. "He has real 30-homer power, even at that contact rate, and he has shown enough patience that I think he'll walk 60-plus times a year. With his athleticism — he's an average runner — and plus arm, he'd be an asset in right field, all of which adds up to more than just an everyday player," wrote Law. Judge is a big time post-hype sleeper. Folks are down on him but his talent level is unchanged.