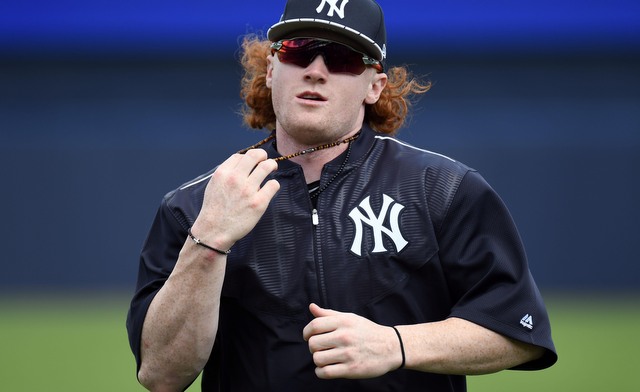 When the Yankees went about their trade deadline business last summer, they appeared to focus on acquiring the best possible talent rather than addressing specific needs. That's why they acquired Gleyber Torres despite a farm system already loaded with shortstops, and Clint Frazier despite a farm system with more than a few upper level outfielders. They were the best players, so the Yankees took them. Figure out the rest later.
Aside from Ben Heller, a one-inning reliever, Frazier is closest to big league ready among the prospects the Yankees acquired last July. He had been promoted to Triple-A about a week before the trade and he spent the rest of the season at that level. Frazier struggled, hitting .229/.285/.359 (83 wRC+) in his first exposure to the highest level of the minors. He's not the first kid to have a hard time when he first reached Triple-A and he won't be the last.
The various prospect rankings tell us the 22-year-old Frazier is highly regarded. Baseball America, Baseball Prospectus, Keith Law, and MLB.com all ranked him somewhere between the 16th and 39th best prospect in baseball in their recent top 100 lists. His average rank on the top 100 lists was 26.5. Frazier is really good and he's going to start the season back in Triple-A, which means a big league call-up isn't far away at all.
"I want to play in the big leagues, and I've got to go out there and prove myself," said Frazier to Randy Miller earlier this month. "I've got to be a good teammate and a good player and stay healthy, so when all three of those things come together I think I've got a good chance to accomplish the dream."
Getting to the big leagues is one thing. Staying in the big leagues and carving out a defined role is another, and with young players, those two things can be pretty tough. With that in mind, let's look at some possible paths Frazier could take to reach the show this summer, using some recent Yankees as examples. These are listed in order of what I think is most likely to happen.
The Aaron Judge Path
Similar to Frazier this year, Judge reported to Spring Training last year after a tough finish in Triple-A the prior season. He got a long look in camp before being sent back to Triple-A for a few hundred plate appearances (410, to be exact). Once he sufficiently mastered Triple-A, the Yankees called Judge up in the second half last season and played him everyday in right field.
It seems very possible Frazier will follow a similar path this year. Go back to Triple-A for a few hundred at-bats, then join the big league team in the second half for an extended audition. Judge's playing time was created by the Carlos Beltran trade, and the Yankees will have to do something similar for Frazier. Brett Gardner has been on the trade block all winter and he is most likely to go. We'll see. (We could also call this the Greg Bird path.)
The Robinson Cano Path
The 2005 Yankees and 2017 Yankees are in very different places on the contention curve. The 2005 Yankees were very much a win-now team, and they were coming off their embarrassing ALCS collapse in 2004. The 2017 Yankees are a team in transition, which is YankeeSpeak for rebuild, and the emphasis is on young players. Do they want to win? Sure. But the kids are the priority right now.
In May 2005, the Yankees overhauled their lineup by moving Tony Womack to left field, sliding Hideki Matsui to center, reducing Bernie Williams' playing time, and calling Cano up from Triple-A to play second base. Robbie spent the second half of the 2004 season in Triple-A and he destroyed the level early in 2005, hitting .333/.368/.574 with eight doubles and four homers in 24 games. The Yankees needed a spark and Cano provided it.
Frazier has the talent to go to Triple-A this year and completely destroy the competition, a la Cano in 2005. And if the Yankees are in need of offense at the MLB level a few weeks into the season, calling him up will be awfully tempting in that case. Doing so would require clearing playing time. Maybe Gardner or Jacoby Ellsbury goes to the bench, or Judge strikes out his way back to the minors. Point is, an early season call-up can't be ruled out should Frazier rake.
The Jesus Montero Path
Unlike Judge in 2016 and Cano in 2005, Montero already had a full Triple-A season under his belt when he returned to the level in 2011. Montero hit .289/.353/.517 (133 wRC+) with 21 homers in 123 Triple-A games in 2010, his age 20 season. He was seven years younger than the average International League player. Montero was so highly regarded at the time that Baseball America ranked him as the game's third best prospect prior to the 2011 season.

Sigh. Anyway, Montero returned to Triple-A in 2011 and spent almost the entire season at the level again. He hit .288/.348/.467 (121 wRC+) with 18 homers in 109 games with the RailRiders that year. The Yankees then called Montero up that September and he took over as their regular DH, and gosh, it was glorious. Montero hit .328/.406/.590 (166 wRC+) with four homers in 18 games that September. He also went 2-for-2 in the postseason.
Keeping Frazier in Triple-A all summer before bringing him to the show as a September call-up and installing him as a lineup regular is definitely a possibility in 2017. The Yankees wouldn't need to clear a roster spot, and it's easier to give veterans like Gardner and Ellsbury and Matt Holliday days off in September, when they're feeling the effects of the long season. The September call-up plan is probably the cleanest way to incorporate Frazier into the MLB lineup this year, barring injury.
The Brett Gardner Path
Following a 45-game cameo at Triple-A in 2007, Gardner opened the 2008 season back at that level, then made a few shuttle trips over the summer. Here's how his 2008 season played out:
Opening Day: Sent down to Triple-A.
June 30th: Called up to MLB for the first time.
July 26th: Send back down to Triple-A.
August 15th: Called back up to MLB for good.
Gardner was first called up because both Matsui and Johnny Damon were banged up, and the Yankees needed another outfielder. He was sent back down after the Xavier Nady trade. Gardner was then called back up in August because the Yankees had gotten tired of waiting for Melky Cabrera to turn it around. Melky was sent down with his batting line sitting at .242/.296/.337 (65 wRC+).
The Yankees used Gardner first as an injury fill-in, then as a permanent replacement when a regular wasn't performing well. Should injuries strike this summer, the Yankees could very well call up Frazier as a fill-in, even if it's only temporary. He'd be a shuttle player, basically. And up-and-down player who comes and goes as needed. I don't think it's likely Frazier will be used in that way, but we shouldn't rule it out completely.
The Melky Cabrera Path
A few months after calling up Cano, the Yankees determined Womack was unplayable and shifted Matsui back to his natural left field. They made the ill-advised decision to promote Melky, who had only a handful of Triple-A games under his belt at the time, and insert him into the lineup as their regular center fielder. Cabrera went 4-for-19 (.211) at the plate in six games and was demoted after a defensive miscue that resulted in a Trot Nixon inside-the-park homer. It was not pretty.
The parallels here aren't perfect. Melky started that 2005 season in Double-A before being promoted to Triple-A, and he only played a handful of games at that level before being called up. Frazier already has 38 Triple-A games under his belt and will return there to start the season. More than anything, the Melky plan means calling Frazier up before he's big league ready and throwing him right into the fire. I don't think this will happen, which is why this plan is last in this post. Still though, the Yankees have done this sort of thing before, and you can't rule out doing it again.