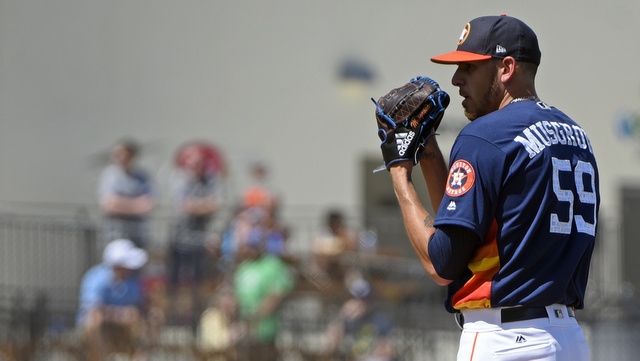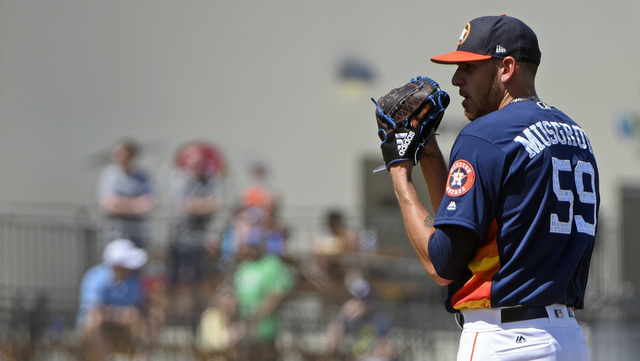 The Yankees return to television tonight with a home game against the Phillies, thankfully. We haven't seen them play since Saturday. Tonight's game will start at 6:35pm ET and we'll have a regular game thread at that time. Here are some bits of news to check out in the meantime.
Yankees scouted Astros, Nationals
According to Brendan Kuty, the Yankees had scout (Matt Daley!) in Port St. Lucie over the weekend when the Astros and Nationals visited the Mets. Righty Joe Musgrove started for Houston on Friday while righty Erick Fedde was on the mound for Washington on Saturday. Both pitchers allowed one hit and one walk in three scoreless innings in their outings. Musgrove struck out four. Fedde fanned one.
The Yankees have been connected to both Musgrove and Fedde over the last year or so, but only through speculation. Not hard "they want this guy" rumors. Musgrove was mentioned as a possible target during Brian McCann trade talks (I even wrote a Scouting The Market post) while Fedde's name came up as a potential piece in an Andrew Miller or Aroldis Chapman trade at least year's deadline. Obviously neither deal came to fruition.
We could connect some serious dots here. The Astros are said to want another high-end starting pitcher, and with Masahiro Tanaka's opt-out looming, could the Yankees move him? The Nationals don't have a closer right now and gosh, Dellin Betances sure makes sense for them, no? That said, teams scout either other all the time, and this could be nothing. Still, with the Yankees perpetually seeking young controllable pitching, this report sure is interesting.
Nothing happening with Quintana
According to Jack Curry (video link), the Yankees have "nothing simmering, nothing very hot going on right now" with regards to trade talks with the White Sox about Jose Quintana. Quintana is very much available and last week we heard the White Sox have been scouting the Yankees this spring. See? Teams scout each other all the time. Anyway, point is there's nothing imminent here, which isn't surprising.
Quintana started against Team USA in the World Baseball Classic last week and was masterful, taking a no-hitter into the sixth before allowing a two-out single and hitting his pitch count. (The bullpen then blew it.) That said, Quintana's stock didn't go up or anything. Teams know he's good. The only way one game can change a veteran pitcher's trade stock is if he gets hurt. My guess is the White Sox will ramp up their efforts to trade Quintana pretty soon, before he goes all Tyson Ross on them or something.
FanGraphs releases top Yankees prospects, top 100 prospects lists
Over at FanGraphs, Eric Longenhagen recently released his top 33 Yankees prospects list as well as his top 100 prospects list for all of baseball. White Sox IF Yoan Moncada claims the top spot on the top 100. Here are the eight Yankees in the top 100:
7. SS Gleyber Torres
34. OF Clint Frazier
40. OF Blake Rutherford
53. RHP James Kaprielian
61. OF Aaron Judge
87. OF Dustin Fowler
91. SS Jorge Mateo
97. LHP Justus Sheffield
This is the only top 100 list Fowler has made this year. Interesting. As for the top 33 Yankees prospects list, gosh, it's massive. I still haven't finished reading the entire thing. I'm doing it bit by bit. The write-up covers 68 players total. 68!
"Fawning over the system's obvious talent ignores its most fascinating aspect: the bizarre collection of pop-up arms. New York appears to be in possession of a player-development machine that has conjured several interesting pitching prospects seemingly out of thin air," says the write-up, referring to guys like Jordan Montgomery, Chance Adams, and Chad Green, all of whom came to the Yankees as okay prospects and have since seen their stock rise considerably. Now hopefully some of these guys will turn into productive big leaguers.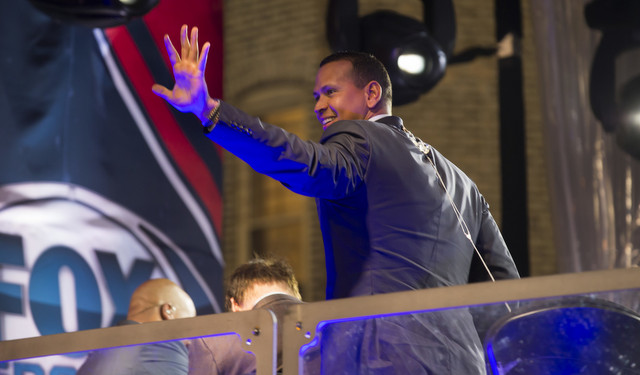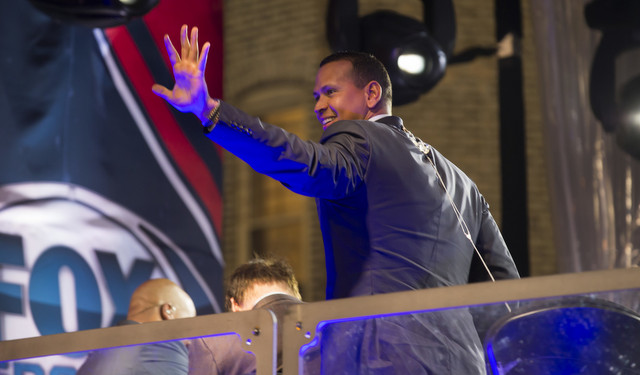 A-Rod joins FOX full-time
Alex Rodriguez is officially a full-time broadcaster. Last week FOX announced A-Rod has joined the network and will "serve as a game analyst for select FOX MLB SATURDAY telecasts as well as feature reporter for FOX's MLB pregame coverage and FS1 studio show MLB WHIPAROUND," according to the press release. It doesn't sound like he will be in the broadcast booth, does it? Sounds like a studio gig.
FOX owns a big chunk of the YES Network following the News Corp. deal a few years back, though it doesn't sound like there will be any crossover work here. A-Rod will be on FOX and FOX Sports 1. Not YES. Lame. I assume Alex will continue his special advisor duties with the Yankees in the meantime. His agreement with the club called for him to remain in that role through the end of this year. Either way, A-Rod was really good on television the last two postseasons, and it was only a matter of time until some network scooped him up.
MLB approves wearable biometric device
For the first time MLB has approved a wearable on-field biometric device for players, reports Darren Rovell. The device, which is made by a company called WHOOP, is meant to be worn all day and night, and will record data on sleep, heart rate, recovery, strain, etc. It is not a mandated piece of equipment and teams can't force their players to wear the WHOOP device. It is the player's decision given the private data involved.
Clubs have been studying pitcher deliveries using biometrics for years now, though the WHOOP device extends beyond that. Teams are focusing more and more on rest and recovery, because nowadays having the most talent isn't enough. You need the most talented players performing at their best as often as possible. Rest and recovery are part of that. The Yankees start their Spring Training workouts later in the morning to give players time to sleep in, plus they've looked for ways to improve travel in recent years too. I wonder how many players will wear the WHOOP device. It seems like the data could be really useful.