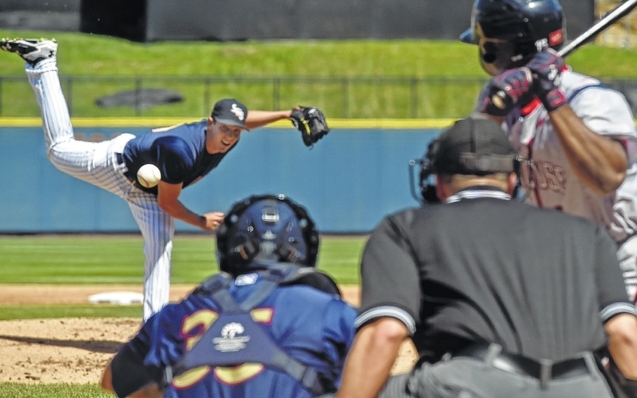 Eighteen games into the 2017 season, the surprise story for the Yankees has been their rotation. The five starters have a combined for a 4.05 ERA (4.00 FIP) in 104.1 innings, and they've been especially good over the last two weeks or so. Luis Severino looks like the 2015 version of himself, not the 2016 version, and rookie Jordan Montgomery has acquitted himself well. Masahiro Tanaka has been New York's worst starter thus far, weirdly. That won't last all season.
Beyond the current top five, the Yankees also have some pitching depth stashed away for emergencies. Adam Warren and Bryan Mitchell are in the bullpen and could be candidates to start at some point, if necessary. In Triple-A the Yankees have Chad Green and Luis Cessa, both of whom had stints in the rotation last season and handled themselves relatively well. Others like Daniel Camarena and Chance Adams could be options at some point too.
Early on the Yankees lined both Montgomery and Green up for the fifth starter's spot simply to make sure they had two pitchers ready to go. They planned to wait until April 16th to use the fifth starter, but that didn't happen. The Yankees decided to use their fifth starter, Montgomery, earlier to make sure everyone else in the rotation got an extra day of rest. I see no reason to regret that decision. The rotation has been pretty good lately.
While Montgomery has held down the fifth spot, Green has been sitting in the minors as a depth arm, taking the ball every fifth day. He has a 2.05 ERA (1.90 FIP) with 31.8% strikeouts and 4.6% walks in 22 innings spread across four outings. This is nothing new for him, of course. Last season Green threw 94.2 Triple-A innings with a 1.52 ERA (2.17 FIP) and great strikeout (27.4%) and walk (5.8%) rates. He dominates at that level.
What we don't know is whether Green can dominate — or even pitch at the league average rate — at the MLB level. Green will turn 26 next month, so he's not a young kid, and when you've got a pitcher that age throwing that well in Triple-A, you'd hate to waste those bullets, so to speak. Why let him manhandle the minors when he could help you win at the big league level, you know? The Yankees have three options with Green.
Keep him in Triple-A
There's nothing wrong with stashing Green in Triple-A for the time being. It stinks for him because he wants to be in the big leagues, but it makes sense for the Yankees, who will inevitably need a sixth starter at some point. They'd surely like to have Green (and Cessa) all ready to go when time comes.
Also, keep in mind the single biggest reason Green is in Triple-A is his changeup, or lack thereof. He's worked to add a changeup (or a splitter) throughout his pro career and hasn't had much luck. Last season big league lefties hit .287/.351/.663 (.421 wOBA) against him because he had nothing to disrupt their timing. His Triple-A numbers are great, but until the Yankees see progress with his changeup, they might not want to call Green up. Keep him in Scranton and tell him to throw 30 changeups a start until he's needed in the Bronx.
Put him in the MLB rotation
The Yankees did this for a while last season because they had no other choice, basically. They lost Nathan Eovaldi to injury and Ivan Nova was traded away, and they needed starters. Green had a 5.94 ERA (6.09 FIP) in eight starts and 36.1 innings. That's terrible, but last year is last year and this year is this year. Green has some MLB experience now and could use that experience to have more success his second try at the show. Happens all the time.
The question with this option is who does Green replace? No one in the current big league rotation deserves to be demoted. I suppose you could argue Green should replace CC Sabathia. Sabathia will be 37 in July and he's an impending free agent with no real long-term future in pinstripes. The Yankees might bring him back on perpetual one-year contracts Andy Pettitte style, but that's far from a guarantee. Green, on the other hand, is 25 and could have a long-term role here. The Yankees are in the middle movement, right? Go with the kid!
That's not going to happen, of course. Sabathia pitched well enough last year and has pitched well so far this year, and let's not kid ourselves, his $25M salary buys him some rope. If Green were to join the rotation for any reason other than trade or injury, it would almost certainly come at the expense of Montgomery, the low man on the rotation totem pole.
Put him in the MLB bullpen
Tyler Clippard and all his fly balls still make me nervous, but how good has the bullpen been so far? They collectively have a 1.39 ERA (2.10 FIP) in 51.2 innings. Very nice. There's always room for improvement though, and Green has a big fastball — he averaged 94.4 mph with his heater as a starter in 2016 — and a promising slider. Let him air it out in short relief and very good things may happen. (I predicted they will!)
Making room in the bullpen would be pretty easy. Jonathan Holder, who is very clearly a favorite of the Yankees, has managed to put ten men on base in 5.1 innings despite not walking anyone. Impressive. Sending him down to Triple-A to clear room for Green is an easy move. The Yankees could also send Mitchell to Triple-A to stretch him back out to start as well. That's an option too.
Point is, Green chances of success as a starter aren't great right now because he doesn't have a changeup. He does have a great fastball though — hitters swung and missed at his fastball 16.2% of the time last year, which is nuts (that's basically triple the MLB average) — not to mention a useful slider. Green truly has the potential to overpower hitters as a reliever, and there's no such thing as having too many of those guys in your bullpen.
* * *
My guess is the Yankees will keep Green in Triple-A for the time being. Things with the pitching staff are going well right now and hey, why fix what isn't broken? Eventually the Yankees will need another arm, and when they do, Green will be among the first considered. I want to know what you would do with Green, however. What's the best course of action with this soon-to-be 26-year-old right-hander?
What should the Yankees do with Chad Green?