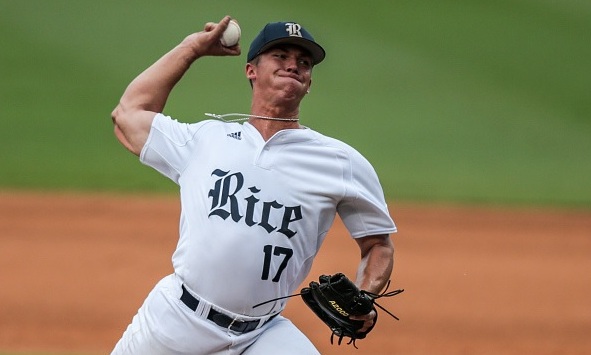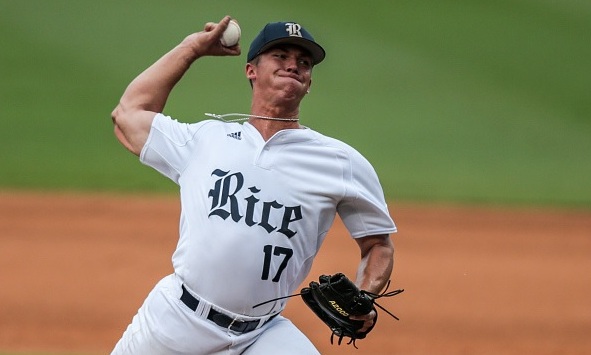 The first two days and ten rounds of the 2017 amateur draft are in the books. The top ten rounds are tied to the bonus pool, and because of that, Day Two is typically the least interesting day of the draft. Teams take players they know they can sign because they don't want to lose draft pool money should the player decide to go to school, which usually means selecting lower profile prospects without much leverage. The Yankees went heavy on arms yesterday. Very heavy. Let's recap their Day Two draft haul.
The Lone Position Player
Day Two covers rounds 3-10 and the Yankees selected exactly one position player in those rounds: Texas HS OF Canaan Smith (fourth round). Smith was mostly a catcher in high school but the Yankees announced him as a right fielder, so I guess he's changing positions. Also, he was quarterback for the football team, and the Yankees have a history of targeting two-sport players. They love two-sport guys with athleticism and big time compete tools.
Smith is a left-handed hitter with very good bat speed and power potential, giving him exciting offensive potential. The problem? Scouts didn't get to see him swing the bat much this spring. He was always walking! Smith drew over 60 walks in approximately 40 games this year, which is a top ten all-time walks season for a prep player. The combination of teams pitching around him and high schoolers just not being able to throw strikes meant Smith didn't get many pitches to hit.
In all seriousness, I can't help but wonder whether all the walks hurt Smith on the scouting trail. He's got good size (6-foot-0 and 215 lbs) and he's a good athlete based on the two-sport thing, plus it sounds like there's some thump in his bat. Did scouts not see him take enough swings to recommend drafting him higher? Either way, with lefty power and patience, not to mention good athleticism, it's not hard to understand why the Yankees were drawn to Smith.
By the way, Smith's draft slot comes with a $433,100 bonus value. I get the sense he's going to wind up getting an over-slot bonus, however. Smith is committed to Arkansas and the two-sport thing gives him some extra leverage because he has more options. That doesn't necessarily mean he'll get a huge seven-figure bonus, but it wouldn't surprise me to see Smith's bonus exceed his slot value.
The Possible Starters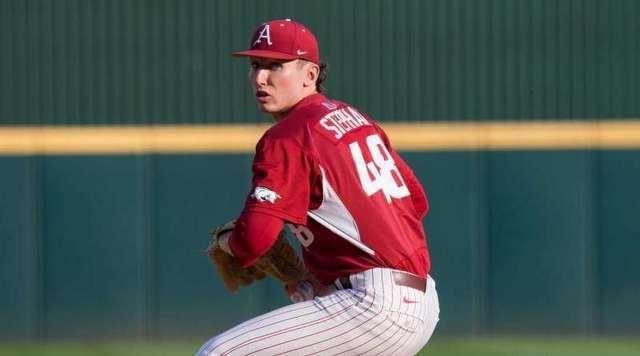 Over the last few years the Yankees have gone after power arms in the middle rounds of the draft and that continued this year. Arkansas RHP Trevor Stephan (third round) and Rice RHP Glenn Otto (fifth round) have the best chance to start among the team's Day Two picks. Both are lacking a reliable changeup and that will be their pet project in pro ball, should they sign. (They will.)
Stephan is a big kid at 6-foot-5 and 225 lbs., and he sits mostly low-90s with his fastball and low-80s with his slider. The slider helped him strike out 120 batters in 91 innings this spring. His changeup is okay at best. He's not afraid to throw it though. It's just a matter of improving the quality of the pitch. If Stephan can do that, he has a chance to start to long-term and become a pretty interesting prospect. If not, to the bullpen he'll go.
Like Stephan, Otto is another big guy at 6-foot-5 and 240 lbs. — the Yankees drafted large pitchers? I'm shocked — though it should be noted he has been worked very hard in college. That's standard for Rice pitchers. The coaching staff pushes them very hard. Otto missed time with a sore arm earlier this year, and when he returned, his fastball was mostly 91-94 mph, down a tick from the 93-95 mph he showed in the past. His hard curveball is an out pitch.
Otto's changeup is further along than Stephan's, though he doesn't have much confidence in the pitch, so he rarely threw it in college. One guy has a bad changeup but is willing to throw it. The other guy has an okay changeup but won't throw it. Go figure. The Yankees will let both guys start because that's what they should do. If things don't work out, they'll look to move them quick as relievers.
The Daltons
The Yankees selected a pair of Daltons with back-to-back picks on Day Two. They used their sixth round pick on Augustana LHP Dalton Lehnen and their seventh round pick on Dallas Baptist RHP Dalton Higgins. Lehnen is, by frickin' far, the highest drafted player in Augustana history. They never had a player drafted before the 23rd round prior to yesterday. Not too many baseball prospects coming out of Sioux Falls, South Dakota, I guess.
Lehnen is the better prospect of the two Daltons because he has a true three-pitch repertoire: 89-92 mph fastball, a slurvy breaking ball, and a decent changeup. The breaking ball sometimes looks like a slider and sometimes looks like a curveball, and it's not intentional. The pitch is inconsistent. Even if he refines the breaking ball, Lehnen's margin for error is pretty small, and his command isn't great. He strikes me as a lower level depth starter.
The other Dalton, Higgins, is a power reliever who figures to remain in that role in pro ball. He's mostly 92-94 mph with a good slider that on its best days will be allergic to bats, and he doesn't have a changeup. Two years ago the Yankees took another Dallas Baptist reliever, Chance Adams, and turned him into a starter, but I don't see that happening with Higgins. Not unless he makes big strides with his changeup in a short period of time.
I would be remiss if I didn't mention the Yankees have had success getting pitchers to add velocity the last few seasons. It's their throwing program and training methods. Guys like Adams, Jordan Montgomery, and James Kaprielian have all added some velocity. Should either of the Daltons add some oomph to their heater, they'll become interesting in a hurry.
The Senior Signs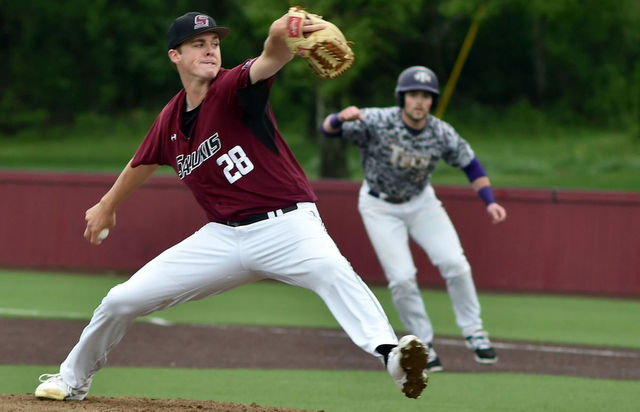 As always, the Yankees selected several college seniors on Day Two as a way to save draft pool space. College seniors have no leverage. They can either turn pro or go get a real job, and who wants to do that? The Yankees used their final three Day Two picks on seniors: Radford RHP Kyle Zurak (eighth round), Texas-Arlington RHP Austin Gardner (ninth round), and Southern Illinois RHP Chad Whitmer (tenth round).
Zurak is, by no small margin, the best prospect among the three seniors. He's similar to Tyler Webb in that he's a career college reliever with enough stuff and command to climb the minor league ladder and maybe one day be a big league option, if not for the Yankees than for another team. Zurak can run his fastball up to 95 mph and his money pitch is a nasty mid-80s slider. He struck out 73 batters in 60 innings this spring.
"It's so freaking amazing. I honestly couldn't be any freaking happier. It just worked out perfectly to be with the greatest, most recognizable sports team in the whole entire world — the New York freaking Yankees," said Zurak to the freaking Roanoke Times. "I worked my butt off. It finally paid off, hearing … my name be called. It's been my dream forever to be a professional baseball player and it finally came true."
Neither Gardner nor Whitmer bring a ton to the table aside from experience and the willingness to sign very cheap. Gardner is a reliever with a low-90s fastball and an iffy breaking ball. Whitmer is a durable starter with a decent three-pitch mix and enough pitching know how that he'll probably carve up the low minors and have folks talking about him as a potential sleeper. Zurak is the guy though. At least among the seniors. He has the best chance to develop into something worthwhile, even if he's stuck in the bullpen.
I should note the new Collective Bargaining Agreement changed the way the bonus pool money is distributed. It's top heavy now. The first round bonuses are huge and the tenth round bonuses are tiny. That means the college seniors won't save teams as much as they had in the past. Zurak ($157,200 slot), Gardner ($141,200 slot), and Whitmer ($133,300 slot) all figure to sign low five-figure bonuses. Those three picks might save the Yankees something like $400,000 combined, and hey, that could go a long way to landing another player.
* * *
You can see all of the Yankees' picks right here. Through ten rounds they've selected one position player and nine pitchers, though I don't think that's part of a concerted effort to load up on arms. That's just the way the cookie crumbled, you know? It's not like the Yankees are short on arms in the lower levels anyway. The Yankees did select some interesting arms on Day Two — Stephan, Otto, Higgins, and Zurak, most notably — plus one powerful position player. And, as always, they'll grab some high-profile high school players on Day Three and try to convince them to sign with any bonus pool savings generated from Days One and Two.