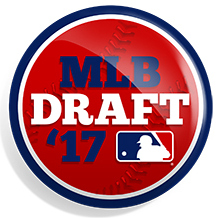 The 2017 amateur draft concludes today with rounds 11-40, which are the rounds where organizational depth is built. The Yankees have found guys like Tyler Austin, Chase Whitley, Rookie Davis, and James Pazos on Day Three in recent years, and they've all proven useful in one way or another. Everyone wants stars and impact players. Depth guys are important too.
So far this year the Yankees have gone heavy on arms. We're talking nine pitchers and one position player in the first ten rounds these last two days. I think that's a coincidence more than anything. That said, the Yankees may try to balance things out a bit with a few position players here on Day Three. Here is my Day Two recap, here are the Yankees' picks, and here are some draft links to check out:
The draft concludes today with rounds 11-40. Thankfully, the conference call is now rapid fire, one pick after another. That's the way the entire draft used to be (and always should be!). Anyway, the draft resumes at 12pm ET, and you can tune in on MLB.com. Here is MLB.com's draft tracker. Chat about all the day's draft-related stuff here.