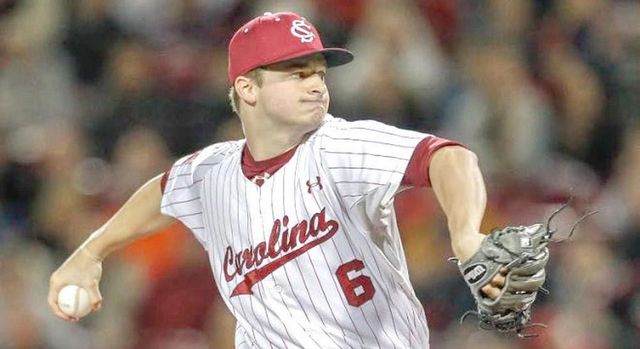 Monday night, the Yankees selected South Carolina RHP Clarke Schmidt with their first round selection (16th overall) in the 2017 amateur draft. He is the fourth college player they've taken with their six first round picks since 2013.
Schmidt, 21, had Tommy John surgery earlier this year and is still rehabbing. He had a 1.34 ERA with 70 strikeouts and 18 walks in nine starts and 60.1 innings before blowing out his elbow this spring. Prior to getting hurt, Schmidt was considered a potential top 10-15 pick. The various draft rankings all reflect Schmidt's injury:
Here's a piece of MLB.com's scouting report:
Schmidt relies heavily on a 92-94 mph fastball that can reach 96 and features power sink. Both his slider and curveball can be plus pitches at times but also lack consistency, and he also mixes in a decent changeup. He generally throws strikes but can be vulnerable if his pitches wander up in the strike zone.
And here's some video:
Clearly, the Yankees are rolling the dice big time here. They're hoping to get the pre-Tommy John surgery version of Clarke once he's done rehabbing, which is always risky because Tommy John surgery is a very serious procedure. Given the timing of Schmidt's elbow reconstruction he figures to return to the mound at midseason 2018.
The 16th overall pick comes with a $3,458,600 slot bonus. I'm not sure when the signing deadline is this year, but it's usually in mid-July. I wonder if the Yankees and Schmidt agreed to a deal before the draft for below slot money, freeing up cash for later picks. Hmmm.