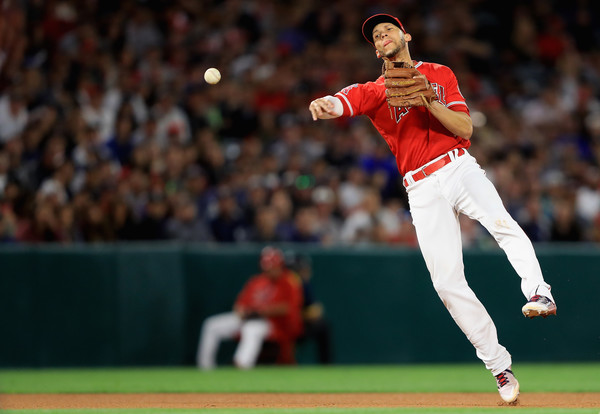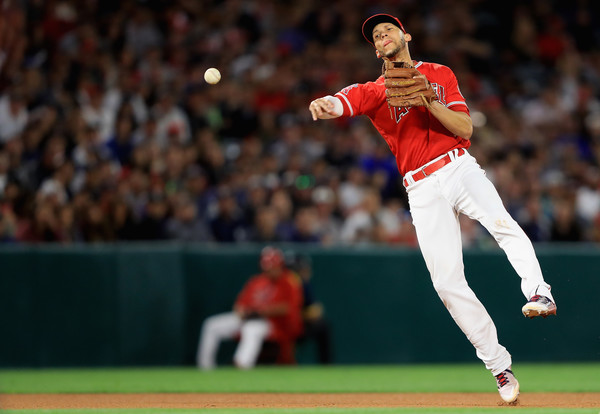 The Yankees trip to the West Coast went about as poorly as it could. They dropped six of seven to the Angels and A's, and suffered injuries and heartbreaking losses along the way. They've fallen to 16-20 on the road as a result of this road trip, so a return to the Bronx (where they're 22-9) is quite welcome.
The Last Time They Met
It was last week, so this may well be a fine example of deja vu all over again. The Angels took two of three at Angel Stadium, and CC Sabathia left the second game with a strained left hamstring. Let's take a look at some of the positives from the series:
Aaron Judge went 2-for-4 with a three runs, a home run, and two RBI in the first game. That home run was a two-run shot in the 8th inning, which broke a 3-3 tie and helped secure the win for the Yankees.
Masahiro Tanaka was solid in that game, as well. He went 6.2 IP, allowing 4 hits, 3 runs (1 ER), and 2 BB, striking out 8.
Chase Headley showed signs of life in the series, going 6-for-13 with a double and a home run. He raised his season OPS from .659 to .696 in those three games.
All nine Yankees starters reached base safely in both the first and third games of the series.
Check out Katie's Yankeemetrics post for more in-depth analysis of the series.
Injury Report
Closer Cam Bedrosian returned from the disabled list over the weekend, and there's a chance that reliever Huston Street will return this week, as well. Matt Shoemaker essentially replaced Bedrosian on the DL, due to a forearm strain. Otherwise, it's the same story as last week – which means no Mike Trout and no Garrett Richards.
Their Story So Far
The Angels hosted the Royals for a four-game series after the Yankees left, and they dropped three. They're now 36-37 on the season, including 10-10 with a +13 run differential since Trout hit the disabled list.
The Lineup We Might See
Manager Mike Scioscia seems to have found a lineup that works for him over the last week and change – at least as it pertains to the first six spots in the order. If their last two series' are any indication, the Yankees pitchers will see something along these lines:
Cameron Maybin, CF
Kole Calhoun, RF
Albert Pujols, DH
Yunel Escobar, 3B
Luis Valbuena, 1B (vs. RHP) or Andrelton Simmons, SS (vs. LHP)
Andrelton Simmons, SS (vs. RHP) or C.J. Cron, 1B (vs. LHP)
Ben Revere, LF or Eric Young, LF
Martin Maldonado, C
Danny Espinosa, 2B
The Starting Pitchers We Will See
Tuesday (7:05 PM EST): RHP Michael Pineda vs. RHP Parker Bridwell
It has been a rather inauspicious beginning to Bridwell's 2017 season, as the 25-year-old was DFA'd by the pitching-starved Orioles to make room for Paul Fry, and was subsequently dealt to the Angels for a PTBNL or cash. This will be the second start of his MLB career (he started against the Braves on 5/30), and his second time facing the Yankees (his most recent outing).
Bridwell throws a trio of fastballs, including a low-90s four-seamer, a low-90s two-seamer, and an upper-80s cutter. He also throws a slurvy breaking ball and a change-up in the low-to-mid 80s.
Last Outing (vs. NYY on 6/14) – 3.2 IP, 7 H, 1 R, 0 BB, 1 K
Wednesday (7:05 PM EST): LHP Jordan Montgomery vs. RHP Ricky Nolasco
There was a time when we were all waiting for Nolasco to break-out, owing largely to his strong strikeout and walk rates, which resulted in low FIPs that belied his high ERAs. He's now 34-years-old, though, with a 5.02 ERA (81 ERA+) since the beginning of the 2014 season, so those days are long gone. Nevertheless, the 0.61 run gulf between his career ERA (4.55) and FIP (3.93) is the highest of any long-term starter since the end of the 19th century.
Nolasco throws mostly fastballs and sliders nowadays, with his four- and two-seamers sitting in the low-90s, and his slider checking-in in the low-80s. He'll also throw a low-80s split change-up every so often.
Last Outing (vs. KCR on 6/15) – 6.0 IP, 10 H, 4 R, 2 BB, 4 K
Thursday (7:05 PM EST): RHP Luis Severino vs. RHP Jesse Chavez
To say that Chavez can do a bit of everything is a bit of an understatement, as the 33-year-old has bounced between the rotation and the bullpen several times over the last five years. He spent all of 2013 in the bullpen, split the 2014 season between starting and relieving, spent the vast majority of 2015 as a starter, and was used as a reliever for the entirety of 2016. He's back in the rotation in 2017, and he leads the Angels in both starts and innings pitched. Whether that's a good thing or not is up for debate.
Chavez is a four-pitch guy, with a low-90s fastball, a low-90s cutter, a low-80s slider, and a mid-80s change-up. He'll flash a curve, as well, but it's not used more than a couple of times per game.
Last Outing (vs. KCR on 6/16) – 7.0 IP, 9 H, 2 R, 0 BB, 4 K
The Bullpen
The return of Bedrosian and potential return of Street means that the Angels bullpen is approaching full-strength. It was difficult to tell that they were short-handed, though, given that the bullpen has a 2.70 ERA (133 ERA+) in June. They held the Royals offense to 4 runs in 15 innings this past weekend, striking out 14 while walking just 2. It was all hands on-deck in the series against the Royals, with most relievers going at least twice. However, the day off and the return of Bedrosian should leave the group fairly rested and ready for tonight's game.
Who (Or What) To Watch
Would it be a cop-out to lean on Simmons' defense once again? If not, there you go.
If so, Bedrosian's slider is among the best in the game, with batters hitting just .170 with a .019 ISO against the offering last year. It's a filthy pitch, to say the least. You could also probably make a game out of how often the broadcasters reference his father – the Cy Young-winning Steve Bedrosian.