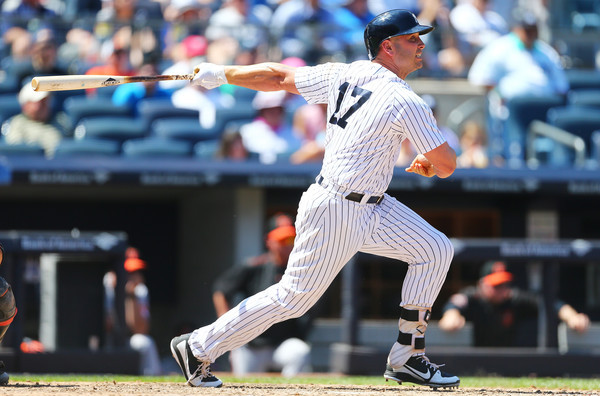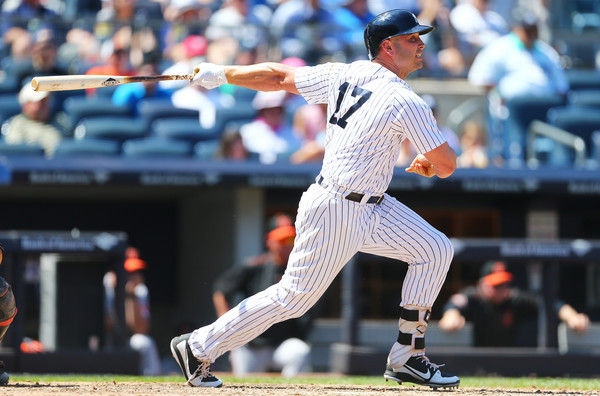 Once the Yankees traded Brian McCann, it was clear they had two offseason priorities. They wanted another high-end reliever to replace Aroldis Chapman and Andrew Miller, who were traded away at the deadline, and they wanted a big bat to plug into their designated hitter spot. The Yankees reportedly wanted another starting pitcher too, but that didn't happen.
Rather than go for a big name DH like Edwin Encarnacion, the Yankees instead settled on Matt Holliday, who had never been a full-time DH before and had seen his offensive output, by wRC+, drop from 146 to 132 to 124 to 109 from 2013-16. Not a good sign for a 37-year-old! The Yankees took the plunge though, partly because Holliday would take a one-year contract, and partly because there were indications his underlying skills hadn't slipped as much as his numbers indicate.
A little more than one-third of the way into the season, Holliday has been a central figure in an offense that leads baseball with an average of 5.72 runs scored per game. He's hitting .270/.375/.516 (137 wRC+) overall, and his 14 home runs give him a chance to hit 30 for the first time since 2007. (Even during his best years with the Cardinals, Holliday was more of a 25-28 homer guy.) Home runs like his walk-off against the Orioles …
… show the ball still flies off Holliday's bat. I couldn't tell you how many times I've seen him hit a ball like that and think it's a routine fly out off the end of the bat, only to watch it carry and carry and carry. He did it twice in the series in Toronto two weeks ago. Holliday hits the ball the other way with so much power. It's no wonder why he's been such a great hitter throughout his career.
Holliday is hitting better now that he has in years, especially for power, and in all likelihood there are several reasons for that. One, he now plays his home games in Yankee Stadium, a hitter's ballpark. Two, he's a full-time DH who doesn't have to deal with the wear and tear of playing the field. At this point of the season, 67 games in, no one is 100% physically. Holliday is probably closest on the Yankees because he's off his feet so much.
And three, there are some indications Holliday is a different hitter now than he was last year and really the last few years. The single biggest difference between Holliday right now and the Holliday of the past is the strikeouts. He has a 25.4% strikeout rate at the moment, by far the highest of his career. His previous career high was 19.6% as a rookie in 2004. His career average is 16.7% strikeouts. Look: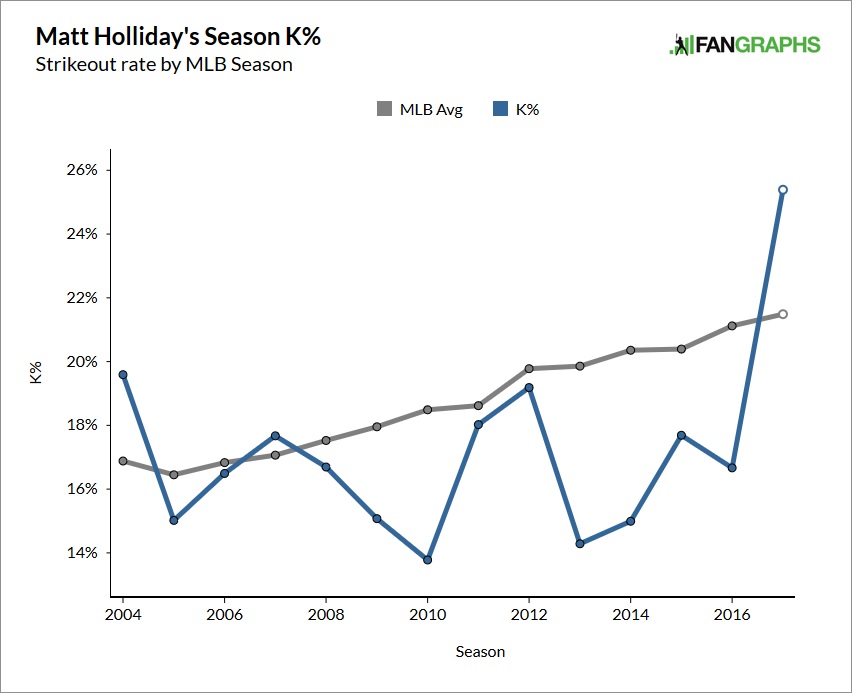 Usually when a player on the wrong side of 35 sees his strikeout rate spike that like, it comes with a massive drop in production. That isn't the case with Holliday. He's been more productive this season than he has been in three or four years now. I don't doubt that Holliday has lost some bat speed — he is 37, after all — but clearly he hasn't lost so much that he is incapable of being an impact hitter.
Soon after Holliday signed with the Yankees, he said he wanted to do a better job getting the ball airborne. He hit way too many grounders last season. Exactly half his batted balls, in fact. So far this season Holliday's ground ball rate has dropped to 45.1%, his lowest since 2010, and he's also pulling the ball more often. His 39.2% pull rate is a career high and quite a bit above his career 35.1% pull rate.
More strikeouts plus more fly balls plus more balls pulled to left field? Could it be an indication Holliday is selling out for power this season? I think it's a possibility. I should note that while a 39.2% pull rate is high for Holliday, it's actually below the MLB average. The league average pull rate is 39.9% this year. We've seen some really pull happy hitters over the years, like Brian McCann (50.0% in 2016). Holliday isn't pulling the ball that much.
What I think may be happening is Holliday is selling out for power selectively. In certain situations he'll look for a pitch, really try to unload on it, and hope he connects. If he does, great! If not, well, better luck next time. Holliday may be selling out for power, but he hasn't completely sacrificed his all-fields approach either. Like I said earlier, we've seen him really muscle some balls out to center and right-center. Here's his spray chart, via Baseball Savant: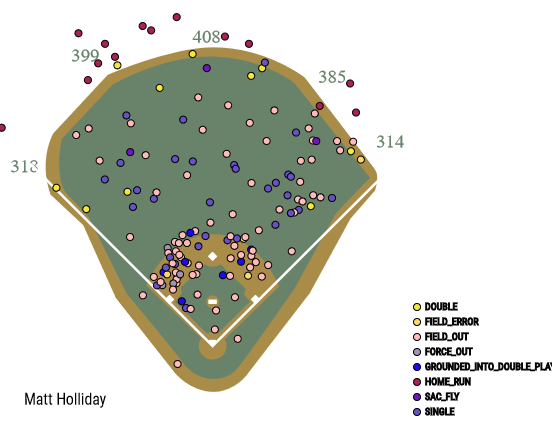 If Holliday is selling out for power — and I don't know that he is, it's just a theory — he's managed to do it in a way that doesn't compromise his ability to take the ball the other way. McCann, for example, looked to pull just about every pitch because, as a left-handed hitter, he would be rewarded for doing so at Yankee Stadium. Holliday, as a righty, still has incentive to go the other way.
The Yankees avoided the big flashy move over the winter, which would have been signing Encarnacion, and they opted for the most sensible move in signing Holliday to a one-year contract. And so far, it couldn't be working out any better. Holliday has transitioned to DH seamlessly — lots of guys struggle with that after playing the field every day basically their entire lives — and he's producing more than he has in years. And he seems to be a positive influence on the young players too.
As an older player, Holliday has inevitably had to make adjustments to remain successful, and it seems his latest adjustment may involve picking his spots to swing out of his shoes. If he swings and misses, so be it. That's the trade off. That he's been able to do that, pull the ball and get it in the air more often, without sacrificing his all-fields ability is pretty damn impressive. Yeah, Holliday may be striking out more than ever before, but the strikeouts have come with his best offensive season in years.