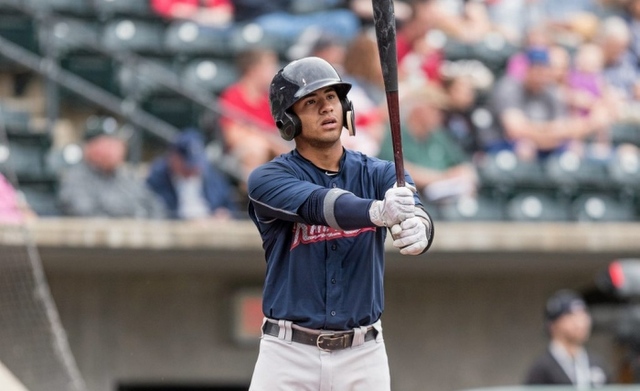 Over the weekend, top prospect Gleyber Torres managed to tear the ulnar collateral ligament in his left elbow on a play at the plate. He will have season-ending Tommy John surgery. It sucks so much. Sooo much. The injury combined with the disaster West Coast road trip make this one of the worst weeks in recent Yankees history. No doubt about it. Anyway, I have some thoughts on the injury and the fallout.
1. If this injury comes with a silver lining, it's this: the injury is to Gleyber's non-throwing elbow, and he's a position player. The Tommy John surgery rehab timetable for position players is usually 6-8 months, not the 14-16 months it is for pitchers nowadays. The Yankees say they expect Torres to be ready in time for Spring Training — the Arizona Fall League or winter ball isn't going to happen though — and that isn't aggressive at all. There is always risk with surgery and the lost development time shouldn't be ignored. Torres is going to lose 300 or so plate appearances and he'll never get them back. At the end of the day, this is a severe injury, but it is also fairly straightforward and correctable. And he is only 20. It's not like he's 25 or 26.
2. A torn elbow ligament and Tommy John surgery is pretty darn common these days, though the way Torres tore his ligament is pretty unique. When's the last time someone blew out their elbow on a slide? Heck, when's the last time someone blew out their non-throwing elbow? Usually the ligament tears during a throw, even with position players. I can't remember ever hearing of a player tearing his elbow ligament on an impact play like a slide into home plate. Weird. Torres must have really come down on that elbow hard, huh? Or maybe the ligament was already frayed and on the verge of tearing, and the slide was the straw that broke the camel's back. At the end of the day, it was a fluke injury suffered during a fairly common baseball play. It's just weird that it resulted in this injury.
3. As good as he is — and Torres is insanely talented — probably the biggest weakness in his game right now is his baserunning. He's overly aggressive and it leads to a lot of pickoffs and outs on the bases. There were a few of them back in Spring Training. Torres would push the envelope when he shouldn't have, and the result was an out. Not a fatal flaw! A correctable flaw through experience. Here's the slide that resulted in the injury:
That's not a headfirst slide. That's more of an awkward feet first slide with an arm extended. Perhaps the awkwardness of the slide contributed to the injury. I mean, it almost certainly did. Torres plays with a lot of energy and you'd hate to take that aggressiveness away from him. Pushing the envelope is a good thing (at times). But, in this case, that aggressiveness combined with crummy slide fundamentals led to an injury. Gleyber's baserunning issues resulted in something much worse than an out this time.
4. Interestingly enough, after Torres got hurt Triple-A Scranton manager Al Pedrique told Amy Moritz the Yankees teach their players not to slide headfirst. Headfirst slides are too dangerous. Here's what Pedrique told Moritz before the torn ligament was discovered:
"It's one thing that we teach as an organization, try not to have the guys slide head-first, any base and especially home plate because of all the gear the catcher has on," Pedrique said. "When I saw the slide it was a concern and then afterwards when I saw him stay on the ground, definitely it was a scary moment for everybody. He came back from the hospital. Everything's normal. So from that end, we're very excited he didn't get hurt worse. Again, that's one thing we try to tell the player and teach them how to slide. But in the moment of the game, the competition, sometimes they don't use the information to slide feet-first."

…

"Injuries are part of the game but if we can avoid one like that one, we're going to do the best we can to make sure they understand the reason why we don't like the head-first slide," Pedrique said. "He's a young guy. He has a long way to learn about a lot of things in the game but he has a lot of talent and again thank God he didn't get hurt worse."
Mike Trout tore ligaments in his thumb during a headfirst slide a few weeks ago. Feet first slides are dangerous too! Everything in baseball is inherently dangerous. Former Yankees prospects David Adams and Ravel Santana suffered catastrophic ankle injuries on feet first slides and were never the same. But there are so many tiny bones and ligaments in your hands. Players are bigger and faster than ever before, and when you hit that bag with all that force, it can be easy to break or tear those little bones or ligaments. I'm guessing the Yankees are not the only team trying to teach their players to avoid headfirst slides, and I'm glad they're doing it. Sometimes the player's instincts take over and they go in with their hands though.
5. I absolutely believe the Yankees were planning to call Torres up at some point, possibly soon after the All-Star break. They promoted him quickly from Double-A and there's been chatter they were grooming him to take over at third base. Where there's smoke, there's fire. Gleyber still needed to improve his defense at third before getting called up, but I think he would have gotten comfortable there fairly soon. He made a remarkable amount of process this season otherwise. Now a call-up is completely off the table. Even if you didn't love the idea or weren't sold on Torres being a short-term upgrade at third base, the option existed. Now it doesn't. That bites. I thought Torres would be up at some point in the second half and help right away. Not like Gary Sanchez helped last year, but enough.
6. So, with that in mind, the Yankees are probably going to ramp up their search for third base help. I'm not 100% convinced they'll buy at the trade deadline, but they will do their due diligence. Chase Headley has settled in following an uneven start to the season. He hit .251/.329/.383 (92 wRC+) last year and he's at .249/.329/.364 (86 wRC+) this year. This is pretty much who he'll be going forward. It's one thing to sit Headley for a top prospect like Torres. It's another to sit him for a veteran you pick up in a trade. Guys like Todd Frazier and Jed Lowrie might not be enough of an upgrade to sacrifice the prospects. Mike Moustakas would be a different story, though the Royals have climbed back into the race, so he might not be available now. Furthermore, teams know Torres is a non-option now, so the Yankees doesn't have much leverage. That top prospect they could call up instead of trading for your guy isn't available. Right now, my guess is Headley will be the third baseman the rest of the season. I didn't think that was the case before the Torres injury.
7. All things considered, the injury is worse news for Torres than the Yankees. He was maybe weeks away from making his big league debut, and now he'll have to wait until at least next season, maybe longer if the Yankees decide to be be cautious after surgery. The Yankees aren't losing anyone off their big league roster — I personally thought Torres would get called up, but it was not set in stone — and they're not losing a trade chip either because Torres is presumably atop their untouchables list. Tommy John surgery for position players has an extremely high success rate — the only position players to have a real hard time with the rehab are catchers, who use their arms so much — and Torres didn't even hurt his throwing elbow. The injury bites because Torres will miss so much development time. That's baseball. Players get hurt but there's still another game to play tonight. The division title ain't gonna win itself. Onward.