Boy, the Yankees stink right now. I mean really, really stink. The bullpen especially. Quick 1-2-3 innings are a thing of the past. The Yankees were one out away from a win Tuesday night, yet it turned into a 4-3 walk-off loss to the White Sox. Baseball is so stupid.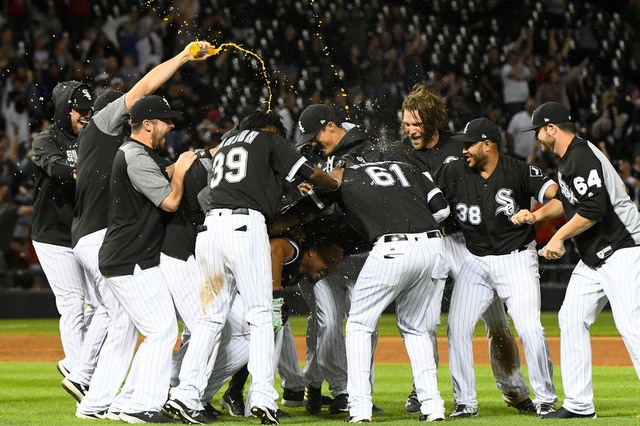 Death by Bullpen
What the hell happened to the bullpen? Everyone is going belly up at the same time. The Yankees managed to take a 3-1 lead into the eighth inning (more on that later) and three relievers faced 13 batters, and allowed eight to reach base. Seven didn't have to take the bat off their shoulders. Seven! At least make them work for it dudes. The bullpen situation has become untenable.
Not everyone was available due to recent workloads, which meant the first guy out of the bullpen was Domingo German. He threw ten pitches. Two were strikes. Back-to-back walks sent German to the showers and brought Tyler Clippard into the game, who is pretty much the last guy anyone wants to see on the mound in a close game. His first four pitches? Balls. Walked the bases loaded with no outs. Inexcusable!
To Clippard's credit, he escaped that jam while allowing just one run, which is close to the best case scenario there. He struck out Jose Abreu, got Avisail Garcia to fly out to shallow right, walked Todd Frazier to force in a run (argh), and struck out Matt Davidson to end the inning. After all that, the Yankees had a 3-2 lead! Considering the way the inning started, getting out with a lead was amazing.
In the ninth, the Yankees had the situation they would sign for every day of the week: Dellin Betances on the mound with a one-run lead. A quick ground out got the inning started. Then Betances lost the plate, something he has done far more frequently this year than he has in the past. A walk (Kevan Smith), a walk (Alen Hanson), and a hit batsman (Yolmer Sanchez) loaded the bases. Six of the first ten batters the bullpen faced drew walks. The 11th was hit by a pitch.
The death blow came with two outs, when Abreu pulled a ground ball single through the left side of the infield to score both the game-winning and go-ahead runs. Brett Gardner's throw from left field was good, but there was no way he was going to get the speedy Hanson at the plate. The final line on the bullpen: 1.2 IP, 1 H, 3 R, 3 ER, 6 BB, 2 K, 1 HB. German and Clippard were bad, but bottom line, Betances has to protect a one-run lead against the bottom of lineup, even if he is pitching for the third straight day. Please shoot this bullpen into the sun.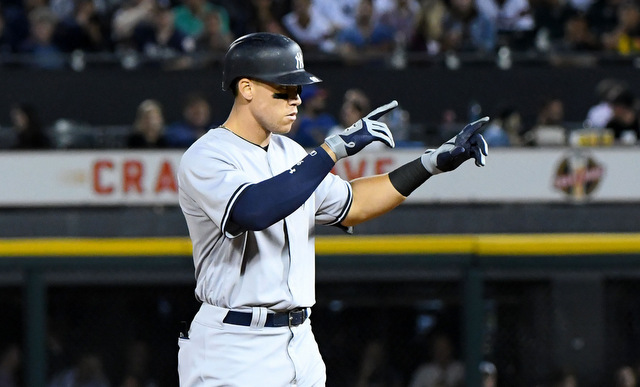 The Kids Shall Lead Them
For the first seven innings the Yankees couldn't do much of anything against Jose Quintana and, weirdly, Anthony Swarzak. On two occasions they had a walk followed immediately by a first pitch double play. Is that not the most annoying thing in baseball? It wasn't until Didi Gregorius beat out a squibber to third with two outs in the fourth that the Yankees had a hit, and that was the only time they had two runners on base simultaneously until the eighth.
The go-ahead rally started with a Tyler Wade walk. How about that? In his first big league at-bat — he pinch-hit for Rob Refsnyder — Wade worked a walk against former Yankees farmhand Tommy Kahnle. Jacoby Ellsbury then beat out an infield single to put runners on first and second. Two batters later, Aaron Judge shot a hard-hit grounder back up the middle to score Wade and knot things up 1-1. Gary Sanchez, the next batter, split the right-center field gap to score both Ellsbury and Judge, giving the Yankees a 3-1 lead. Hooray homegrown Yankees! They're cool.
A Dozen For Sevy
Also cool: Luis Severino. He struck out a career high 12 in seven innings, allowing just one run on six hits and no walks. The run he allowed was kinda dumb too. Smith jam-shotted a leadoff single the other way to right, then two batters later Sanchez found a hole with a single to right field. Chicago had runners on first and second with one out and when Abreu reached out and poked a quality 2-0 fastball …
… inside the first base bag and down the right field line for a run-scoring double. Bah. Good pitch. Abreu got enough wood on it and it stayed fair. Baseball is so stupid sometimes. Especially of late.
That was the only run Severino allowed. He struck out the last three batters he faced and was overpowering. He retired the final nine batters he faced and 12 of the final 14 batters he faced following the Abreu single. Severino has been great all season and he was great again Tuesday night. Wins are stupid, but the bullpen has now blow six potential wins for Severino. He can't do it all himself.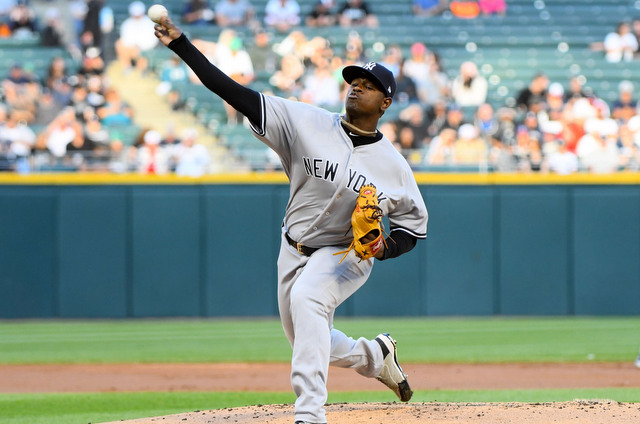 Leftovers
Welcome to the big leagues, Tyler Wade. He drew that walk in his first at-bat to spark the go-ahead rally. He also played an inning in left field — after he was called up to play second base, naturally — and struck out in his second at-bat, though it was a tough eight-pitch at-bat. Kid's gonna be a hell of a ballplayer. Can't wait to see more.
Judge and Gregorius each had two hits while Ellsbury, Sanchez, and first baseman Austin Romine had one each. Judge, Sanchez, Wade, Tyler Austin, and Ronald Torreyes drew walks. The Yankees went 3-for-8 (.375) with runners in scoring position, which is easily my least favorite stat in baseball, yet I still pass it along because I hate myself.
Did I mention the bullpen has been dog poop? Good grief. The last two nights: 3.2 IP, 7 H, 7 R, 7 ER, 8 BB, 4 K, 1 HB. They've hit DEFCON 1. Something has to give here. They can't keep running out the same guys and expecting different results. At some point Brian Cashman and the front office have to make changes. This ain't working.
Box Score, WPA Graph & Standings
Head over to ESPN for the box score and updated standings, and MLB.com for the video highlights. We have a Bullpen Workload page. Here's the win probability graph:

Source: FanGraphs
Up Next
This four-game series continues Wednesday night with the third game. Masahiro Tanaka and Carlos Rodon are the scheduled starting pitchers. Rodon will be making his first start of the year. He's been out with a biceps issue.