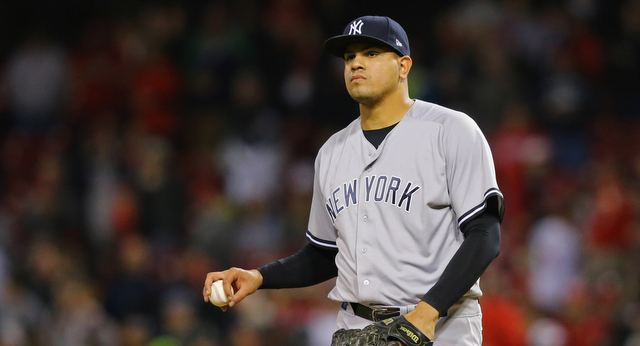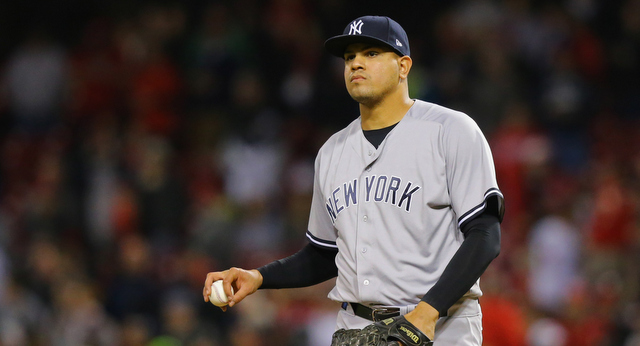 In a season full of ugly bullpen meltdowns, the Yankees hit a new low last night. Three relievers combined to walk six of 13 batters faced, and another was hit by a pitch. Dellin Betances, working for the third straight day, couldn't protected a one-run lead against the bottom of the lineup. Why was he working for the third straight day? Because he had to bail out Jonathan Holder with a five-run lead (!) Monday night.
Holder was sent down prior to yesterday's game, though by then the damage had been done. Betances had to pitch Monday night and Holder himself has helped blow a few games these last few weeks. He's not the only problem though. Hardly. He's part of the problem. Not the problem. Here is the bullpen in June:
4.56 ERA
4.55 FIP
25.2 K%
12.3 BB%
1.29 HR/9
Can't win like that. Can't be done. Not with starters throwing fewer and fewer innings each passing season. Bullpens are far too important to get that performance for a month and come out unscathed. The Yankees were four games up in the AL East as recently as 16 days ago and now they're one game back, and they're lucky they're still that close. June has been a terrible month for the Yankees overall and especially the relief crew.
So what do the Yankees do now? It's easy to say they should designated this guy for assignment, send down that other guy, and call up those two prospects I really like. I wish it were that easy. Joe Girardi and Brian Cashman surely wish it was as well. Want to get this bullpen on track? Here are some possibly fixes.
1. Eight is too many. The Yankees have been carrying eight relievers for weeks now and I think it's that's too many. Even with a seven-man bullpen, that last guy gets used maybe once a week. Domingo German was brought into the eighth inning of a two-run game last night after pitching once in the previous nine days. How could you expect a kid who has never been a reliever before to be sharp after that layoff?
Removing an arm from the bullpen seems counterintuitive when no one can protect a damn lead, but less is often more. Shorten the staff to your seven best arms and make sure they each get enough work to stay sharp and ready to go. There's a fine line between regular work and overwork, but Girardi is generally pretty good at toeing that line. Pick your seven best arms and let them carry the load. Eighth relievers only get used in blowouts, and in situations they're unqualified to pitch, like German last night.
2. Get Betances to go back to the fastball. En route to blowing that game last night, Betances threw 21 pitches, and 13 of them were curveballs. Only six of the 13 were strikes too. Dellin has a great curveball! He's also been leaning on it way too much lately. From Brooks Baseball: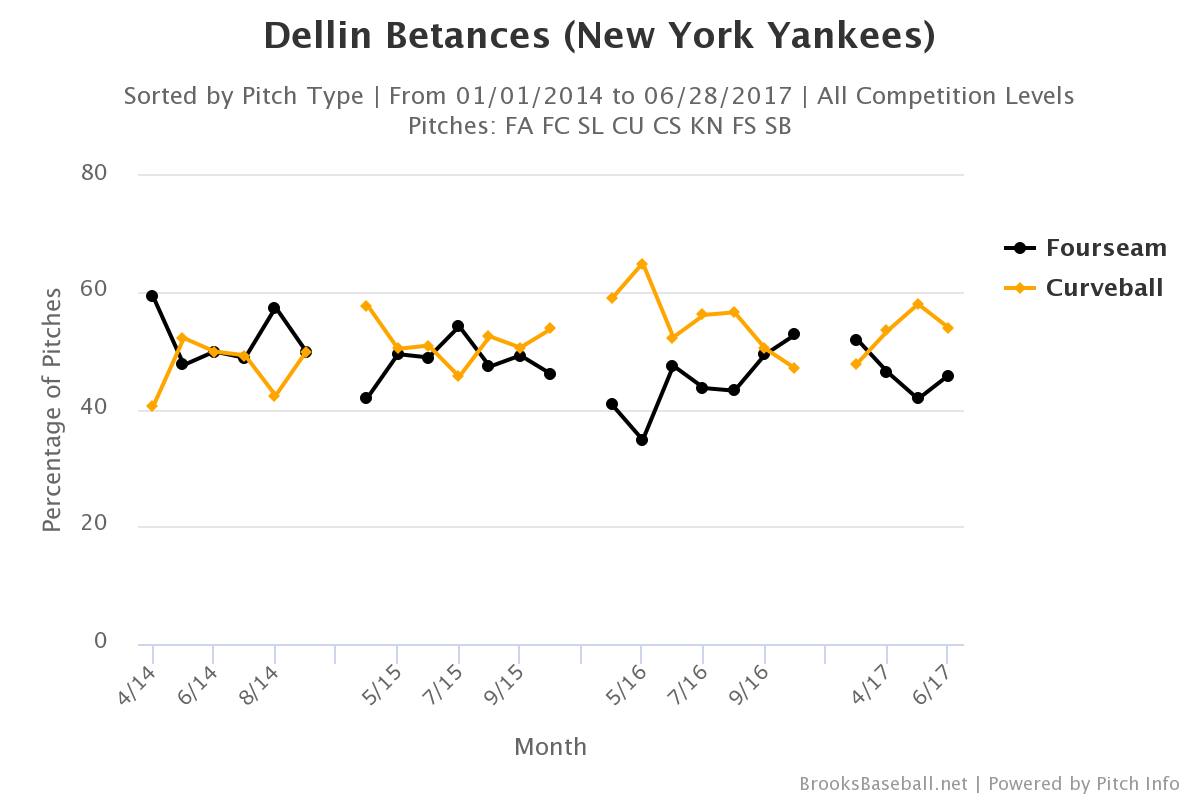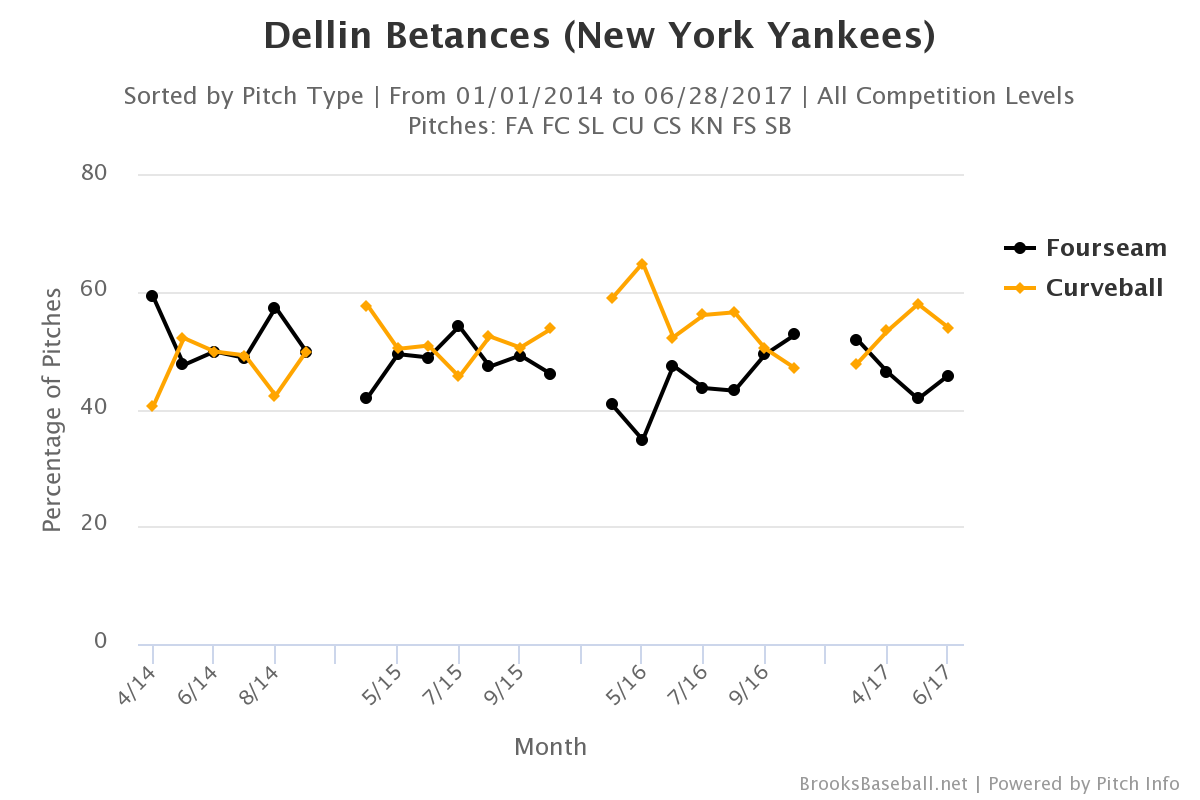 This is something that goes back to last year. It's not necessarily new. Throwing all those curveballs is fine when Betances can drop it in for strikes, but lately throwing it for strikes has been a problem, and he's not adjusting. He's been trying to force it in there anyway. Not good!
"I have to be able to rely on my fastball more. Probably got too breaking ball happy," said Betances to Erik Boland following last night's game, so he's aware that all these curveballs can be a problem. Dellin has a great fastball. He was working for a third straight night last night and the pitch still averaged 97.5 mph and topped out at 98.2 mph.
Betances doesn't have to shelve the curveball entirely. That would be silly. But I think he needs to start using his fastball more often — he's at his best when he has close to a 50-50 mix a la 2014 and 2015 — because a) his heater is so good he'll get swings and misses with it, and b) it'll help keep hitters off the breaking ball.
3. Give Webb a shot. The Yankees have been trying to dig up a reliable left-handed middle reliever since last season and, for a while, Tommy Layne did the job. Chasen Shreve has been the guy last few weeks and he's had his moments. He hasn't been able to get back to where he was in the first half of 2014 and chances are he never will, though he has been better this season. Good, not great.
Webb is by no means a budding shutdown reliever — or maybe he is! — though the tools are there for him to contribute, and as something more than a left-on-left matchup guy too. He's low-90s with the fastball and he throws both a slider and changeup regularly. It's a starter's repertoire in the bullpen. Webb throws strikes — he has a 34.1% strikeout rate and a 2.2% walk rate in Triple-A this year — and what more could you ask? Girardi would have killed for a reliever who could throw strikes last night.
Layne fizzled out and Shreve isn't good enough to keep a middle relief spot uncontested. Webb did everything he had to do at Triple-A over the last four years, and the Pirates saw enough to give him a look in Spring Training as a Rule 5 Draft pick. Given the bullpen issues, the time to give the 26-year-old a chance is now. If it works, wonderful. If not, then you move on to the next guy. The Yankees have been there, done that with Layne and Shreve.
4. Consider Adams. I'm ready for the Yankees to stick Chance Adams, their top Triple-A pitching prospect, in the big league bullpen. I made this argument last week. Adams was a reliever in college and in his first partial season of pro ball, so he's familiar with the role. He misses bats and he's said to be a tough as nails competitor, and that's never a bad thing. Adams has had success at Triple-A and there are plenty of reasons to believe he's ready to help in some capacity.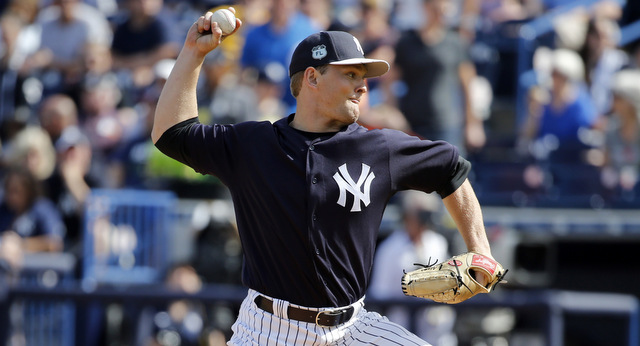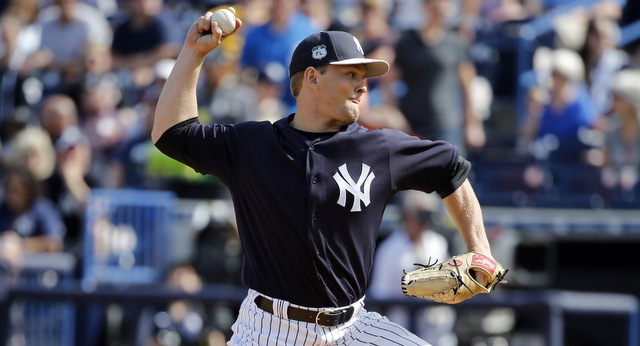 I get that people are squeamish about putting a top starting pitcher prospect in the bullpen, but it's really not that big a deal. Teams have been breaking in their young arms as relievers for decades. I know the Yankees seemed to botch things with Joba Chamberlain, but Luis Severino was in the bullpen last year, and look at him now. Severino doesn't become the pitcher he is today without that stint in the bullpen last season. I absolutely believe that.
Putting Adams in the bullpen allows him to get his feet wet at the MLB level and learn how to get big leaguers out. That's valuable experience! That will help a) the Yankees win games right now, and b) Adams succeed as a starter going forward. The Yankees could break him in as a reliever this year and consider him a rotation candidate next season. That is a perfectly reasonable development plan.
5. Be patient. Okay, this won't be easy, but the Yankees have to remain patient and not completely tear things down because of a bad month. Overreacting is never good. The bullpen isn't actually this bad. At least I don't think it is. The relievers are in a collective funk right now. It happens. They can make some changes (Webb, Adams, etc.) though overall, they still need Betances and Aroldis Chapman to be their rocks, and Tyler Clippard to be not awful.
Adam Warren is expected back from the disabled list next week and he'll going to help as long as his shoulder stays healthy. That's tricky, but Warren has never not been solid for the Yankees. Also, Chad Green seems to be coming into his own as a reliever, so within a few weeks he could really find his footing and take off as a dominant bullpen arm. Making tweaks at this point makes sense. There's also something to be said for trusting the guys in the bullpen to sort things out soon. We know these guys can be reliable because they were just a few weeks ago.
* * *
The Yankees are 11-14 overall in June — they've outscored their opponents by 39 runs this month, underscoring the general stupidity of baseball — and the bullpen is a big reason why. It's not the only reason. Definitely not. But it is the reason that is most smacking us in the face. The offense has vanished for long stretches of time and the starters haven't been great either. Don't get me started on the baserunning either. Goodness. Those outs on the bases added up.
The bullpen situation, however, is not getting better. It's getting worse. Just when you think they can't sink to a new low, they go out and do what they did last night. The Yankees aren't going anywhere with the bullpen performing like this. Changing some personnel, changing some roles, and changing some pitch selection could go a long way to getting things straightened out. And, if it doesn't, the Yankees will have no choice but to really shake things up and go outside the organization for help.