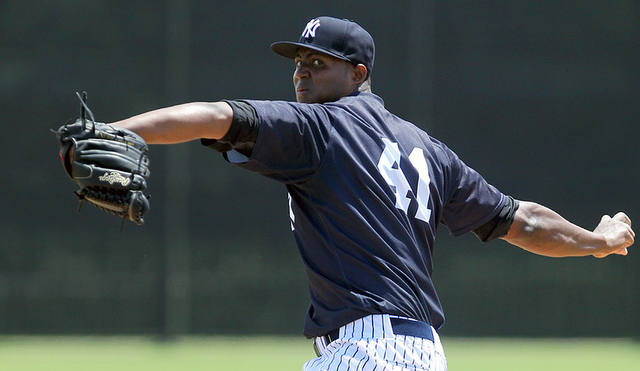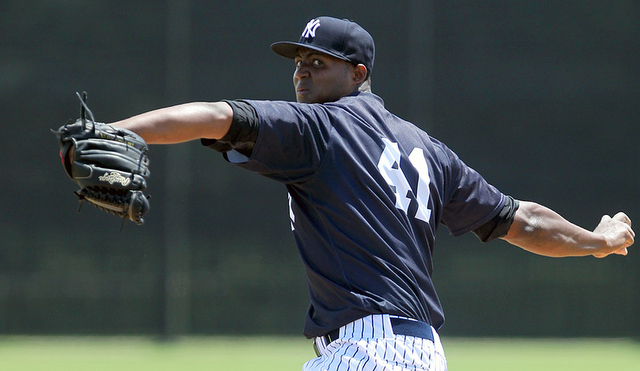 The Yankees are wrapping up their first half at home against the Brewers this afternoon, and, down in Miami, baseball's best young players are being showcased at Marlins Park. It's the Futures Game, in which the game's top prospects are put together on one field for the express purpose of promoting baseball's future.
OF Estevan Florial and RHP Domingo Acevedo are representing the Yankees in the Futures Game this year. SS Gleyber Torres almost certainly would have been there had he not blown out his elbow a few weeks ago. It's possible the Yankees held RHP Chance Adams out of the Futures Game because they're planning to call him up at some point soon. I guess we'll find out soon enough. Here are the lineups.
Team USA
1. SS Nick Gordon, Twins
2. CF Lewis Brinson, Brewers
3. LF Derek Fisher, Astros
4. 1B Rhys Hoskins, Phillies
5. 3B Nick Senzel, Reds
6. RF Kyle Tucker, Astros
7. DH Brian Anderson, Marlins
8. C Chance Sisco, Orioles
9. 2B Brendan Rodgers, Rockies
RHP Bent Honeywell, Rays
World Team
1. 2B Yoan Moncada, White Sox
2. LF Alex Verdugo, Dodgers
3. SS Amed Rosario, Mets
4. 3B Rafael Devers, Red Sox
5. CF Ronald Acuna, Braves
6. RF Eloy Jimenez, Cubs
7. DH Vlad Guerrero Jr., Blue Jays
8. 1B Josh Naylor, Padres
9. C Francisco Mejia, Indians
RHP Yadier Alvarez, Dodgers
Acevedo is tentatively scheduled to pitch the fourth inning for the World Team. Florial is going to come off the bench at some point. Everybody plays in the Futures Game. It's not like the All-Star Game where some guys stay on the bench. Acevedo, Florial, and every other Futures Gamer will play at some point this afternoon.
The Futures Game will begin at 4pm ET and you can watch on MLB Network and stream live on MLB.com. The Marlins Park roof is closed, so the weather isn't an issue. Enjoy the game.