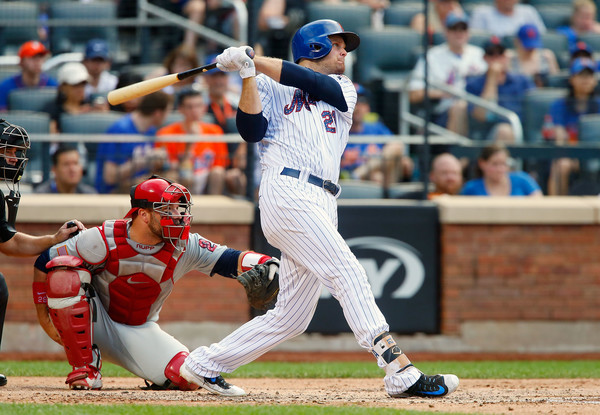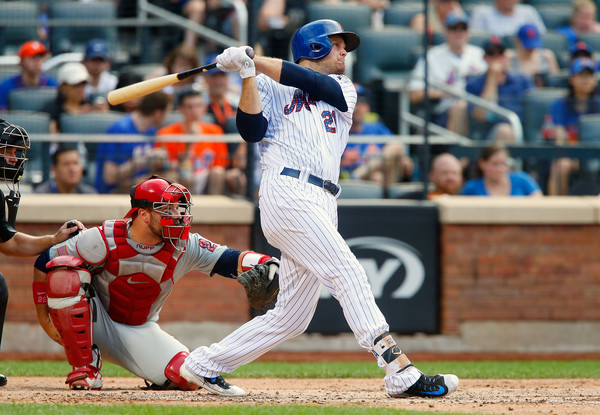 On the off-chance that Ji-Man Choi is not a true-talent 216 wRC+ hitter, the Yankees are going to need a first baseman to solidify and stabilize both the lineup and the infield defense. Chris Carter played himself into a second DFA, Greg Bird may require surgery on his balky right ankle, and none of the team's internal options seem befitting of a team with playoff aspirations.
All of that put together, assuming the Yankees do not continue to struggle into the waning days of July, should make them something of a buyer as the trade deadline approaches. The question then becomes a simple matter of who is available, and at what cost?
The simplest way to hazard a guess at the marketplace is to see what rentals are available (meaning who will be a free agent at season's end). As per MLB Trade Rumors, that group is mildly enticing:
Yonder Alonso, Oakland A's
Pedro Alvarez, Baltimore Orioles
Lucas Duda, New York Mets
Todd Frazier, Chicago White Sox
Eric Hosmer, Kansas City Royals
John Jaso, Pittsburgh Pirates
Adam Lind, Washington Nationals
Mitch Moreland, Boston Red Sox
Logan Morrison, Tampa Bay Rays
Mike Napoli, Texas Rangers
Mark Reynolds, Colorado Rockies
Carlos Santana, Cleveland Indians
Danny Valencia, Seattle Mariners
There are several names that can be ruled out immediately – Alvarez (trading within the division for a player reminiscent of Chris Carter), Lind (the Nationals aren't selling), Moreland (the Red Sox aren't selling), Morrison (trading within the division for someone that needlessly bashed Gary Sanchez), Reynolds (the Rockies aren't selling), and Santana (the Indians aren't sellers) are unlikely to pop-up on the Yankees radar for various reasons. Napoli is an unlikely target, as well, given that he may be the worst first baseman in the game this year, with a 77 wRC+ and -0.6 fWAR. That leaves us with:
Yonder Alonso
Alonso has been one of the best stories of this half-season, serving as a standard bearer for the flyball revolution (or the juiced ball, whichever point of view you prefer). He is currently slashing .280/.375/.568 with 19 HR in 280 PA, good for a 150 wRC+. There have been some signs of regression, though, as Alonso hit .267/.353/.433 with just 3 HR (114 wRC+) and an elevated strikeout rate in June. He's also struggled with some nagging injuries, which has been the case on an almost year-to-year basis.
I'd be a bit weary of Alonso, due to how inflated his numbers are by his incredible May. A team might be willing to pay for his line on the season, rolling the dice that he's broken out after years of mediocrity, and the A's are sure to shop him aggressively.
Lucas Duda
The Yankees have not made many deals with the Mets, but it does happen on occasion – and there could be a definite match here, as the teams trend in different directions. Duda finally seems to be healthy, and he's batting .249/.359/.548 with 14 home runs and a 137 wRC+ in 231 PA. He has a 123 wRC+ for his career, and he posted a 134 wRC+ between 2014 and 2015, so this isn't a complete outlier. Duda may not hit for average, but he takes plenty of walks (11.5% for his career) and hits for power (.211 ISO).
As a result of this, Duda is likely the best hitter of this group, when healthy. That caveat bears repeating, but he feels like the safest bet to be a middle of the order thumper.
Todd Frazier
Frazier is a solid defensive third-baseman, so this is cheating a bit – but he has played a few games at first this year, and 94 in his career. He's batting .215/.332/.450 with 16 HR (107 wRC+), but that is weighed-down by his early struggles. Frazier raked in June, with 8 HR and a 144 wRC+ in 109 PA, and he has hit for power throughout his career. His month-to-month inconsistencies, however, have followed him for several years now.
That being said, Frazier is an interesting target, if only because of his positional versatility. If Bird manages to get healthy or another internal option rears his head, Frazier could shift across the diamond and relieve Headley of everyday duty. He's a feast or famine type, but the famine isn't as bad some other options.
Eric Hosmer
I struggled with including Hosmer here, as the Royals aren't all that far from contention. He's in the midst of a bounceback season (he's always better in odd-numbered years), with a .313/.371/.484 slash line (126 wRC+) in 348 PA, and he's been a key to the team's turnaround. The Royals have several key players coming up on free agency this off-season, though, so they may be inclined to cash-in now, instead of chasing a wild card berth and little else.
Hosmer is the youngest option here, at 27-years-old, and might be the least obtainable player in this group. There's probably a team out there that would swing a deal for him with an eye towards re-signing him, and that's unlikely to be the Yankees.
John Jaso
Jaso is strictly a platoon player at this point, with only 69 PA against LHP since the beginning of 2015. He has done fairly well in that role, though, with a 119 wRC+ against righties in that stretch (108 in 2017). Jaso is hitting .250/.326/.459 with 7 HR (107 wRC+) in 193 PA on the season, spending time at first and in both outfield corners.
If I had to handicap this group, I would bet that Jaso is the most available and most easily attainable player. He's also the most uninspiring, though, as someone that only partially fills the need at first.
Danny Valencia
I nearly left Valencia out due to his character issues, but that hasn't necessarily dissuaded the Yankees lately. The 32-year-old journeyman (he has played for seven teams since the beginning of 2012) is batting .272/.335/.412 with 8 HR (104 wRC+) in 310 PA, as he adjusts to being a full-time first baseman for the first time in his career. Those numbers are a bit skewed, though – he had a 53 wRC+ in April, but a 122 wRC+ since. And that 122 wRC+ is essentially the happy medium between his 2015 and 2016 seasons.
Valencia offers some positional flexibility, having spent time at first, third, and both corner outfield spots. His defense isn't particularly strong at any position, though. I do like Valencia's bat, but I do worry that his bouncing around the majors and last year's fight with Billy Butler may be indicative of a somewhat toxic presence.
---
Each and every one of these guys likely represents an upgrade over Choi, though I wouldn't be terribly enthusiastic about bringing Jaso or Valencia on-board. Jaso would need to be leveraged as a platoon bat in order to extract the most value, and Choi's production at Triple-A, age, and five years of team control may just merit being afforded that same opportunity. And, as much as I try to avoid harping on unquantifiable concerns, Valencia's history is disconcerting for such a young team.
That leaves us with Alonso, Duda, Frazier, and Hosmer. I won't hazard any trade proposals, as mine would almost certainly suck, but I would be most interested in Duda, Hosmer, Alonso, and Frazier, in that order. And, depending upon the cost, I think that all four are worth kicking the tires on.