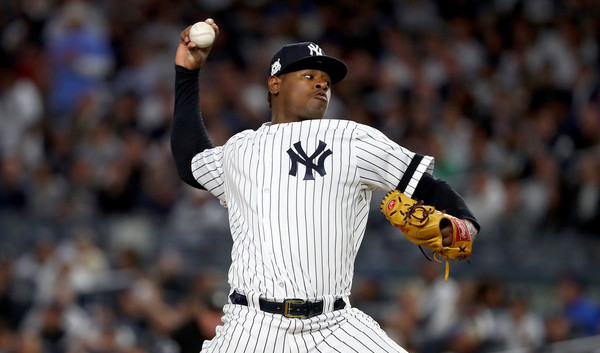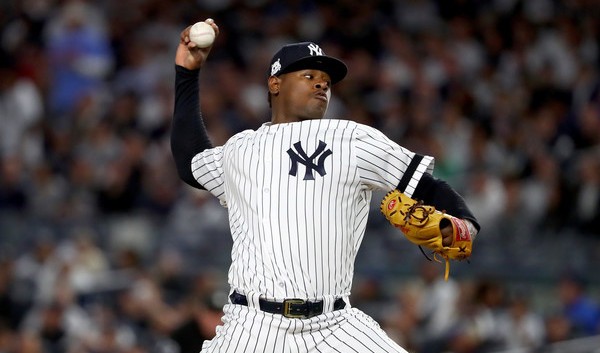 For the second time in five days, the Yankees will play a win or go home game at Yankee Stadium tomorrow night, in Game Three of the ALDS. It didn't have to be a win or go home. The Yankees blew an 8-3 lead in Game Two last night, with Joe Girardi's non-challenge of the Lonnie Chisenhall would-be inning-ending foul tip strike three dominating headlines, and rightfully so. It was a bad, bad decision.
The task ahead is extremely daunting. To advance to the ALCS, the Yankees have to beat the Indians three straight games, and this is an Indians team that a) has not lost three straight games since July, and b) has lost only four of their last 39 games overall. Rough. You have to win one before you can win three though, and tomorrow night the Yankees will try to win that one.
And, given their current situation — a loss tomorrow ends a season that has been so fun no one wants it to end — Girardi and the Yankees need to be prepared to do basically whatever it takes to win, and that includes using Luis Severino in relief. There are two reasons for this:
The bullpen is gassed. A bullpen game in the Wild Card Game sounds great until your top relievers are running on fumes in the ALDS. Chad Green looked worn down yesterday and David Robertson has to be feeling it after throwing 77 high stress pitches the last four days. Dellin Betances and Aroldis Chapman both went multiple innings in Game Two as well.
He might not pitch in the series otherwise. If the Yankees do not use Severino in relief in Game Three, it is entirely possible they lose the ALDS without their best pitcher throwing a single pitch. That can't happen. He is one of the team's best weapons and he has to be used, especially with the season on the line.
So, what's the plan here, exactly? Masahiro Tanaka is scheduled start Game Three tomorrow, and I'd say the plan should be Tanaka for as long as possible, Severino out of the bullpen for as long as possible, then hopefully Chapman to close it out. If the Yankees have to use other relievers somewhere along the line, so be it. Severino has bullpen experience. We know he can do it, and he'd be on normal rest tomorrow following his short Wild Card Game start.
The alternative here would be simply starting Severino in Game Three tomorrow, and hey, that's a great idea. Like I said, he'd be on normal rest, so that's not a problem. My concern here is that it doesn't help the bullpen at all. Tanaka does have some bullpen experience — he closed out Game Seven of the 2013 Japan Series, and also pitched in relief early in his career — though it has been a while, and besides, do you want him doing that given The Elbow™?
I think starting Tanaka and letting Severino be the first guy out of the bullpen gives the Yankees the best chance to win Game Three tomorrow, at least on the pitching side of things. It's unclear how much Green and Robertson (and Betances and Chapman) can provide right now. It might not be much based on last night. So, the options are a) continue to ride those fatigued relievers, b) rely on lesser relievers, or c) use Severino in relief. Give me (c).
If the Yankees use Severino in relief tomorrow and actually win, they'd then need to come up with a starter for Game Four on Monday, and that's a bridge you cross when you come to it. Maybe Jordan Montgomery gets the ball? Or Jaime Garcia following his solid relief work in Game One? Sonny Gray on short rest could be an option. I hope this is a decision the Yankees have to make, because that means the season will not have ended tomorrow.
The Yankees right now have to treat every game like a Game Seven, because it is a Game Seven. One more loss and they're going home for the winter. And in Game Seven, using Severino in relief — Girardi said Severino was available yesterday had the game gone deep into extra innings — is such an obvious move. He gives you the best chance to win. With their bullpen gassed and their season on the line, using Severino out of the bullpen tomorrow is a no-brainer.