Andy Pettitte, Cecil Fielder, and Paul O'Neill's catch in Atlanta. Mike Mussina, Jorge Posada, and Derek Jeter's flip play in Oakland. Masahiro Tanaka, Greg Bird, and Aaron Judge's catch against the Indians. Add another intense 1-0 postseason win to the Yankees Classics reel. The Yankees kept their season alive Sunday night with a 1-0 win in Game Three of the ALDS. What a win. What a team.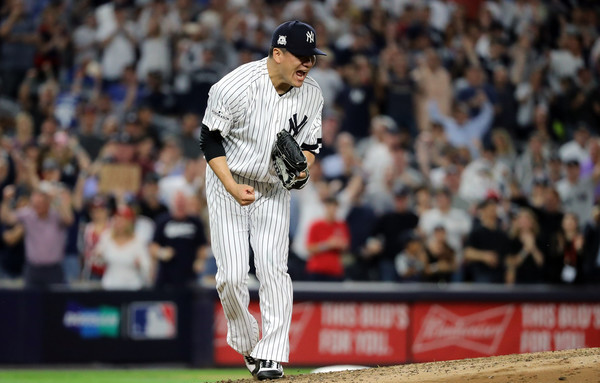 There Goes My 'Hiro
When the Yankees signed Masahiro Tanaka four years ago, they envisioned starts like this. Season on the line, back up against the wall against the best team in the league. As big as a game can get, really. Tanaka's regular season wasn't great, so more than a few folks were skeptical going into Game Three, but holy cow did Tanaka deliver. One of the best postseason starts in franchise history given the stakes. I don't think that's hyperbole.
Through seven masterful innings, Tanaka held the Indians to three hits and a walk in seven shutout innings, striking out seven. Did he get some help from his defense? Yes, absolutely. Judge robbed Francisco Lindor of a two-run home run in the sixth, using all 6-foot-8 of his frame to make the leaping catch at the wall. A game-saver, it was. Best of all, Judge took the home run away from Zach Hample, everyone's least favorite ballhawk.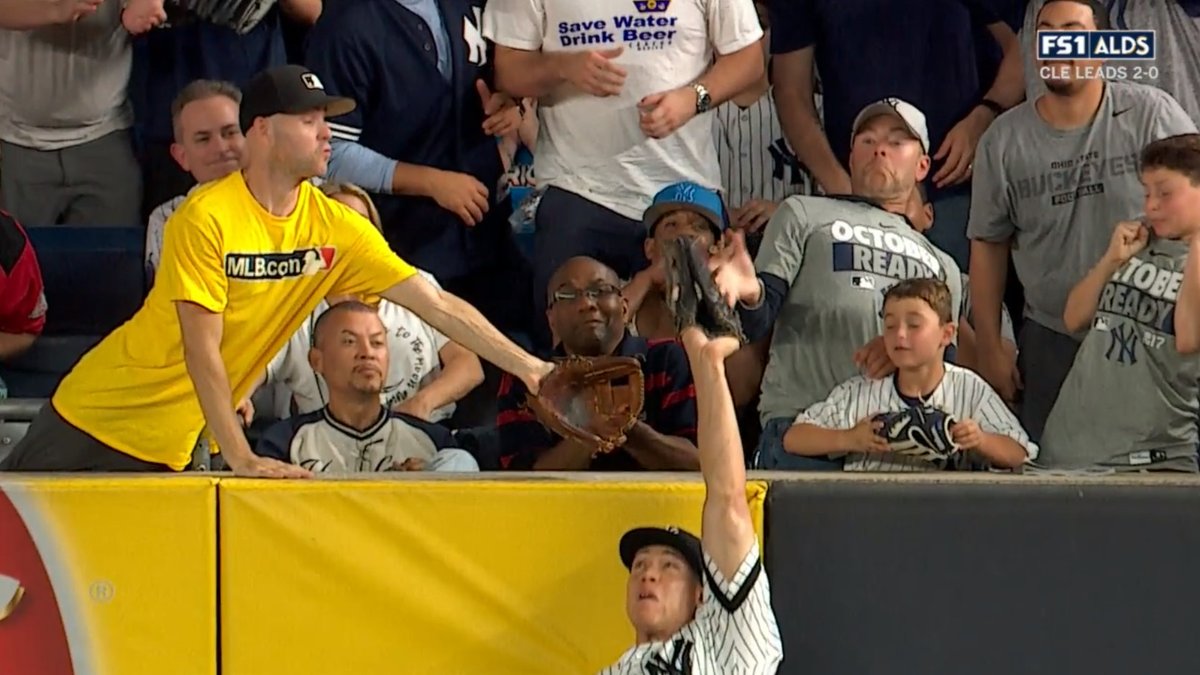 Perfect. Just perfect. Give Judge the MVP just for that alone.
Anyway, the biggest moment of the game for Tanaka came in the fourth inning. Jason Kipnis ripped a line drive that deflected off Judge's glove and rolled away — Aaron Hicks, dude, you've gotta back up the play — for a one-out triple. A sticky situation, that was. Not only was the runner at third with one out, but MVP candidate Jose Ramirez was the plate. The same Jose Ramirez who struck out in only 10.6% of his plate appearances this year. With a runner on third and one out, you want a ball in play, and few make as much contact as Ramirez.
Tanaka, however, did manage to get that huge strikeout by leaning on what else? His splitter. He threw four splitters in the six-pitch at-bat, each one nastier than the one before. The strikeout pitch was a nasty split that dove right out of the strike zone. Tanaka followed that up by striking out Jay Bruce, who has done some serious damage against the Yankees this season. Runner on third with one out? Striking out the No. 3 and 4 hitters makes for a fine escape job.
With his bullpen short, Joe Girardi asked Tanaka to go out for the seventh inning even though there were some signs of fatigue and general "the Indians are starting to get to him." He didn't get any swings and misses in the fifth and sixth inning, and more pitches were being left up in the zone. But Tanaka went out and sat down Ramirez, Bruce, and Carlos Santana in order to complete seven strong.
There's a chance this was Tanaka's final start as a Yankee. The Yankees are still down 2-1 in the series, the Indians are still great, and the opt-out is looming. And a performance like this only going to push Tanaka closer to opting out, if he's still sitting on that decision. If it was his final start, he went out with a massive bang, with a clutch showing against the league's best win in an elimination game. Not an ace? Please. This was as ace-like as it gets.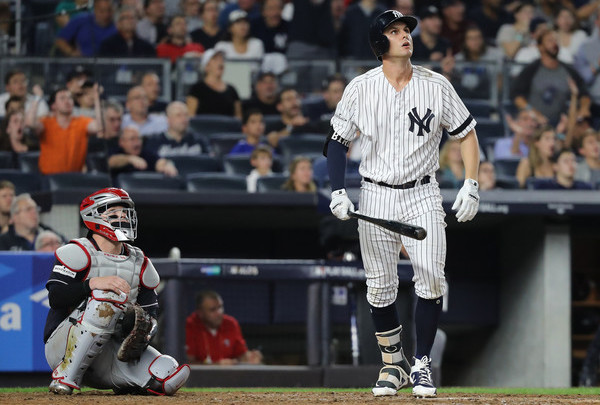 Hang On To The Roof
Oh, by the way, Carlos Carrasco is really good too. He had video game stuff working Sunday night. Carrasco didn't pitch quite as well as Tanaka — he finished with three hits and three walks allowed in 5.2 innings — but he kept the Yankees off the board and that's all that matters. The Yankees had their best chance to score against Carrasco in the sixth, when they loaded the bases with two outs. Andrew Miller quickly snuffed that out with a Starlin Castro pop-up. Alas.
After six innings, this felt very much like a "first team to homer wins" game, and given the stakes, that's pretty scary! Especially since Tanaka has had some home run issues this year and Yankee Stadium is known to give up a cheapie from time to time. As it turned out, the Yankees were the team to get that big home run, and it came in a rather unexpected way. From a left-handed hitter against Andrew Miller. Huh.
That left-handed hitter: Greg Bird. Twice Bird has faced Miller in this series — they'd never faced each other prior to the ALDS — and twice Miller worked him over. Took his lunch money and stuffed him in a locker. That's usually how it goes for Miller against lefties. In Game Three though, Miller left a fastball up in the zone and Bird swung like he knew it was coming. He turned around the 95 mph heater for a second deck shot and a 1-0 lead. The very necessary video:
I love everything about it. Bird's reaction. Miller's reaction. The way the camerawork makes it look like that ball landed in the upper deck. The crowd reaction. Love it all. It was a no-doubter off the bat, and Yankee Stadium got as loud as I've ever heard it. It was as loud as any postseason game I've been too at the old ballpark. The stands were shaking and everything. What a moment. What a home run. After everything Bird has been through the last two years, how could you not be happy for the kid?
Protect The Lead
Bird's seventh inning home run meant the Yankees were six outs away from forcing a Game Four. How would they get those outs? With a taxed bullpen, the answer wasn't obvious. David Robertson came in to start the eighth inning and he was so very clearly running on empty. Austin Jackson bailed him out by flying out on a 2-0 pitch for the first out, but a six-pitch walk to Michael Brantley followed, and that was it. Robertson was done. His pitch locations: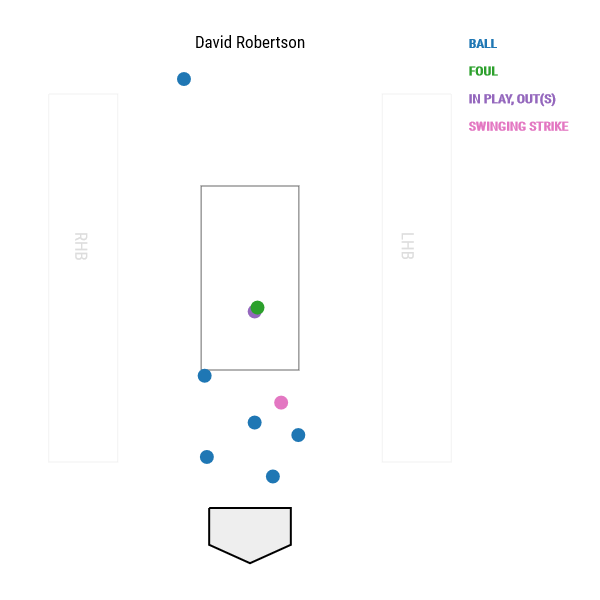 That is a pitcher running on fumes. And who could blame him? Between the Wild Card Game and ALDS Game Two, Robertson had thrown 77 high-stress pitches — in only two appearances! — in the previous four days. With Chad Green and Dellin Betances also having worked hard of late, Joe Girardi had three options. One, stick with Robertson. Nope. Couldn't do it. I'm glad Girardi pulled him. Two, go with Tommy Kahnle or Adam Warren. Okay. Defensible but not ideal.
Or three, go to Aroldis Chapman, who the Yankees gave the largest reliever contract in history so he could save games exactly like this one. Girardi went with the third option. In came Chapman for the five-out save. Greg Allen, who pinch-ran for Brantley? Stranded at first. Chapman struck out Yan Gomes and Giovanny Urshela to end the eighth inning, and he needed eight pitches to do it.
Now, in the bottom of the eighth, the Yankees had a great chance to tack on an insurance run. Brett Gardner started the inning with a bloop double — hooray for Kipnis in center! — but two strikeouts (Judge and Gary Sanchez), an intentional walk (Didi Gregorius), and a fielder's choice (Castro) put an end to that. I know I'm not the only one who said to myself "they're going to regret not scoring that run, aren't they?"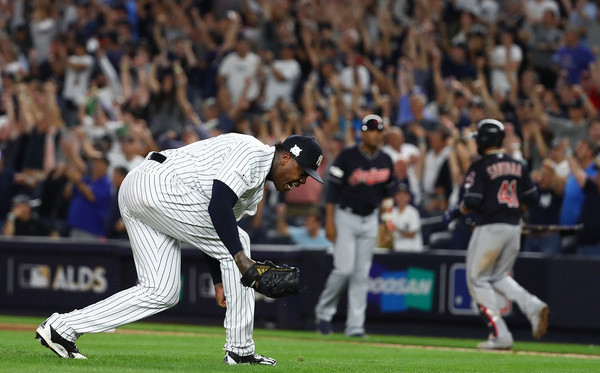 The ninth inning was never going to be easy. Not because Chapman stinks or anything like that, but because the ninth inning in games like this are rarely easy. Getting three quick grounders to close out a game like this just doesn't happen, you know? Chapman started the ninth by striking out Lindor, but Kipnis shot a two-strike single back up the middle to put the tying run on base, then Ramirez followed with an infield single to put the tying run in scoring position and the go-ahead run on base.
Calling it an infield single is, of course, leaving out a lot of information. It was a hard-hit ground ball that Todd Frazier stopped with a tremendous diving grab to his left. Just a fantastic stop … and then he muffed the transfer and no outs were recorded. I didn't think he'd get the double play — Ramirez is too fast to double up after a dive — but the out at second? For sure. Instead, Frazier bobbled it and got none. Great. Fantastic. Awesome.
Chapman, by this point, was up over 20 pitches and starting to show signs of tiring. He threw two innings in Game Two two days ago, remember. Chapman was missing his spots and the foul balls were becoming more and more frequent. No one was warming up in the bullpen though, so it was Chapman's game. He reached back to strike out Bruce — Bruce went 0-for-4 with four strikeouts in Game Three — then battled Santana for seven pitches. On his 34th and final pitch of the night, Chapman coaxed a well-struck fly out to center for the 27th out. Look at his reaction: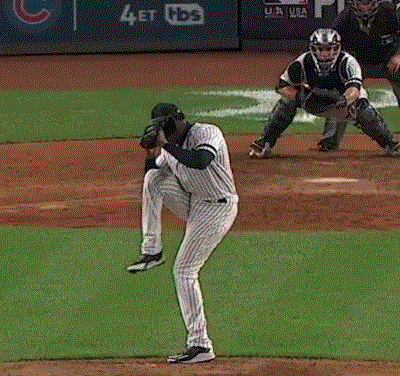 That is the body language of a man who thinks he might've just given up the season-blowing three-run home run. Fortunately, the 102 mph heater missed enough of the sweet spot to stay in the park. That was one hell out of an outing for Chapman. Gutsy. He didn't have much left in the tank at all when Bruce was at the plate, but he managed to get Bruce and then Santana with the tying run in scoring position. Chapman's biggest moment as a Yankee, easily.
Leftovers
How about Sanchez? Those strikeouts of Ramirez and Bruce to strand Kipnis at third base in the fourth inning were made possible by Sanchez blocking the hell out of splitters in the dirt. Tanaka knew it too. He pointed at Sanchez after the inning as they walked off the field. Gary had about six or seven great blocks in the game overall. For all the crap he takes for his blocking, much of it deserved, he was a beast back there in Game Three.
The Yankees only had five hits total. The dinger by Bird, bloop double by Gardner, a Hicks infield single, and solid singles by Sanchez and Gregorius. Judge and Jacoby Ellsbury each drew a walk while Gregorius drew two, one of which was intentional. The Yankees only had four at-bats with runners in scoring position all night.
Leftovers
For the box score, go to ESPN. For the video highlights, go to MLB.com. Here is our Bullpen Workload page and here is the win probability graph:

Source: FanGraphs
Up Next
The Game Three win means we get to do this all again Monday night. The Yankees will look to force a Game Five while the Indians will look to end this series and advance to the ALCS. Trevor Bauer, not Josh Tomlin, is starting that game for the Indians. The team announced Bauer will go on short rest after Game Three. Luis Severino will be on the mound for the good guys.