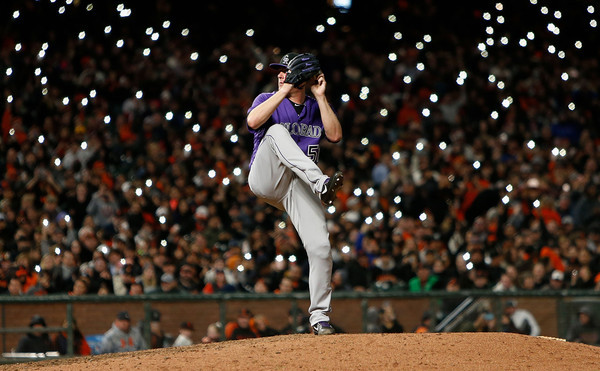 For much of the last 12 months or so, the Yankees have been looking for a reliable left-handed reliever, and they've come up empty. Not including closer Aroldis Chapman, the Yankees received 76 innings from lefty relievers this season, and in those 76 innings they had a 4.62 ERA (4.87 FIP). Yuck. Most of the blame goes to Chasen Shreve, who threw 45.1 of those 76 innings.
The Yankees again figure to look for a left-handed reliever this offseason, though it should be noted six of their seven bullpen spots are accounted for (Chapman, David Robertson, Chad Green, Tommy Kahnle, Adam Warren, Dellin Betances), and just about all of their righties can get out lefties. Kahnle is the only real exception. A middle innings southpaw isn't a pressing need, but if the Yankees can find one, great.
Arguably the best left-handed reliever on the free agent market this winter is former Rays and Rockies southpaw Jake McGee, who's spent time closing and setting up and doing basically everything there is to do in a bullpen these days. He's a free agent for the first time, and given the perpetually growing importance of bullpens, he might cash in very big. Let's see whether McGee is a fit for the Yankees.
Current Performance
With the Rays from 2012-15, the now 31-year-old McGee was lights out and arguably the best lefty reliever in the game aside from Chapman. He got Coors Fielded pretty hard the last two years though. His numbers since 2015:
| | IP | ERA | FIP | K% | BB% | GB% | HR/9 | LHB wOBA | RHB wOBA |
| --- | --- | --- | --- | --- | --- | --- | --- | --- | --- |
| 2015 | 37.1 | 2.41 | 2.33 | 32.7% | 5.4% | 38.9% | 0.72 | .259 | .228 |
| 2016 | 45.2 | 4.73 | 5.29 | 18.5% | 7.8% | 40.1% | 1.77 | .359 | .388 |
| 2017 | 57.1 | 3.61 | 2.93 | 25.3% | 7.0% | 40.5% | 0.63 | .301 | .255 |
Reliever performance fluctuates wildly. News at 11. In all seriousness, McGee's introduction to Coors Field in 2016 was not pretty, and it probably didn't help that he was dealing with nagging inflammation in his left knee all season.
As you'd expect, McGee's performance the last two seasons was quite a bit better on the road away from Coors Field than at home. Here are his 2016-17 splits:
| | IP | ERA | FIP | K% | BB% | GB% | HR/9 | wOBA |
| --- | --- | --- | --- | --- | --- | --- | --- | --- |
| Home | 50.2 | 5.51 | 4.99 | 20.3% | 7.4% | 46.2% | 1.78 | .359 |
| Road | 52.1 | 2.75 | 3.00 | 24.0% | 7.0% | 34.0% | 0.52 | .284 |
Coors Field McGee was very bad. Road McGee looks an awful lot like the Rays version of McGee. Now, that said, I don't think evaluating Rockies players is as simple as taking their road numbers and saying that's who they really are. For starters, three of the other four NL West parks are big time pitchers' parks. Secondly, there's been some research showing Rockies players have been disproportionately hurt when they come down from altitude.
Generally speaking, McGee has been a very good reliever throughout his career, though his numbers the last two years have been skewed by Coors Field and also the nagging knee problem. Shewed how much? It's hard to say. Whoever signs him will hope they get someone close to Road McGee and be happy if they get someone close to 2017 McGee.
Current Stuff
McGee is a very interesting pitcher. He throws almost nothing but fastballs. Three-hundred-and-twenty-two pitchers threw at least 100 innings from 2016-17. Here are the highest four-seam fastball usage rates from those 322 pitchers:
Jake McGee: 88.9%
Tony Cingrani: 83.5%
Ryan Buchter: 80.3%
Zach McAllister: 80.2%
Aroldis Chapman: 78.5%
Huh, I'm kinda surprised four of the top five pitchers in four-seamer usage the last two seasons are lefties. McAllister is the only righty on that list.
Anyway, so yeah, McGee throws a lot of fastballs. More than five fastballs per 100 pitches more than any other pitcher the last two years. And you know what's crazy? McGee's four-seamer rate was even higher this season. It was 92.8% in 2017. McGee would regularly sit 96-98 mph with his heater with the Rays, though it's more 94-96 mph these days.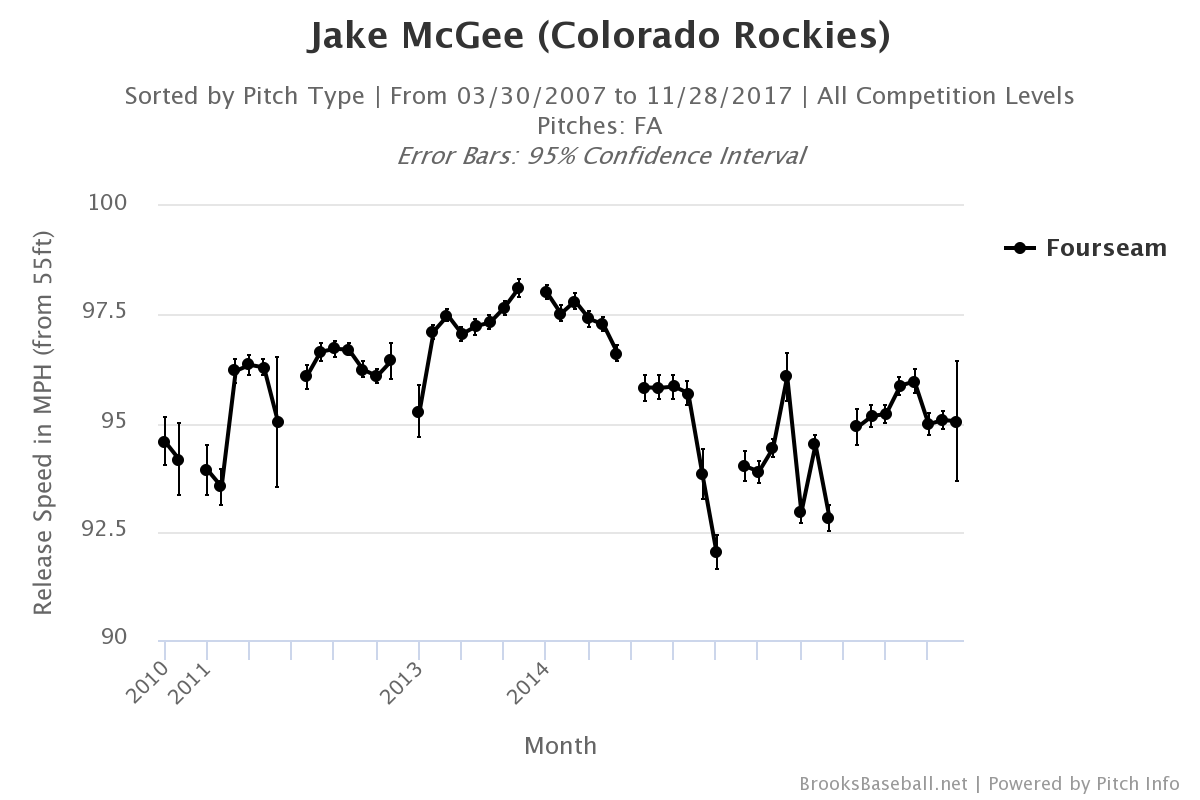 McGee starting having knee trouble late in 2015 and you clearly can see the corresponding velocity drop in the graph. It was his left knee, his push-off knee, so he wasn't able to generate the same velocity. This season, with a healthy knee, his velocity was more stable and closer to where it was while he was in Tampa. (Chances are he'll never get it all the way back to where it was a few years ago because of wear and tear, etc.)
McGee's fastball spin rate was almost exactly average the last two years — it was 2,258 rpm from 2016-17, and the league average was 2,261 rpm — and his fastball "rise" (+10.0 inches) was close to average as well (+9.3 inches). It doesn't seem like it should be a dominant pitch, but because of the way McGee changes eye levels, he's very successful. Check out his fastball swing-and-miss heat map: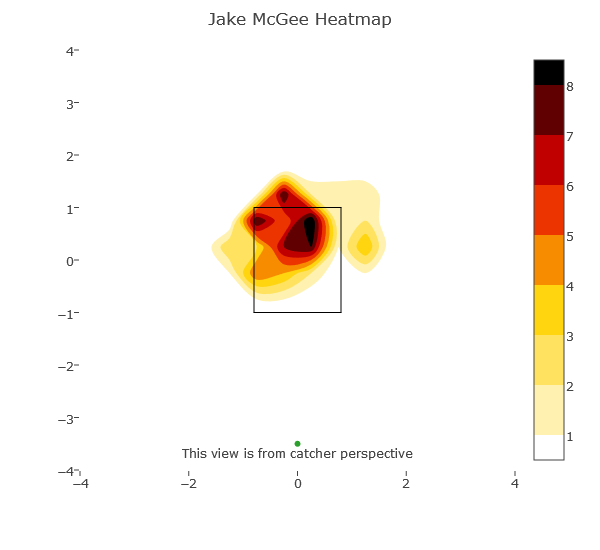 Elevated fastballs are a great swing-and-miss pitch, and McGee has it mastered. He pitches in, out, up, and down with his heater, then get hitters to chase upstairs with two strikes. Here's one of his outings from this past season:
There is something of a Chad Green element to McGee's fastball. Green throws his fastball a lot and hitters just can not hit it for whatever reason. The velocity is not overwhelming relative to the average reliever, and yet, no one can hit it. McGee's fastball isn't as effective as Green's, but it's close. It leaves you shaking your head. Throwing basically one pitch, a straight-ish four-seam fastball, that often against Major League hitters shouldn't work, but it does for McGee.
McGee's other pitch is an upper-70s slurve — there's one in the video above — that is more of a curveball than a slider, though the break is somewhere in between the two pitches. It's a show-me pitch. McGee will throw one or two per outing just to keep hitters honest. This is a fastball only pitcher who is going to challenge hitters with his heater. Country hardball.
Injury History
As with most pitchers in their 30s, McGee does have an injury history. I've already told you about the knee. McGee pitched on a torn meniscus in 2015 and had surgery late in the season, which led to the inflammation in 2016. The knee did not bother him at all this season. His other notable injuries:
Tommy John surgery in June 2008.
Surgery to remove a loose body from his elbow in April 2015.
Two weeks on the disabled list with a back strain in late-July/early-August 2017.
Something for everyone. Arm injury? Check. Lower body injury? Also check. Back injury? Another check. I suppose the good news is there's nothing chronic here. McGee hasn't have elbow or back or knee problems year after year after year. For the most part, his injuries were isolated incidents.
Contract Estimates
Coming into this exercise I expected to reference the four-year, $30.5M contract Brett Cecil signed with the Cardinals last offseason quite a bit, but the two most popular contract projections have McGee getting less:
Hmmm. I think the FanGraphs Crowdsourcing is going to be closer to the actual number. Cecil ($7.625M), Darren O'Day ($7.75M), Joakim Soria ($8.33M), and Brad Ziegler ($9M) all recently signed contracts in the $7.5M to $9M annual salary range. Heck, Ryan Madson was out of baseball from 2012-14, and he was able to turn a good 2015 season into a three-year deal worth $7M annually. The going rate for a good free agent reliever is $8M or so a year nowadays.
Perhaps McGee's recent knee and back trouble limit his market, or teams really hold his Coors Field performance against him, and he falls into the $6M per year range like MLBTR projects. That strikes me as a really good deal. McGee at $18M from 2018-20 or Cecil at $22.75M from 2018-20? Yeah, I know which one I'm picking. Three years and $8M annually sounds about right to me. Maybe McGee even gets a fourth year. It only takes one team to make that crazy offer, after all.
Does He Make Sense For The Yankees?
Yeah, I think so. Definitely. McGee is used to pitching in a tough environment — going from Coors Field to Yankee Stadium will probably feel like a relief to him — and he's familiar with the AL East after spending all those seasons with the Rays. He's a strikeout pitcher without a massive platoon split, so he wouldn't need to be sheltered as a straight left-on-left matchup guy.
It is completely reasonable to wonder how effective McGee will be once he inevitably starts to lose some fastball. He's already losing some fastball, in fact. His average velocity was 95.4 mph this past season, down from 97.5 mph just three years ago. What happens when McGee is averaging 93.5 mph, or 92.0 mph? Throwing 90% fastballs might not work so well at that velocity.
My guess is the Yankees are not eager to spend $8M or so per season on another reliever given their current bullpen situation. Not with the luxury tax plan in place. Maybe if McGee can be had at $6M annually, they'll pounce. I think the luxury tax plan and the fact the Yankees are already quite strong in the bullpen will send them looking for a bargain lefty, not a high-priced one like McGee. He's a fit, but he's not a fit. Know what I mean?