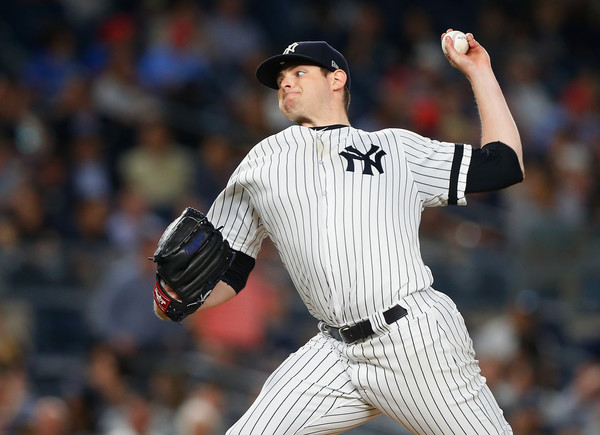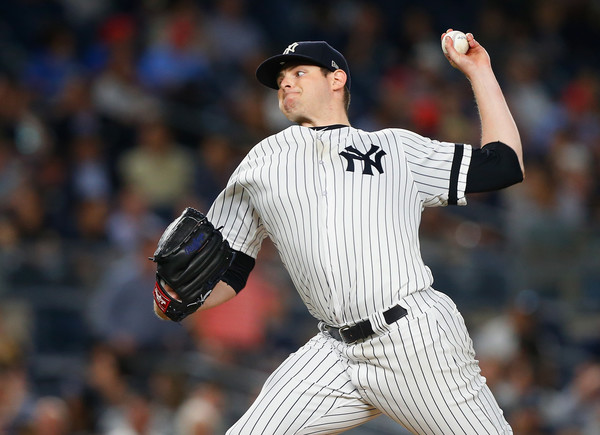 The Yankees headed into Spring Training with the fifth starter role entirely up in the air (that's true of the fourth spot, as well, but now is not the time to discuss how awesome it was that Luis Severino went from "competing for a spot" to "finalist for the Cy Young Award"). Brian Cashman specifically mentioned that Luis Cessa, Chad Green, Bryan Mitchell, Adam Warren, and Jordan Montgomery were in the mix, and the first four came into the season with at least five big league starts under their belt. Montgomery was the youngest and the least experienced, but it seemed likely he'd get the call eventually. Instead, he latched onto that slot in the rotation, and never let go.
An Impressive Spring Training
Cashman and Co. were not lying when they said that the fifth starter's role was very much up for grabs, and Montgomery seized the opportunity. He appeared in six games, starting two, and pitched to the following line: 19.2 IP, 16 H, 3 BB, 17 K, 1.2 GB/FB, 3.20 ERA. Green had a much shinier 1.50 ERA, but Montgomery was trusted to throw more innings, and had much better peripherals – and so the job was his.
There were, of course, two factors that gave Montgomery something of an edge; or, at the very least, helped to make up whatever ground he would've lost by being a rookie. The first is that Cessa, Green, Mitchell, and Warren all had experience pitching out of the bullpen, and profiled better in that role, given their stuff. And the second is rather simple – he's a southpaw. When your home ballpark is Yankee Stadium, the more left-handed starters you can muster, the better. A strong Spring Training, a track record of success in the high minors, left-handedness, and the lack of a high-end reliever profile all worked together to push Montgomery into the rotation.
Arriving A Bit Earlier Than Expected
The Yankees were slated to use Montgomery for the first time on April 16, as that was the first time that a fifth starter was necessary. Plans changed, as they often do, and they elected to give CC Sabathia and Masahiro Tanaka an extra day of rest by starting Montgomery on April 12. It's a relatively minor difference, to be sure – but I'm not sure that they expected Montgomery to be there for the long-haul from day one(-ish).
Montgomery turned in a solid start in his major league debut against the Rays, going 4.2 IP and allowing 5 hits, 2 earned runs, and 2 walks, while striking out 7. You can read more about that start in Mike's game recap, but the key takeaway was that Montgomery did everything the team could have reasonably expected of him, and looked good in doing so. Or, phrased differently, he pitched well-enough to make that fifth starter's spot his to lose.
A Consistent Force At The Back Of The Rotation
Montgomery stuck in the Yankees rotation for the rest of the season, with a small asterisk. He was sent down to Triple-A in the dog days of Summer to mitigate his workload; he made one three-inning start there, on August 24, and was back in the show six days later. That jaunt to the minors was sandwiched in the midst of his worst stretch of the season, where he seemingly hit the rookie wall. Montgomery went 17 innings over four starts, allowing 18 hits, 12 earned runs (6.35 ERA), 10 walks, and five home runs. It wasn't pretty.
Up to that point, Montgomery had made 22 starts, pitching to the following line: 121 IP, 110 H, 38 BB, 115 K, 3.94 ERA, 3.94 FIP. Those ERA and FIP numbers may not look all that impressive, but his 89 ERA- and 87 FIP- show that both were comfortably above-average. His 22.8% strikeout rate and 7.5% walk rate were above-average, as well.
And he rebounded nicely after his rough patch, too. He closed out the season with three strong starts, totaling 17.1 IP, 12 H, 3 BB, 14 K, 0 HR, and a 1.04 ERA. It was a great end to a very good season, and a comforting sign that he had straightened himself out a bit.
Surprisingly, Montgomery's stuff didn't really sag as the season progressed: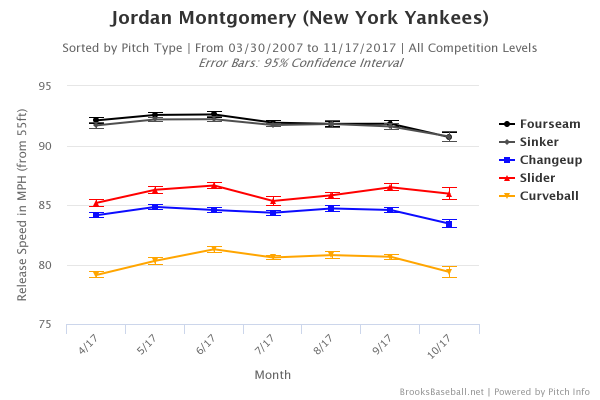 All five of his pitches stayed within a range of +/- a MPH on the season as a whole, excepting October – which may simply be an outlier, given that it was just one start. That is likely a product of Montgomery being accustomed to heavier workloads in the minors, as he only took a jump of 24 IP from 2016 to 2017; and it's a good sign.
Trusting His Stuff
Montgomery's pitch selection was somewhat inconsistent throughout the season, and it will bear watching going forward. I first noticed this back in May, when he followed-up the worst start of the season with the best (to that point), at least. It essentially boiled down to slider usage – he threw 11 the first time around, and 29 the next time out, and it was unhittable. For better or worse, though, his usage rate on all of his pitches was all over the place: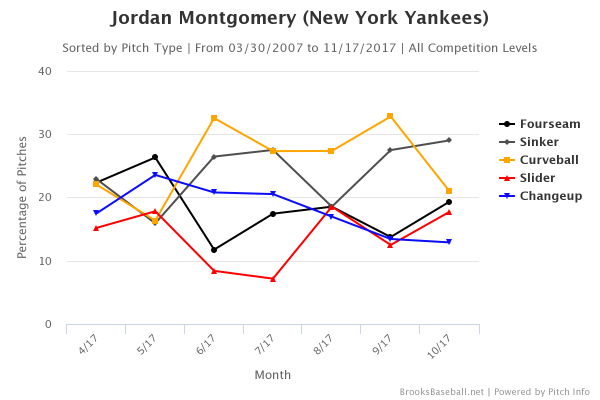 The best explanation for this may simply be that he didn't like to use his slider and curveball in the same game, as the usage of those pitches is close to a mirror image. He had great success with both pitches, though, so being able to deploy both in the same outing with confidence could pay dividends.
The Best Rookie Pitcher In Baseball
Put all of that together, and Montgomery was at the top of the charts for rookie pitchers, with the following overall line – 155.1 IP, 22.2 K%, 7.9 BB%, 88 ERA-, 2.7 fWAR, 2.9 bWAR. He led all rookie pitchers in both fWAR and bWAR, and finished fourth in innings pitched. An argument can even be made that he was the best non-Aaron Judge rookie in the American League, given that he was tied with Matt Chapman for second in fWAR, and didn't derive a great deal of his value from a half-season's worth of defensive metrics.
Regardless, that's a hell of a rookie season from someone that may've been fourth or fifth on the pre-spring depth chart for the fifth starter's slot.
2018 Outlook
Montgomery has more than earned a spot in the Yankees rotation and, barring some unforeseen blockbuster deal, I don't see him anywhere else in 2018.