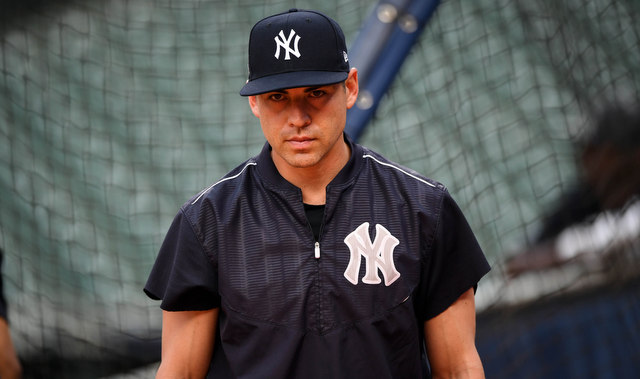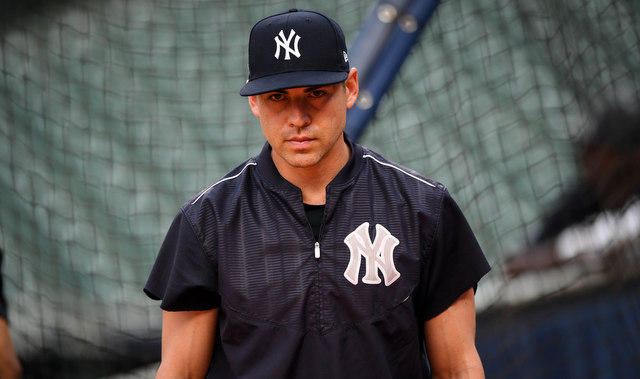 For the very first time, I went into this offseason believing the Yankees would make a serious effort to move Jacoby Ellsbury. They're going to have to eat money to do it, but that money is a sunk cost anyway. Either the Yankees pay Ellsbury and keep him on the roster, or they pay him to play elsewhere so they can put the roster spot to better use. Any savings are a bonus.
Aaron Hicks started in center field in the postseason and Brian Cashman made it clear a few weeks ago the Yankees plan to keep Hicks in center field next year. Brett Gardner and Aaron Judge aren't going to be unseated in the corners, plus Clint Frazier is knocking on the door. Then the Yankees went out and traded for Giancarlo Stanton over the weekend, knocking Ellsbury further down the depth chart. Here is that outfield depth chart, which I think is better explained through tiers than a straight 1-6 ranking.
Tier One: Judge and Stanton
Tier Two: Gardner and Hicks
Tier Three: Ellsbury and Frazier
Ellsbury is at best fifth on the outfield depth chart and I am very willing to hear arguments that he's really sixth behind Frazier. Point is, Ellsbury is getting pushed out, so it's no surprise reports from the Winter Meetings indicate the Yankees are willing to eat half the $68M left on his contract to trade him. Will that be enough? Would Ellsbury get three years and $34M as a free agent? Probably not, but start by saying you'll eat half, then go from there.
Ken Rosenthal floated the idea of the Yankees attaching prospects to Ellsbury in a trade, which I hate. Giving up prospects to rid yourself of a bad contract when you're the richest team in the sport doesn't sit well with me. This all started because the Yankees a) gave Ellsbury that ridiculous contract in the first place, and b) are adhering to the luxury tax threshold, thus voluntarily throwing away the financial advantage that comes with playing in New York.
Anyway, attached prospects or not, moving Ellsbury will not be easy given his production and contract, plus the whole no-trade clause thing. His market is very limited. How limited? Let's look. Here are the teams that most stand out as potential Ellsbury suitors. (Given the way these things usually go, this means Ellsbury will be traded to a team not listed in this post at all.)
Arizona Diamondbacks
Current Outfield: A.J. Pollock, David Peralta, Yasmany Tomas
The D'Backs are likely to lose J.D. Martinez to free agency, and the new front office doesn't seem particularly fond of Tomas, which is why I traded Ellsbury to Arizona in my offseason plan. I thought maybe there would be a fit, especially since Ellsbury and D'Backs manager Torey Lovullo were together on the 2013 Red Sox. (Lovullo was bench coach that year.) There's a connection to Lovullo, an open outfield spot, and the D'Backs are good enough to contend, which might be enough to convince Ellsbury to waive his no-trade clause.
Chicago Cubs
Current Outfield: Jason Heyward, Albert Almora, Ben Zobrist, Kyle Schwarber
Zobrist has declined — he hit .232/.318/.375 (82 wRC+) in 2017, you know — Almora is a platoon player, Heyward is a younger version of Ellsbury, and Schwarber runs around the outfield like he has a full diaper. There's also the connection to Theo Epstein and the rest of his front office crew, who drafted and developed Ellsbury back in the day. The Cubs are likely to lose Jon Jay, a left-handed hitting center fielder, to free agency. If the Yankees eat enough money — or kick in a pitching prospect, which the Cubs desperately need — would the Cubbies be interested in Ellsbury? I don't think it would take much convincing to get him to waive his no-trade clause to join Chicago.
Cleveland Indians
Current Outfield: Michael Brantley, Lonnie Chisenhall, Bradley Zimmer, Brandon Guyer (Jason Kipnis?)
There's a decent chance Brantley will spend more time at DH than in the outfield going forward given his injury problems the last two years, meaning Edwin Encarnacion will have to play first base. The Indians showed they're willing to play Kipnis in the outfield despite his inexperience, so they could end up with Kipnis-Zimmer/Guyer platoon-Chisenhall in the outfield and Brantley at DH. Adding another outfielder isn't an absolute necessity, but it wouldn't be a bad idea. And, obviously, there's the Ellsbury-Terry Francona connection from Boston. As always, the question with Cleveland is money. They don't have much of it, so how much would the Yankee have to eat to make it happen?
Houston Astros
Current Outfield: George Springer, Josh Reddick, Marwin Gonzalez, Jake Marisnick
A long shot, for sure. Springer and Reddick are locked into two of the three outfield spots and Gonzalez was too good last season to bump out of the lineup for Ellsbury. Marisnick is younger, cheaper, and better defensively than Ellsbury as well, so Ellsbury wouldn't even fit as a reserve player. I have to think Ellsbury would okay a trade to the defending World Series champions, but the Astros don't need him.
New York Mets
Current Outfield: Yoenis Cespedes, Juan Lagares, Brandon Nimmo, Michael Conforto (rehabbing from shoulder surgery)
Could you imagine the reaction if the Mets took on Ellsbury — essentially the Yankees' scraps — after the Yankees traded for Stanton? It would be ugly, and for that reason I don't think it would happen. Even the shameless Wilpons would consider the optics terrible, even though adding another center field capable outfielder wouldn't be the worst idea in the world. Would Ellsbury waive his no-trade clause to stay in New York? Something tells me he won't even have to think about it.
San Francisco Giants
Current Outfield: Denard Span, Hunter Pence, Jarrett Parker, Mac Williamson
This past season Giants outfielders hit .253/.311/.374 (79 OPS+) with 38 home runs in a little over 2,000 plate appearances, if you can believe that. It's no wonder why they were in on Stanton. Ellsbury's defense would fit well in spacious AT&T Park, though I get the sense the Giants, who ranked dead last in MLB with 128 home runs in 2017, want a bigger bat. Maybe they'd take on Ellsbury on a secondary piece? Sign Jay Bruce or someone like that first, then trade for Ellsbury and a small piece of his contract for depth? An Ellsbury-for-Jeff Samardzija bad contract swap doesn't make any sense for San Francisco since they need pitching too. Also, the Giants did lose 98 games this year. I'm not sure Ellsbury would waive his no-trade clause to join a team that far away from contention, despite their recent World Series titles. Stanton sure didn't.
Texas Rangers
Current Outfield: Nomar Mazara, Delino DeShields Jr., Shin-Soo Choo, Willie Calhoun
That is a sneaky bad outfield. Choo and Calhoun would both be a full-time DH if they were on separate teams, but since they're on the same team, one has to play the outfield, and that's not good. Both DeShields and Mazara are young enough and talented enough to stay in the outfield full-time going forward. A Choo-for-Ellsbury bad contract swap makes sense for Texas — they'd be able to put Calhoun at DH and upgrade their outfield defense — but doesn't help the Yankees at all. They're looking to clear the roster spot for a younger player and save money, not rearrange the furniture with another bad contract. I don't see much of a fit here, even before considering whether Ellsbury would waive his no-trade clause to join the Rangers.
Toronto Blue Jays
Current Outfield: Kevin Pillar, Steve Pearce, Teoscar Hernandez, Ezequiel Carrera
Goodness. That outfield. The whole intra-division thing complicates a potential trade, though I don't think the Yankees would be afraid to dump Ellsbury on an AL East rival. I think they'd do it if that's their best option. Would the Blue Jays take on Ellsbury in a salary dump? Would Ellsbury sign off on a trade to that sinking ship in Toronto? Despite the desperate need for outfield help north of the border, I don't see the Blue Jays as a realistic fit for Ellsbury.
Washington Nationals
Current Outfield: Bryce Harper, Adam Eaton, Michael A. Taylor, Brian Goodwin
Jayson Werth's contract just expired, but the Nationals don't really need an outfielder to replace him because the guys who replaced Werth when he was on the disabled list this year (Taylor and Goodwin) were way better than him. The Nationals dried up as a potential Ellsbury landing spot as soon as they acquired Eaton last year. I think Ellsbury would okay a trade to Washington should a deal be worked out, plus the Nationals are a haven for unwanted Scott Boras clients, so I can't completely rule them out as a possibility. I just think it's unlikely.
* * *
Rebuilding teams like the Athletics, Padres, Phillies, Reds, Royals, Tigers, and White Sox would very likely be interested in trading for Ellsbury as long as a good prospect(s) is attached. Take on, say, $5M a season and get a prospect(s)? Why not. What caliber of prospect? Well, that's up for debate. The Twins ate $4M or so to trade Jaime Garcia to the Yankees and they ended up with Zack Littell and Dietrich Enns, but that was $4M. We're talking about eating $5M or so with Ellsbury each year for the next three years, so $15M total.
The bigger issue with that sort of trade is why in the world would Ellsbury agree to go to a rebuilding team? The solution could be releasing him. As a condition of accepting the trade, Ellsbury could ask his new team to release him, allowing him to sign anywhere for the prorated portion of the league minimum. The Yankees clear a roster spot and part of Ellsbury's contract, the rebuilding team gets a prospect(s) for taking on some cash, and Ellsbury gets to pick his next team and offer his services at a dirt cheap price. A win-win-win? Not sure I'd go that far. But it could work.
Like I said, I don't love the idea of attaching prospects to Ellsbury to unload the contract, but that may be the Yankees' only choice, unless one of those clubs listed above decides Ellsbury is worth a couple million bucks and trading a non-prospect or two. I do think the Yankees are very motivated to move him right now though, especially after the Stanton trade. Perhaps they believe they have a deep enough farm system that trading a prospect or two to free up cash at the MLB level is worthwhile.