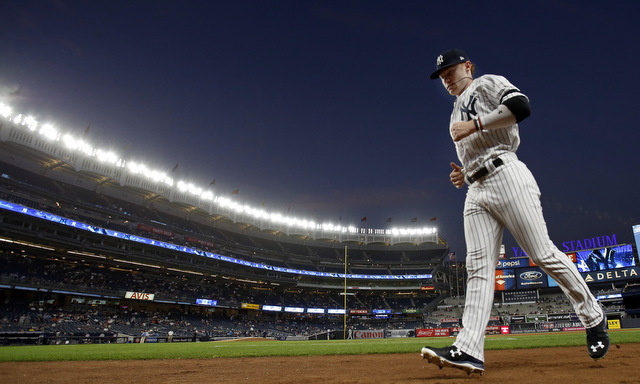 Clint Frazier is probably the most tradeable top prospect in baseball right now. He is technically no longer a rookie — he exceeded the rookie limit by four at-bats this year — but he is functionally still a prospect because he is young and not yet established at the big league level. Frazier got a taste of the show this year and did some exciting things. He also did some not-so-exciting things. Par for the course with rookies, really.
When the Yankees made the no-brainer trade ten days ago to add Giancarlo Stanton to Aaron Judge, Frazier became expendable. He's a corner outfield prospect — Clint hasn't played center field full-time since 2015, when he was in High-A ball — on a team with very possibly the two of the three best corner outfielders in baseball along with Bryce Harper. Frazier's name has popped up in trade rumors the last few days, mostly involving young pitching, and that is in no way surprising.
No player is every truly untouchable — would the Yankees really balk at trading Gleyber Torres for Mike Trout or Carlos Correa? — and of course it makes sense to make Frazier available in trades after the Stanton deal. He could help bring back a significant piece. There is also a case to be made for keeping Frazier, and I'm going to make it. There are four good reasons to keep him.
He could be really good!
Or he could be really bad too. No one really knows. What I do know is Frazier just turned 23 years old, he was ranked as a top 25 prospect by the various scouting publications going into the 2017 season, and during his brief taste of the show he had 17 extra-base hits (nine doubles, four triples, four homers) and 14 singles. More extra-base hits than singles as a rookie is not easy to do, but Frazier has the bat speed to hit anything.
Baseball Reference projects a .252/.311/.447 line from Frazier in 2018. Steamer projects .247/.312/.433. Last offseason ZiPS spit out Dave Henderson as Frazier's top statistical comp based on his minor league career, and Henderson is a former All-Star who spent 14 productive seasons in the big leagues. The scouting reports and numbers suggest Frazier could be a quality big league player in time. In 2018? Maybe not. Plenty of rookies need some time to find their footing. But Frazier has obvious talent, the kind of talent worth keeping around.
Gardner is entering the last year of his contract
Brett Gardner turned 34 in August and the 2018 season is the final guaranteed year on his contract. He'll make $11.5M before the Yankees have to make a decision about his $12.5M club option for 2019 ($2M buyout). Given his age and how hard he plays — and has played for the last decade now — a sudden decline and/or physical breakdown could be on the horizon. I hope it doesn't happen, Brett is the man, but it might. That's baseball.
If Gardner does decline and the Yankees do need to move on (or reduce his role), they'll be happy they kept Frazier around for left field. I know Frazier looks capital-B Blocked right now. In 12 months though? He very well could be in line to take over as the starting left fielder. Gardner is kinda sorta year-to-year at this point of his career.
Hicks is still unproven
I like Aaron Hicks. I think first half Aaron Hicks is the real Aaron Hicks. Maybe he won't repeat the .290/.398/.515 (144 wRC+) batting line he put up prior to the All-Star break this year, but I think he's a true talent .270/.370/.470 guy going forward. Those numbers combined with above-average outfield defense make Hicks a pretty valuable player. He's always had talent and athleticism. This season that talent and athleticism finally turned into production.
And yet, the fact remains Hicks turned 28 in October and he has yet to have a fully healthy and productive big league season. He's shown flashes and that's about it. The Yankees are currently penciling Hicks in as their starting center fielder, and I am totally cool with that, but you don't have to try too hard to envision a scenario in which Hicks plays his way onto the bench next summer, Gardner has to take over in center field, and left field opens up for Frazier.
Stanton and Judge will need time off their feet
Stanton and Judge are so darn big that giving them fairly regular reps at DH to spare their legs seems like a smart move to me. Is it crazy to think the two of them should combine for 100 starts at DH next year? That still leaves 62 DH starts for Gary Sanchez, Greg Bird, and whoever else (Frazier!). Frazier can help make all those DH starts possible for Judge and Stanton by simply being available to start in the outfield and offering more youth and power than Jacoby Ellsbury, who is not guaranteed to be a Yankee come Opening Day.
* * *
In no way am I opposed to trading Frazier. The Stanton pickup does make him expendable and Clint has significant trade value thanks to his youth, his talent, and his six years of team control. The Yankees should be able to snag a pretty darn good pitcher by parting with Frazier. Whether that pitcher is Gerrit Cole or Michael Fulmer or someone else is another matter.
The Yankees do not have to trade Frazier, however, and they shouldn't feel any sort of urgency to trade him. This doesn't have to happen right now. The Yankees can stash Frazier in Triple-A to start next season — a few more Triple-A reps wouldn't be the end of the world — and reassess at the trade deadline. Do they still need a pitcher? Do they need the outfielder more? Frazier is a top trade chip, for sure. Brian Cashman & Co. don't have to trade him this offseason though.