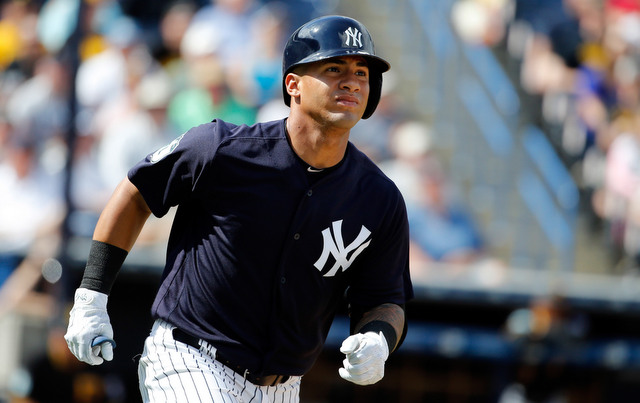 With roughly six weeks to go before the start of Spring Training, the Yankees have great big openings at second and third bases. There are plenty of free agent infielders still available, plus there's the trade market, and of course the Yankees have highly touted prospects like Gleyber Torres and Miguel Andujar at the ready. The second and third base jobs are open, but the Yankees have options.
"If the market changes, we're prepared to adjust. But right now, we're still treading water. This is what we've got, in addition to other guys like Tyler Wade and (Thairo) Estrada. I'm excited with what we have," said Brian Cashman to Dan Martin. "Each market has a life of its own. But I like our team as it stands. That doesn't mean we're a finished product or that we're perfect or that there aren't teams that are better than us."
Cashman indicated the Yankees are prepared to go with their young guys at second and third base, and hey, the Yankees have plugged a lot of young players into the lineup recently. Aaron Judge took over in right, Gary Sanchez took over behind the plate, and Greg Bird would've taken over at first had he not gotten hurt. The Yankees have given us reason to believe they will go young. I'm skeptical they'd do so at second and third though, for three reasons.
1. Torres is coming back from surgery! Torres did not play after June 17th last season. He blew out his non-throwing elbow on an awkward slide into home plate, and needed Tommy John surgery. By all accounts, Gleyber's rehab is going well. He supposedly asked the Yankees to play winter ball, but was rejected.
"We might be careful with him this spring regardless because of the injury, but we wanted him in Tampa so we would be able to control how much he did," said Cashman when asked about Torres wanting to play winter ball. "Now that he's fully healthy, we want to see more of what he can do."
I'm glad Torres is doing well and will report to Spring Training ready to go. That said, the fact of the matter is this a just turned 21-year-old kid who is coming off a major injury, and will show up to camp having not played in eight months. And Torres is not any other 21-year-old. He's arguably the best prospect in baseball.
Because of that, the Yankees figure to be very careful with Gleyber. I really hope they are. He's too important to rush simply because the big league team needs an infielder. Let Torres go at this own place, and if that means a few weeks in Triple-A to shake off the rust, then that means a few weeks in Triple-A to shake off the rust.
2. Andujar's defense is still a work in progress. For a few weeks there in the second half, the Yankees were getting nothing from the DH spot, yet they kept Andujar in Triple-A. He was crushing the ball and it sure seemed like he would have been a better option than Matt Holliday. Instead, the Yankees kept Andujar in Triple-A, specifically so he could work on his defense. He's getting better, but there is still work to be done.
Given their current pitching staff, infield defense is going to be important next season. The bullpen is going to strike everyone out, but last season Yankees starters had a 48.1% ground ball rate, fifth highest in baseball. They are returning the same five starters this year, and a full season of Sonny Gray means that ground rate only figures to tick up going forward. Are the Yankees willing to roll with Andujar's unrefined glove at the hot corner?
"We know the player he is," said Cashman. "We saw him go from Double-A to Triple-A to the big leagues last year. He played third base at Yankee Stadium. He'll compete. He's earned the right to bang on the door, and he has a chance to knock it down. If he needs more time, he'll get it."
Andujar played nine innings at third base across three games with the Yankees last year, all in September and all in the late innings of blowouts. They kept him in Triple-A to work on his defense and they kept him off the field in anything other than a blowout game. Perhaps they're more willing to roll the dice on Andujar's glove going forward, but do those few extra weeks in Triple-A really make the Yankees comfortable with his defense?
3. The Yankees are all-in on 2018. The Giancarlo Stanton trade and the ongoing pursuit of a quality starting pitcher tell us that much. Don't get me wrong, adding Stanton and acquiring a controllable pitcher will help the Yankees beyond 2018 as well, but right now 2018 is the priority. The Yankees are trying to win right now, this year. They're back to World Series or bust.
Does employing two rookie infielders — or one rookie infielder and Ronald Torreyes — give the Yankees the best chance to win in 2018? Maybe! Torres and/or Andujar could just be that damn good right away, like Sanchez two years ago and Judge this year. But what if they're not? What if Andujar needs 700-something plate appearances to find his way like Didi Gregorius? What if Gleyber pulls a Dansby Swanson? Look at the Steamer projections:
Andujar: .266/.311/.426 (94 wRC+) and +1.2 WAR in 97 games
Torres: .247/.314/.378 (85 wRC+) and +0.5 WAR in 76 games
What if the Yankees get that from Torres and Andujar? It wouldn't be the end of the world, but it wouldn't exactly put them over the top either. And maybe that's not a big deal. Maybe the offense is so good that the Yankees can survive two rookies enduring growing pains at the bottom of the lineup. As Plan A though? That seems like a bit of a stretch when you're trying to win a title.
* * *
It just seems to me that, given the questions with Torres (injury) and Andujar (defense) as well as Wade (can he hit?) and Thairo (hasn't played above Double-A), the Yankees will probably wind up adding a veteran infielder at some point. At least one, and not necessarily a big free agent signing or trade. Just a stopgap to help make sure Torres is all the way back following elbow reconstruction, and Andujar's defense is up to snuff.
Now, that all said, a few years ago Cashman indicating he's okay with two kid infielders would've seemed like another "Bubba Crosby is our center fielder" moment. These days the Yankees are all about trusting their young players. It started with Bird and Luis Severino in 2015, and has continued with Sanchez and Judge and Jordan Montgomery and others. The Yankees are going young, and even if I don't believe they'll go into the season with rookies at second and third base, they have given us reason to believe they'll actually do it.