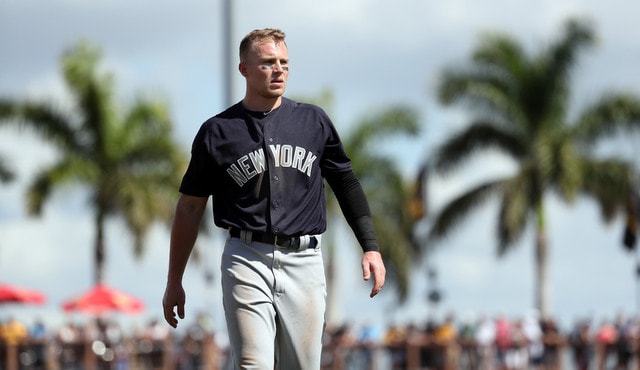 It might've taken a little longer than expected, but the Yankees have a new infielder. Both Starlin Castro and Chase Headley were traded away in December, and going with rookies at two infield spots never seemed all that realistic for a team trying to win the World Series. A depth pickup was inevitable.
Last week the Yankees acquired Brandon Drury from the Diamondbacks in a three-team deal that sent second base prospect Nick Solak to the Rays and right-handed pitching prospect Taylor Widener to Arizona. The Yankees could've spent some of their finite luxury tax plan dollars on a free agent like Neil Walker or Mike Moustakas. They went the trade route instead.
"He's got a chance to be more than just a quality everyday player, but potential means you haven't made it yet," said Brian Cashman to Pete Caldera after the trade. "(Drury) has established himself as a quality Major Leaguer, but I know that he has dreams to be even more and our pro scouting department has the same visions."
I've seen the Drury trade compared to the Aaron Hicks trade, which is reasonable. In both instances the Yankees acquired a talented young player who didn't quite fit his former team — the Twins had Byron Buxton coming up behind Hicks for center field and Drury was stuck behind Jake Lamb — with the idea that they could help him blossom. It worked with Hicks based on last season. Now they'll try to do the same with Drury.
The 25-year-old Drury has been in camp about a week now and it wasn't until yesterday afternoon that we actually got to see him in a game due to the lack of early Spring Training broadcasts. He's played. Just not during televised games. Time to preview the new infielder's upcoming season.
So who is Brandon Drury?
Might as well start here since he's the new guy. Drury grew up in Oregon and said he was a Yankees fan and a Derek Jeter fan — "I think Jeter was everybody's favorite player, but (I liked) the whole team. It was just the team that the family and I always followed," he said to Randy Miller — which makes me feel old. Kids who grew up watching Jeter are now big league ballplayers. Where does the time go?
Anyway, the Braves selected Drury with their 13th round pick (404th overall) in the 2010 draft, and three years later they traded him to the Diamondbacks in the Justin Upton deal. Drury, Martin Prado, Randall Delgado, Nick Ahmed, and Zeke Spruill for Upton and Chris Johnson. His climb up the minor league ladder was fairly methodical. Two years in rookie ball, one year in Low-A, one year in High-A, then half-seasons at Double-A and Triple-A.
Drury made his MLB debut as a September call-up in 2015 and has been a big leaguer ever since, save for a three-game Triple-A stint in June 2016. His offensive numbers the last two seasons have been about average. Not great, not terrible. Average.
| | PA | AVG/OBP/SLG | wRC+ | 2B | HR | K% | BB% |
| --- | --- | --- | --- | --- | --- | --- | --- |
| 2016 | 499 | .282/.329/.458 | 102 | 31 | 16 | 20.0% | 6.2% |
| 2017 | 480 | .267/.317/.447 | 92 | 37 | 13 | 21.5% | 5.8% |
| Total | 979 | .275/.323/.453 | 97 | 68 | 29 | 20.7% | 6.0% |
"He's a team guy. He'll do anything you ask. His intensity is at a high level at all times. Hard worker," said new third base coach Phil Nevin, who managed Drury in Triple-A with the D'Backs, to Miller. "We're adding a pretty darn good guy. I can assure you there was some tough goodbyes with his (D'Backs) teammates, but they're all happy for him. They know he's coming to a good situation."
A third baseman, but versatile
Drury was drafted as a shortstop but was immediately moved to third base as a pro. He moved around a whole bunch while going through the minors and that makes him more valuable at the big league level. Last season Drury played primarily second base because Lamb is entrenched at third. Here are Drury's big league defensive assignments:
First Base: One inning
Second Base: 1,067 innings (+4 DRS)
Shortstop: Six innings
Third Base: 311 innings (-4 DRS)
Right Field: 235 innings (-2 DRS)
Left Field: 469 innings (-7 DRS)
In the week since the trade, the Yankees have talked mostly about using Drury at third base with the usual hedging. "We will probably focus more on third base," said Aaron Boone to George King. It would be decidedly un-Yankee-like to declare anyone the starter at any position, especially this early in camp. Drury is seen as the frontrunner for the third base job but he'll have to compete for it.
"You have a young buck who is an exciting talent. (Drury's) acquisition provides us with more of the ability to feel better about the present," said Brian Cashman to King. "(Miguel) Andujar is a high-end skilled player that we think is going to have a very long and successful career in the big leagues and we believe that will be with us. This allows us, if we choose, to buy more time. If we choose not to, over time the flexibility Drury provides gives us a lot of choices because there is competition going on at second and competition at third."
The versatility is an obvious plus even if the Yankees view Drury as a third baseman right now. Plans change. What if Gleyber Torres struggles at second base and fits better at third long-term? In that case Drury could slide to second. If both Andujar and Torres turn out as hoped, Drury could be something of a super utility guy, that mythical high-end bench player who plays a different position every day to keep everyone fresh.
We're getting ahead of ourselves though. Right now, it sure sounds like the plan is to start Drury at third base on Opening Day, with Andujar going back to Triple-A to work on his defense. I'm bummed, I'm ready for the Andujar era, but I totally get it. The numbers say Drury isn't great at the hot corner, but the sample is so small I wouldn't worry about. Drury thinks third base is his best position and the Yankees think third base is his best position, so let him play it.
"That's my best position," said Drury to Miller and Brendan Kuty. "I'm much more happy to be at third. It's more natural for me. Second base was tough to pick up but it was all right. I'm really excited about this."
There might be more power coming
This is something I covered earlier this week. Drury focused this offseason on adding loft to his swing in an effort to get the ball airborne, and turn some of those doubles into homers. He has pop. Drury can do this to a baseball …
… but his career 49.9% ground ball rate won't cut it. He has to get the ball in the air more often to fully tap into his power. He worked over the winter with hitting guru Robert Van Scoyoc, the guy who reworked J.D. Martinez's and Chris Taylor's swing, with that in mind. More loft. The fly ball revolution is sweeping across baseball and Drury is buying in.
"There's so much upside. We thought it was the perfect fit in a lot of ways," said vice president of baseball operations Tim Naehring to John Harper. "We've identified some things we think will help him. The swing itself is fundamentally sound, and he'll be able to utilize the right field porch. He's not a turn-and-burn guy."
* * *
The Yankees were after Drury for a while — they were first connected to him at the Winter Meetings — and based on the way everyone has talked about him this last week, you can tell they really like him. I mean really, really like him. The Yankees view Drury as a potential above-average everyday player, not a stopgap to hold things down until Andujar or Torres is ready. He's someone who could become part of the core.
Never say never, but at this point, it would surprise me if Drury wasn't the third baseman on Opening Day. As well as he performed with Triple-A Scranton last season, Andujar does have only 58 games at the level, and his defense is still a work in progress. Drury clearly has fans in the organization and he's going to play. Third base is the obvious spot. That said, Andujar is knocking on the door, so Drury will have to perform to stay in the lineup.
If nothing else, Drury is another quality infielder in an organization loaded with quality young infielders. It's not just Andujar and Gleyber. There's Tyler Wade and Thairo Estrada too. The Yankees have a lot of infield options and not a lot of available infield positions. The competition is a good thing. It should bring out the best in everyone. For now the Yankees only need Drury to be a complementary player, not a centerpiece. If the new fly ball approach works out, he has a chance to be more than that, as soon as this season.