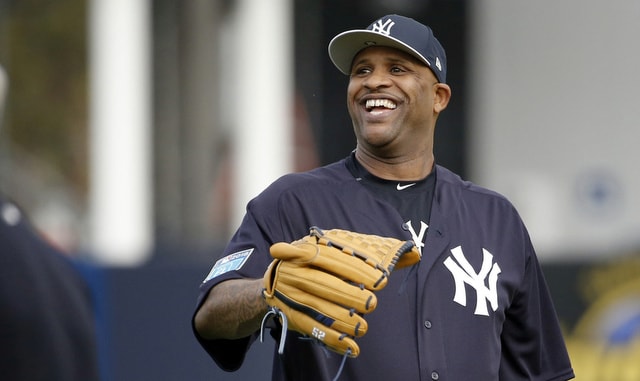 Now that the Grapefruit League season is a week old, we're starting to see more regular members of the pitching staff appear in games. Dellin Betances made his spring debut yesterday, and today CC Sabathia will toe the slab for his first spring start. Sabathia is a notoriously terrible spring pitcher:
2015: 8.10 ERA
2016: 5.51 ERA
2017: 6.75 ERA
Sabathia had a 1.29 ERA during Spring Training in 2014, then he went out and had a 5.28 ERA during the regular season, so yeah. Veteran guys like Sabathia truly just go through the motions during spring games. They get their pitches in, work on whatever they need to work on, then go home and prepare for the next start. If they give up hits and runs, they give up hits and runs. As long as they're ready for the regular season, who cares?
The Yankees are on the road in Clearwater to play the Phillies again, so it was a quick trip west to the Gulf Coast. MLB relaxed their rules regarding the number of regulars required to go on road trips his spring, so Sabathia will be backed by a skeleton crew this afternoon. Good day to watch some minor leaguers. Here is the Phillies' lineup and here is the Yankees' lineup:
CF Jacoby Ellsbury
3B Brandon Drury
LF Aaron Hicks
DH Miguel Andujar
SS Danny Espinosa
1B Tyler Austin
C Austin Romine
2B Jace Peterson
RF Jake Cave
LHP CC Sabathia
Available Pitchers: RHP J.P. Feyereisen, RHP Jordan Foley, RHP Giovanny Gallegos, RHP Domingo German, RHP Ben Heller, RHP Trevor Lane, LHP Wade LeBlanc, LHP James Reeves.
Available Position Players: C Francisco Diaz, C Kyle Higashioka, C Chace Numata, 1B Ryan McBroom, IF Abi Avelino, IF Kyle Holder, IF Gleyber Torres, IF Ronald Torreyes, OF Estevan Florial, OF Billy McKinney, OF Mark Payton, OF Shane Robinson.
It is cloudy, warm, windy, and humid in Clearwater this afternoon. The rain isn't supposed to arrive until later tonight though, so they shouldn't have any trouble getting today's game in. First pitch is scheduled for 1:05pm ET and you can watch live on MLB Network and MLB.tv. Neither will be blacked out locally. There is no YES broadcast today. Enjoy the game.