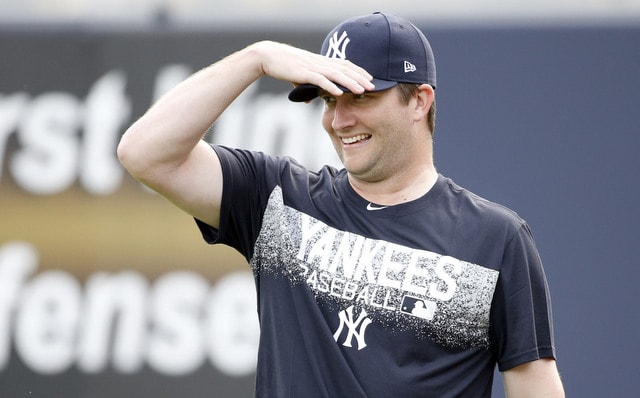 The Yankees have built an impressively deep bullpen thanks to Chad Green's breakout last year and the trade that brought David Robertson and Tommy Kahnle back to the organization. Add in Dellin Betances and those are four guys who could legitimately serve as the eighth inning high-leverage reliever for a contending club. The bullpen will be a strength for the 2018 Yankees. For sure.
In fact, the bullpen is so deep right now that Adam Warren and Chasen Shreve are the last two relievers on the roster. How many teams want an Adam Warren, a versatile right-hander who can pitch in pretty much any role, in their bullpen? How many teams wish they had a lefty with no platoon split who could throw multiple innings like Shreve? Warren and Shreve are overqualified sixth and seventh relievers. Let's preview their season.
Warren's Contract Year
Three years ago the Yankees traded Adam Warren to get Starlin Castro, and they had such a hard time finding someone to fill Warren's role — Johnny Barbato, Kirby Yates, and Anthony Swarzak all took cracks at it, but no luck — that they wound up reacquiring Warren in the Aroldis Chapman trade. A right-hander with a resilient arm who can get outs in any situation for seemingly any length of time is a valuable piece.
Last season was a typical Warren season, or at least typical for the non-Cubs portion of his career. Warren threw 57.1 innings with a 2.35 ERA (3.02 FIP) while posting a career high strikeout rate (24.2%) and a career low walk rate (6.7%). He entered games in every inning but the first and second, and recorded as many as eight outs and as few as one out (in non-meltdown situations) in an appearance. That's Warren, the Swiss Army Reliever.
Last year Warren took his slider usage to the extreme, throwing the pitch a career high 38.5% of the time. The slider has always been his go-to secondary pitch — he also throws a curveball and a changeup, even in relief — though last year, he threw it more than ever. Here is his fastball and slider usage rates over the years: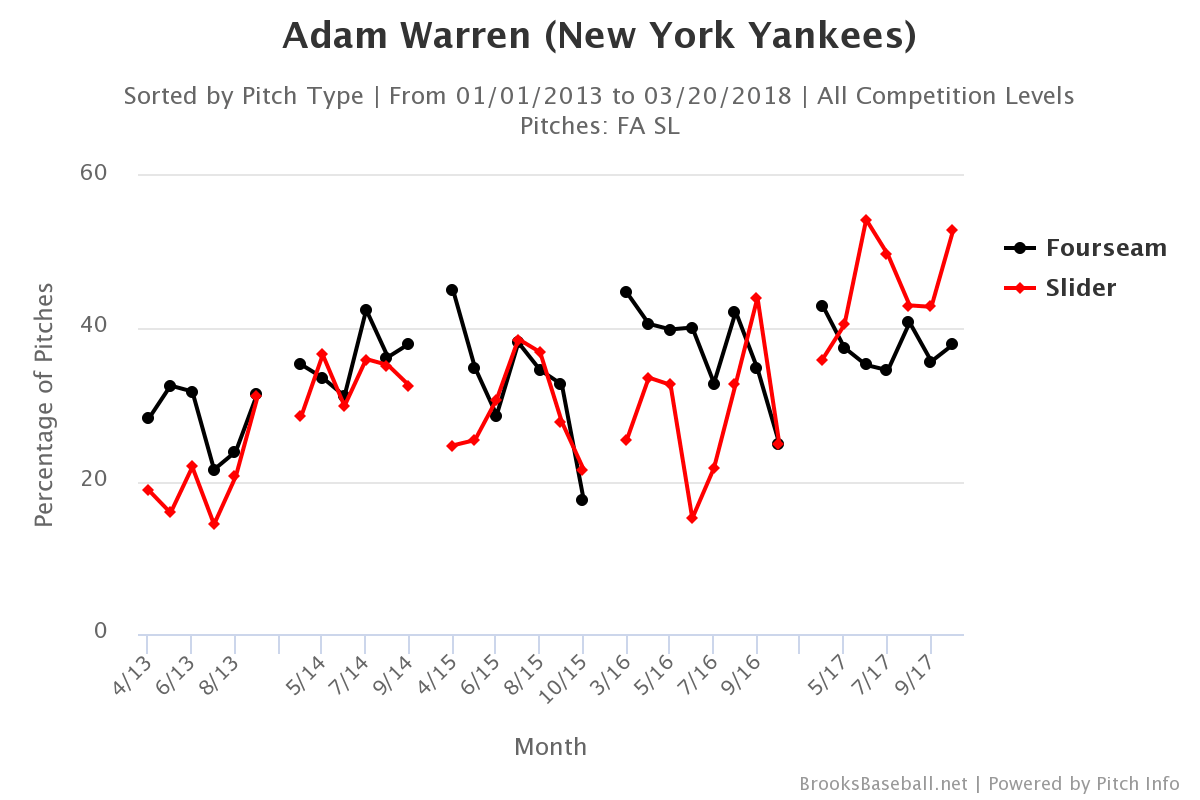 Kinda interesting Warren had the worst stretch of his career with the Cubs in the first half of the 2016 season (5.91 ERA and 5.83 FIP) while throwing more fastballs than sliders. With the Yankees, it has basically been an equal number of fastballs and sliders, at least until last year, when the slider reigned supreme. I get the sense that will continue this year. The Yankees throw fewer fastballs than any other team, after all.
Warren will play a sneaky big role this year. Betances, Green, Kahnle, and Roberson are the primary setup crew for Aroldis Chapman, leaving Warren as the primary "only when losing" reliever (so to speak). When you're down, you want a reliever to come in and stop the other team from tacking on insurance runs. Warren can do that. And with the offense the Yankees have, they'll never really be out of a game. Warren keeping the other team in check in the middle and late innings could turn a lot of deficits into wins.
This is also Warren's contract year, which might be making him a little nervous given how the free agent market played out this winter. Then again, relievers still got paid. It's too early to say whether the Yankees will try to re-sign Warren, though my hunch is they'll walk away, especially if he's looking for Tommy Hunter money (two years, $18M). The Yankees have plenty of young relievers to plug into that roster spot.
I'm a big Warren fan. I think he's underrated overall and I think his versatility makes him more valuable than his ERA or his WAR or whatever would lead you to believe. He can pitch in any role and be effective and that's not easy. That he is only sixth — sixth! — on the Opening Day bullpen depth chart is crazy. Warren has been a modern day Ramiro Mendoza, and like Mendoza, the Yankees may let him walk after the season and let some other team pay for his decline.
Shreve's Fight To Stay On The Roster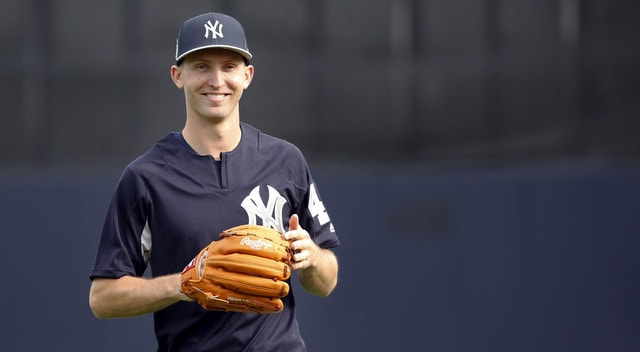 Warren is locked into a bullpen spot. There's no doubt about that. Chasen Shreve's place on the roster is much more tenuous. He's gone up-and-down between Scranton and the Bronx the last two years — he's been more up than down, for what it's worth — but this season, he won't be a shuttle option. Shreve is out of minor league options and he'll have to go through waivers to go to Triple-A. I don't see it happening. At least not before Opening Day.
Shreve is the last guy in the bullpen and, all things considered, he's a more than fine candidate for the job. He threw 45.1 innings with a 3.77 ERA (4.55 FIP) last season, striking out 29.3% of batters faced. Shreve has been equally effective against both righties and lefties in his career (.316 wOBA for both), and last season he went more than one inning 14 times. He threw two full innings (or more) eight times. What more do you want from the last guy in the bullpen?
There are two things that prevent Shreve from being a high-leverage piece. One, he walks too many batters. He had a 12.8% walk rate last year and for his career it's an 11.5% walk rate. And two, Shreve is homer prone. Last season he posted a 1.6 HR/9 and his career rate is … 1.6 HR/9. Yankee Stadium and the juiced ball have not been kind to Shreve. Shreve was pretty great in the first half of the 2015 season. Since then, walks and dingers have held him back.
Similar to Warren and his slider, Shreve really ratcheted up his splitter usage last season. He's always thrown a lot of splitters, that is his go-to pitch, but last year he threw more splitters than ever. Look:
I imagine that will continue this season. Shreve is at the point where he has to perform — and continue to perform, he won't be able to ride a good start all season — to stay on the roster, because getting shuttled back to Scranton for a few weeks isn't an option. He's left-handed, he strikes guys out, he doesn't have a platoon split, and he's cheap. Shreve is prime waiver claim fodder, so the Yankees will probably try to keep him around as long as possible.
At the same time, the Yankees have several other bullpen candidates (Luis Cessa, Gio Gallegos, Domingo German, Ben Heller, Jonathan Holder, etc.) and they're probably not going to get hesitate to give them a look if Shreve isn't doing a capable job as the last guy in the bullpen. I don't think Aaron Boone will use Shreve as a pure left-on-left matchup guy. I think he'd stick with the setup guys in any big spot. Shreve will be a mop-up guy, basically, but even then he'll have to perform. This is a make or break year, at least as far as his time with the Yankees is concerned.