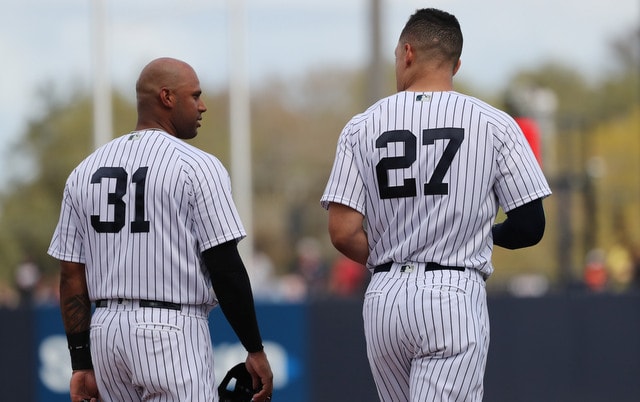 One week and one day until the Yankees open the 2018 regular season in Toronto. Is it just me, or has Spring Training flown by this year? I feel like it's gone much quicker than previous years. Maybe that's because Spring Training was longer than usual last year due to the World Baseball Classic. Whatever. Opening Day is rapidly approaching and I can't wait.
With the start of the regular season on the horizon, this is as good a time as any to lay down some bold 2018 Yankees predictions. Last year I came up with ten bold predictions and learned two things. One, ten is too many. And two, I didn't go bold enough. I went 7-for-10 last year. As much as I'd like to say I'm just that smart, going 7-for-10 tells me my bold predictions weren't really that bold.
So this year, I'm shortening up to five predictions that I hope qualify as actually, you know, bold. Or at least bolder than last season. Anyway, here are my five bold predictions for the 2018 Yankees season, in no particular order.
1. Hicks will lead the Yankees in WAR.
This could be a good thing or a bad thing! I try to be an optimist and hey, Spring Training is the time of year for unbridled optimism, so I see this as a good thing. I'm all in on Hicksie. I think last year's first half Hicks, the guy who hit .290/.398/.515 (144 wRC+) with nearly as many walks (15.3%) as strikeouts (17.4%) before his oblique betrayed him in the second half, is the real Hicks going forward.
A few reasons I'm buying the new Hicks. One, this didn't come out of nowhere. He's a former first round pick and highly regarded prospect — Baseball America ranked him as the 19th best prospect in baseball prior to the 2010 season — so the talent has always been there. Two, Hicks has been making more and more hard contact with each passing season. His yearly hard contact rates:
2014: 24.1%
2015: 25.3%
2016: 28.9%
2017: 30.8%
Three, Hicks has always controlled the strike zone. Going into last season he had a 9.6% walk rate and a tiny 22.4% chase rate in his career. He didn't swing-and-miss much either (8.9%). That overall .372 OBP last season wasn't an accident. Four, he switch-hits! Never being at the platoon disadvantage is kind of a big deal. And five, Hicks is right smack in the middle of what should be the prime of his career. He turned 28 in October, and if there was ever a year to have a career year, this is it.
With good health this season, I think Hicks is a .280/.400/.500 guy with 20+ homers, 20+ steals, and very good center field defense. That last part is important. Hicks isn't going to out-WAR guys like Aaron Judge, Giancarlo Stanton, and Gary Sanchez on offense alone. It'll be the superb defense at an up-the-middle position that puts him over the top and into the +7 WAR range this season.
2. The Yankees will be the first team ever with four 40+ home runs hitters.
The four: Judge, Stanton, Sanchez, and Ronald Torreyes. Okay fine, Greg Bird instead of Torreyes. Only three teams in history have had as many as three 40-homer guys.
1973 Braves: Davey Johnson (43), Darrell Evans (41), Hank Aaron (40)
1996 Rockies: Andres Galarraga (47), Vinny Castilla (40), Ellis Burks (40)
1997 Rockies: Larry Walker (49), Galarraga (41), Castilla (40)
Competing with pre-humidor Coors Field won't be easy, but the 2018 Yankees and Yankee Stadium are up to the task. Judge and Stanton are obvious 40-homer power guys and I think Sanchez gets there this year as well, especially if the Yankees do indeed cut back on his catching workload slightly to give him more DH days. Gary hit 33 homers in 122 games last season. Reaching 40 with good health is doable.
The fourth 40-homer guy is the sticking point. We all love Greg Bird. He's awesome. But he has not been the most durable player in his career to date. HowEVA, he's hit 20 homers in 94 regular season games despite playing 19 of those games with a bum ankle early last year. Getting to 40 homers in, say, 150 games is possible because Bird's swing is so geared for the short porch. Allow me to repeat some numbers:
Career pull rate: 44.8% (MLB average: 39.8%)
Career ground ball rate: 28.4% (MLB average: 44.2%)
Career hard contact rate: 40.6% (MLB average: 31.8%)
A lefty hitter who hits the ball hard in the air and to the pull field is a great it for Yankee Stadium. We've seen it already. Bird has peppered the short porch when healthy. This will be the year he finally stays on the field, and that'll allow him to make 40-homer history with Bird, Sanchez, and Stanton.
3. The Yankees will have four starters each make 30+ starts.
Every spring, like clockwork, we talk about the rotation and all the preexisting health concerns. There's Masahiro Tanaka's elbow and CC Sabathia's knee and the young guys and their workloads limits. We all fret about the breakdown potential, then the Yankees go out and have a pretty good rotation anyway. The rotation was top ten in basically every meaningful category last year, and now the Yankees will have a full season of Sonny Gray.
Starters are throwing fewer innings with each passing season, and not only because they're being pulled earlier within games. They're also making fewer starts (by design). Teams are giving their starters more rest whenever possible. The Yankees certainly do that whenever they can. And yet, I have four Yankees starters making 30+ starts in 2018: Tanaka, Sabathia, Gray, and Jordan Montgomery. Why not Luis Severino? Because I think the Yankees will be extra cautious with him after last season's workload. He might have to settle for 28 or 29 starts.
One team having four pitchers make 30+ starts in a single season doesn't happen often but it does happen. Recent World Series winners like the 2016 Cubs (Jake Arrieta, Jason Hammel, Kyle Hendricks, Jon Lester), the 2012 Giants (Madison Bumgarner, Matt Cain, Tim Lincecum, Ryan Vogelsong, Barry Zito), and the 2011 Cardinals (Chris Carpenter, Jaime Garcia, Kyle Lohse, Jake Westbrook) all managed to do it. Here are the last three times the Yankees got 30+ starts from four pitchers:
2009: Sabathia, A.J. Burnett, Joba Chamberlain, Andy Pettitte
2003: Pettitte, Roger Clemens, Mike Mussina, David Wells
1999: Pettitte, Clemens, David Cone, Orlando Hernandez
Notice a pattern here? Very good things tend to happen when teams have four starters stay healthy all season. It doesn't guarantee success — John Danks, Jose Quintana, Chris Sale, and Jeff Samardzija all made 30+ starts for the 2015 White Sox and they went 72-90 — but if it happens, I'm feeling good about my team's chances. The 2018 Yankees will join the "four starters with 30+ starts each" club. And they might be the only team to do it this year.
4. Cessa emerges as the next great Yankees reliever.
This worked with Chad Green last year so I might as well try it with the other player in the Justin Wilson trade this year. I have (inexplicably?) been a Luis Cessa fan the last two years — that isn't to say I think he's a budding ace or anything, but I think he's a long-term big leaguer — though he has probably reached the point where sticking with the Yankees as a starter isn't going to happen. Spot starter? Sure. Full-time starter? Nah.
Green started last season as the de facto sixth starter before moving to the bullpen out of necessity, and he took off from there. I can see the same thing happening with Cessa, even while acknowledging this year's bullpen is way better and way deeper than last year's first half bullpen. Extra arms are always needed. Guys get hurt or underperform. That's baseball. At some point the Yankees will need a long man and Cessa figures to get the call.
There are three reasons I believe Cessa can succeed as a short reliever. One, he has plenty of velocity. Last season he averaged 95.4 mph and topped out at 99.5 mph with the fastball, even as a starter. Two, his slider misses plenty of bats. It's true. Last year he threw his slider a touch more than 30% of the time and:
Swing-and-miss rate: 21.4% (MLB average for sliders: 16.9%)
Whiffs-per-swing rate: 43.2% (MLB average for sliders: 35.2%)
Cessa also throws a curveball and a changeup, but with a move into short relief, he can forget about those pitches and work exclusively with an upper-90s fastball and a swing-and-miss slider. That's similar to what Green did, right? He moved to the bullpen, shelved his subpar secondary pitches, and leaned on his best offering, which happens to be his fastball. Cessa with something like a 55/45 fastball/slider split could be real good.
And three, Cessa's splits once the lineup turns over are insane. Here are his career numbers each time through the order:
First Time: .212/.279/.385
Second Time: .284/.340/.534
Third Time: .280/.333/.600
Yeah. Cessa is also way more effective from pitches 1-25 (.221/.288/.430) than pitches 26+ (.260/.319/.486). This is Cessa's final minor league option year, so if he doesn't carve out a role this season, he's probably a goner a la Bryan Mitchell. Forget the rotation. Scrap the changeup and curveball, and use him in short relief. It worked with Green last year. It could work with Cessa this year. The opportunity to use him this way will present itself at some point. I have no doubt about it.
5. Medina finishes the season as a top 50 prospect.
Luis Medina is a rising star in the farm system. The Yankees signed the 18-year-old out of the Dominican Republic for $280,000 back in July 2015, and he's already generating lots of buzz. Medina received votes for Baseball America's annual top 100 prospects list, and, in a separate piece, they say he has "an excellent chance to find himself in next year's Top 100 Prospects." Keith Law called Medina the "next great starter prospect in what looks like a line of them from the majors on down."
The scouting report on Medina is drool worthy. Here's what MLB.com says:
Medina isn't physically imposing but has an exceptionally quick arm that repeatedly delivers 95-100 mph fastballs that top out at 102 and feature some cutting action. Both of his secondary pitches have a chance to be at least plus pitches as well. He has a power curveball with a high spin rate and a 90-92 mph changeup with splitter action that can devastate hitters, especially if they're trying to sit on his heater.
The scouting report also says Medina has a "lofty ceiling as a frontline starter." As with many 18-year-old hurlers, Medina's biggest weakness is his command and control. He walked 24 in 38.2 rookie ball innings last season, or 14.0% of batters faced. Also, Medina managed to uncork 18 (!) wild pitches. So yeah, throwing the ball over the plate is the top developmental priority this season. Here's some video:
The various scouting publications are already talking about Medina as a potential top 100 prospect next year. I think he's going to figure out how to throw strikes this year — look at his delivery in the video above and
look at his delivery when the Yankees signed him in 2015
, his tempo is better and he seems way more under control now — and if he does that, he'll be a top 50 prospect given his stuff.
I should note it would not be unprecedented for an 18-year-old pitching prospect to rank among the 50 best prospects in baseball. Anderson Espinoza was a consensus top 25 prospect at 18 two years ago. Julio Urias was a top 50 prospect four years ago, when he was only 17. Back in the day Felix Hernandez was a top prospect as a teenager. That isn't to say Medina will be Felix. That'd be nuts. The point is a kid like a Medina, an 18-year-old with a golden arm, can be considered one of the top 50 prospects in baseball, and I'm going to boldly predict he makes that jump this year.