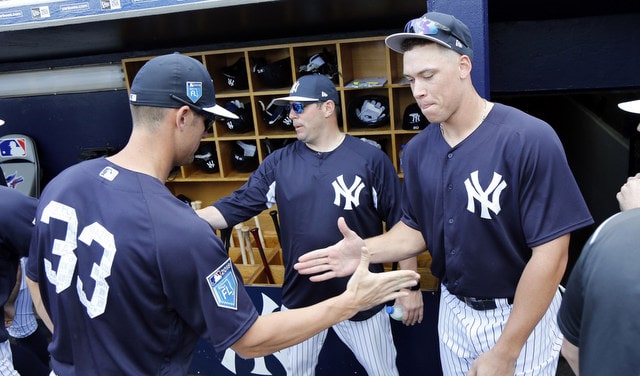 So far, so good. The Yankees lost their first Grapefruit League game of the year yesterday, dropping their spring record to 5-1. They were the last team with a perfect 1.000 winning percentage. More important than the winning is health. Aside from Clint Frazier's concussion, no one has gotten injured. That's good. Anyway, I have some thoughts a week into the Grapefruit League season.
1. I'm the biggest Miguel Andujar fan you'll find and I'd love to see him at third base on Opening Day. I still feel compelled to pump the breaks on his big spring to date. Andujar has gone 4-for-10 with a double and two homers so far, including a walk-off homer earlier this week. Andujar hit one homer against a Single-A kid and the other homer against a Double-A kid. Baseball-Reference.com's quality of competition metric says the pitching Andujar has faced so far this spring falls somewhere between High-A and Double-A caliber. I love the kid, but these first ten spring at-bats don't tell us anything we didn't already know. Yes, it's good he's raking now rather than struggling, but his performance either way wouldn't mean much given the sample size. I think Andujar belongs at third base on Opening Day because he's handled Double-A and Triple-A, and is ready to face MLB caliber pitching. That's the next challenge to continue his development. I'm glad Andujar has started the spring strong and I hope it continues against higher quality arms in the coming weeks. For now, he's crushing the caliber of pitching we already know he can crush. I don't think that means much at all.
2. The Yankees sure aren't treating Chasen Shreve like a reliever who has to compete for a roster spot. He hasn't pitched in a game yet! Neither have other no-doubt Opening Day roster relievers Aroldis Chapman, David Robertson, and Tommy Kahnle. Dellin Betances made his first spring appearance just yesterday. Jonathan Holder, Ben Heller, and Luis Cessa — the guys you'd figure Shreve would be competing against for the final bullpen spot — have all pitched in multiple games already. Instead, Shreve is getting the established reliever treatment and being brought along slowly. Hmmm. Shreve is out of minor league options, and because he's left-handed and breathing (and cheap at $825,000), I think he'd get claimed on waivers if the Yankees tried to slip him through. He's had some big time meltdowns the last few years, but at the end of the day, Shreve is a 27-year-old southpaw with a history of missing bats (career 26.5% strikeout rate) and no platoon split, plus he can go two innings at a time. If the Yankees consider him a lock for the bullpen — and the early indications this spring suggest that is the case — it's understandable. Seems to me that if Shreve truly had to fight for a job, he would be pitching in games already, not being held back with the high-end bullpeners.
3. The rotation order is kinda sorta coming into focus. CC Sabathia starts today, Masahiro Tanaka starts tomorrow, and Luis Severino is expected to throw a simulated game Saturday rather than go on the road to face the Red Sox, according to George King. Opening Day is four weeks from today. Tanaka tomorrow and Severino on Saturday lines them up to start the first two games of the season, in that order, with five spring starts total and a few extra days of rest built in. Sabathia starting today before Tanaka puts him in line to start the fifth game of the season, which makes sense, because it would keep him away from the turf in Toronto in the first series of the regular season. So, based on that, the regular season rotation tentatively lines up like this at the moment:
Masahiro Tanaka
Luis Severino
Sonny Gray or Jordan Montgomery
Sonny Gray or Jordan Montgomery
CC Sabathia
Plans can always change — Opening Day is four weeks from today and four weeks is an eternity in baseball — but that's how things line up right now. Works for me. Knock on wood, health and the weather will cooperate, and everything will go according to plan.
4. Dillon Tate, who I ranked as the eighth best prospect in the system, has pitched in one game so far this spring, but it wasn't televised, so we didn't get to see him in action. I'm hoping to see him soon because apparently the Yankees have him working on a two-seamer. From Brendan Kuty:
Dillon Tate is working on a new pitch — that's not the story. It's a two-seamer — that's not really story either. It's how he started throwing it. Tate said the Yankees' analytics department sized up his arm angle and spin rate and told him he'd be a "good candidate" to throw the pitch, so he's been working on it.
Interestingly enough, Matt Gelb says teams have an agreement to share minor league PitchFX data, so that's where the arm angle and spin rate stuff comes from. Anyway, a two-seam fastball could be a real game-changer for Tate. The book on him is that his velocity is high-end, but his fastball is kinda straight, and it gets squared up more than you'd like. The Nathan Eovaldi problem, basically. A two-seamer would give him a fastball with enough movement to miss the barrel. Learning a two-seamer isn't easy — lots of guys struggle to locate the pitch because they don't know how to control a fastball with that kinda movement — but if Tate can get it down, it could make a real difference for him. I hope to see him in a televised game soon to see how the two-seamer is coming along.
5. In these first few games I've heard Aaron Boone encouraging his players from the dugout rather enthusiastically — "Outstanding Birdie!" was a good one during the spring opener, after Bird worked a full count — which is definitely not something I can ever remember Joe Girardi doing at any point. I'm not trying to knock Girardi here. I can't ever remember any manager yelling like Boone has been this first week. I assume this is some new to the job enthusiasm and Boone will eventually tire himself out, though I find all these little differences between Boone and Girardi fascinating. Girardi was very business-like and hey, that's great. He won a title doing that. Boone is so much more outgoing, and he really seems like a big time player's manager. That doesn't mean he doesn't prepare or things like that. Boone and Girardi just have very different personalities. It's like the Yankees replaced Girardi with his exact opposite, and that is usually how managerial changes go. The Phillies replaced old school Pete Mackanin with the new school Gabe Kapler. The Red Sox replaced the old school John Farrell with the new school Alex Cora. The Yankees replaced the stern Girardi with the much more easy going Boone. Yelling words of encouragement from the dugout? That's a new one.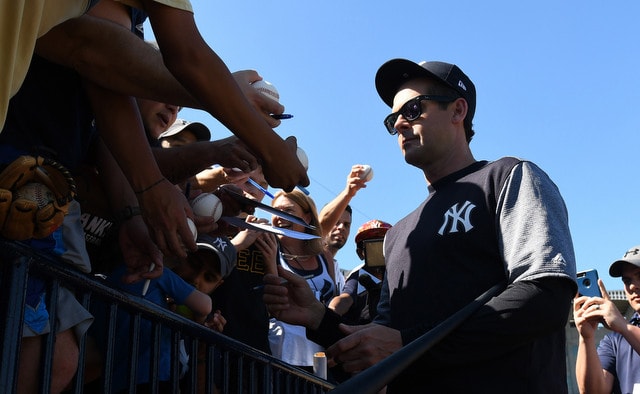 6. One thing I've noticed this last week is that holy cow, the Yankees' minor leaguers have been so much more impressive than minor leaguers with other teams. It's not just the teams the Yankees are playing. I've watched lots of baseball the last few days, both Grapefruit League and Cactus League, and the Yankees seem to have more talent than other clubs. The various scouting publications say New York's farm system is second best in the game behind the Braves and I can see why. These kids are talented, they know how to play the game, and many of them are close to the big leagues. The pitchers all seem to throw 96 with nasty hooks and the position players all have power or speed or both. I get the Tigers didn't send their A-team on the road yesterday, but they were running relievers throwing 90-92 mph with no command out to the mound. The Yankees had their third tier arms (Brady Lail and Will Carter, for example) on the mound throwing mid-90s. It has been eye-opening. The Yankees have gobs of talent and a very deep farm system, and that talent has been on display already this spring. It's awfully fun.
7. I saw my first bit of new mound visit rule weirdness yesterday. As the Yankees rallied in the ninth inning, Detroit's pitching coach went to the mound to talk to the pitcher, then a batter or two later the catcher got up and started to make his way to the mound. Catchers going to the mound counts as a mound visit now, so it would've been the second visit to the pitcher, necessitating a pitching change. The Tigers' coaches had to yell from the dugout to stop the catcher. He got maybe a step beyond the plate before retreating back. There aren't many mound visits in general in Spring Training because the pitchers are usually on strict pitch counts and no one cares about the score or the outcome, so we're not going to see how the new rules really change the game until Opening Day. I reckon yesterday won't the last time I see a catcher start to go out to the mound to talk things over with the pitcher, only to get told to go back behind the plate by the coaches.
8. And finally, there are no instant replay challenges in Spring Training, and I have to say, it is quite refreshing. The play happens and … that's it. No one argues, no one stalls for time so the replay guy can look at the play, nothing. It was the same way in the first two rounds of the World Baseball Classic last year. They had replay for homers only. It's nice to go back in time to the pre-instant replay era of baseball. Don't get me wrong, I am pro-instant replay — getting the call right is the most important thing — and I'm glad MLB has a system in place. It's just nice to watch a few meaningless games without it. There's no stalling and I'm not waiting anxiously for a replay after every close play.