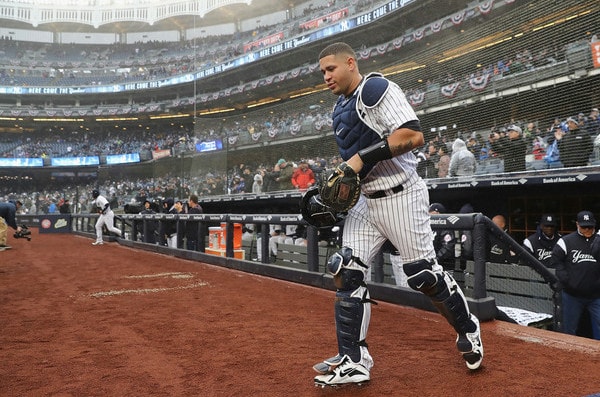 Eleven games into the 2018 season, Giancarlo Stanton has yet to be the impact hitter he's shown he can be throughout his career. Even before his MVP season last year, Stanton was a .266/.357/.539 (142 wRC+) career hitter who averaged 41 homers per 162 games, and that is undeniably great. We haven't seen that guy yet, however.
The biggest beneficiary of Stanton's early season slump? Gary Sanchez. Stanton and his strikeouts have been getting all the attention the last week or so, yet Sanchez has been the Yankees' worst hitter in the early going, and it's not even close. Two-hundred-and-twenty-eight players have at least 30 plate appearances so far this year. Here's where Sanchez ranks among those 228:
AVG: .056 (228th)
OBP: .081 (228th)
SLG: .167 (220th)
wRC+: -42 (228th)
How go you interpret a negative wRC+? You interpret it as really freaking bad. It's only eleven games, yes, but in those eleven games Sanchez has legitimately been the worst hitter in baseball. He is 2-for-36 with a homer, a homer that landed a few rows back in left field and elicited this reaction off the bat …
… and that reaction doesn't exactly scream "hell yeah I got all of that one!" It just happened to clear the wall in the #LittleAssPark. Gary has been really freaking bad in the super early going. Stanton has also been bad, and because he's the high profile offseason addition, everyone is focusing on him and Sanchez's total lack of production is seemingly flying under the radar.
"As far as the hitting goes, when you're that good a hitter and you're as young as he is or in the prime of your career, that's a matter of time," said Aaron Boone to Brendan Kuty recently when asked about Sanchez's slump. "It just means somebody's going to pay at some point, so I don't sweat that at all. That'll come. What I'm excited about is the impact that he's having on a daily basis behind the plate."
Sanchez's defense has been pretty good in the early going. He was never as bad as the pundits would lead you to believe, but through eleven games, Gary has looked very good defensively. He's been terrible at the plate though, and the bat is what makes Sanchez special. There are plenty of no bat/good glove catchers out there. Sanchez is supposed to be an elite bat/good glove catcher, and we've yet to see it this year. A few things on Gary's slump.
1. He's not striking out. Stanton's slow start has been an eyesore because he's striking out so much. He's struck out 22 times in 52 plate appearances, or 42.3%. Sanchez has struck out six times during his 2-for-36 start, which works out to a perfectly acceptable 16.2% strikeout rate. The league average strikeout rate this year is 22.7%. Last year it was 21.6%. If you could guarantee me Sanchez would maintain that 16.2% strikeout rate all season, I'd sign up for it right now no questions asked.
Furthermore, Sanchez's swing-and-miss rate is 9.2%, down from 12.5% last year and below the 10.7% league average. It's a small sample size. I know it is. The point is Sanchez's slump has a different shape than Stanton's. Giancarlo has had problems simply getting the bat on the ball. Gary has not. This has not been a strikeout fueled slump for Sanchez. This is a "the balls are not falling in" slump. The dude has a .034 BABIP. I mean, come on.
2. He's not walking either. Sanchez hasn't struck out excessively so far this season and he hasn't walked either. Like, at all. Zero walks in 37 plate appearances. Believe it or not, Gary's 37 plate appearances are only the sixth most among players with zero walks this year. Ozzie Albies has 50 plate appearances without a walk. Marcell Ozuna has 48 and Avisail Garcia has 47. Yikes.
Through 37 plate appearances Sanchez has seen only six three-ball counts, so that's one three-ball count every six plate appearances, give or take. The league average is one three-ball count every 4.5 plate appearances. Sanchez has averaged 3.84 pitches per plate appearance so far, which is basically identical to last year (3.86), so it's not like he's having shorter than usual at-bats. The walks just haven't come yet. When Aaron Judge went through his slump last July and August, he still walked a ton. Gary's not walking at all right now.
3. The batted ball data points to more than bad luck. That .034 BABIP is so hilariously low that there's basically no chance it continues. The law of averages won't allow it. Pitchers are collectively awful at hitting and they have a .217 BABIP so far this year. A .034 BABIP is baseball randomness at its worst. In years past we'd point out the low BABIP and say don't worry, it'll correct at some point. We're smarter than that though. We can look deeper.
On one hand, Sanchez has hit some rockets for outs so far this year. He's made seven outs on balls hit 100 mph or harder, second most behind Joey Gallo's nine. The league average is a .524 BABIP on balls with a 100 mph exit velocity or greater. Sanchez has a .125 BABIP on those such batted balls. Baseball can be so stupid sometimes. Now, on the other hand, here is the early infield pop-up leaderboard:
Albert Pujols: 6
Gary Sanchez: 5
Eddie Rosario: 5
Several tied with 4
Five infield pop-ups doesn't seem like much, but we're talking about a 37 plate appearance sample. It's a sample of 30 balls in play once you remove the six strikeouts and the one hit-by-pitch. One out of every six balls Sanchez has put in play has been an infield pop-up this year, and those pop-ups are BABIP killing easy outs. Last season Gary had one infield pop-up every 25 balls in play. Now he has five in the span of 30 plate appearances.
It's no surprise then that, even with those seven outs on 100+ mph batted balls, Sanchez has a .229 expected wOBA this season. There is an element of plain ol' bad luck to Gary's slump. He has had an inordinate number of well-struck baseballs turn into outs. Overall though, Sanchez is not making quality contact. He's popping up a lot of pitches and his 26.7% hard contact rate is far below last year's rate (36.9%) and the league average (32.2%).
* * *
The question now is why. Why is Sanchez making not great contact and not walking? Is it mechanical? Is he playing hurt? Has the league figured him out? I'd be very surprised if it's the last one. For what it's worth, Gary chalks it up a timing issue. "I feel like I'm rushing a little and opening my body. I want to correct that and try to stay up the middle and make good swings," he said to Kuty.
In his relatively brief big league career, every Sanchez slump has looked the same. He gets jumpy at the plate. It almost seems like Gary has made the decision to swing before the pitch is even thrown. That he hasn't struck out more during this slump is a testament to his hand-eye coordination and overall hitting ability. Once he relaxes a bit and gets back to distinguishing between pitches he can hit and pitches he should let go by, he'll get on track.
Sanchez has been really bad so far this year. There's no way around it. Truly the worst hitter in MLB, and that's not hyperbole. Worst by batting average, worst by on-base percentage, worst by wRC+. I don't think Gary's true talent level has changed though. I still think he's an top tier hitter with the ability to hit for average and power. We haven't seen that guy yet this year. The sooner Sanchez figures things out at the plate, the better off the Yankees will be, and they need him to figure it out soon.