Ten questions in the mailbag this week. The mailbag email address is RABmailbag (at) gmail (dot) com. We gets tons of questions each week and I answer as many as I can. If yours wasn't answered, don't take it personally. Keep trying.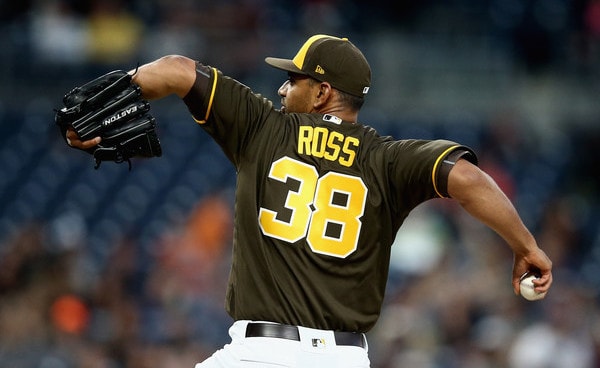 Michael asks: Early, I know, but Tyson Ross has looked as good as has since 2015. Injuries are the obvious red flag, but could there be a fit here? Could possibly be nice alternative to getting big prospect cost guy or perhaps a second SP if team is in need of two come July. Thanks!
Ross got roughed up last time out, which I'm willing to overlook it because he was pitching in Coors Field. Before that game, the just-turned 31-year-old slider specialist had a 2.81 ERA (3.27 FIP) in 25.2 innings with 23.5% strikeouts, 6.9% walks, and 50.7% ground balls. Ross took a no-hitter into the eighth inning against the first place Diamondbacks two starts ago.
When he was at his best from 2013-15, Ross was a high strikeout/high ground ball pitcher, and he's shown similar traits early this year. He hurt his shoulder in 2016 and later needed surgery to treat Thoracic Outlet Syndrome, which is very serious. Ross was terrible with the Rangers last year (7.71 ERA and 6.18 FIP in 49 innings), though that isn't surprising given the injuries.
At this point, I think Ross is someone worth keeping an eye on more than an obvious trade target. Let's see how he's doing in June and July. If he's still getting strikeouts and grounders, and is showing he can be effective as he gets further away from the injuries, then yeah, he could be a trade target. He's cheap (one year, $1.75M) and it shouldn't require a big prospect haul to get him. I'm intrigued. I want to see more before committing though.
Alex asks: At the plate, is Andujar currently similar to a rookie Cano? Does he project to improve similarly to Cano moving forward?
That's a lot to put on the kid. Robinson Cano is (probably) going to the Hall of Fame. I wouldn't project anyone, even a stud like Ronald Acuna or Gleyber Torres, to have Cano's career. It's not really fair to them. That said, there are some similarities between Cano as a prospect and Miguel Andujar now. They both made lots of contact and had power, and there were questions about their left side of the infield defense. (Cano started his career as a shortstop.)
There are three key differences between Cano and Andujar. One, Andujar is a right-handed hitter and Cano is a left-handed hitter, and being at the platoon advantage more often is not nothing. Two, Robbie's bat-to-ball skills even back then were truly excellent. Andujar's contact ability to really good. Cano was on another level though. And three, Cano's swing is picture perfect. Controlled, low effort, direct to the ball. Andujar has a much more aggressive hack. It works for him, but I'd always bet on a Cano swing over an Andujar swing. I like Andujar and think he'll be really good. Squint your eyes and there are some similarities to Cano. I wouldn't expect him to develop the same way though.
Jonathan asks: When a player makes a spot start at a much higher level like Alex Vargas did for Trenton, what is the rationale behind that? Couldn't that mess up his development?
Nah, not one start. The 20-year-old Vargas, who I ranked as the 30th best prospect in the system, made a spot start for Double-A Trenton last week in place of the injured Domingo Acevedo (blister). Vargas was in Extended Spring Training, he came up for the spot start (4.1 IP, 2 H, 0 R, 2 BB, 4 K), then went back to Extended Spring Training the next day. I expect him to join the Low-A Charleston rotation fairly soon. Probably before the end of May.
These decisions are based on two things. One, who's available to start that day? That's kinda important. They play games in Extended Spring Training — they travel and everything — and pitchers are on a schedule. Vargas lined up to pitch the day Trenton needed a starter. And two, who can handle it? Which pitcher could go up to Double-A, potentially lose a game, and not have his confidence destroyed? The Yankees deemed Vargas capable of such an assignment. One start is no biggie. Sending him there full-time could be a problem. He's not ready for an extended look there at this point in his development.
Mike asks: So, what's the deal with A-Rod and Monument Park?
I think Alex Rodriguez will get a spot in Monument Park … eventually. Might not be anytime soon though. Remember, the Yankees didn't give Paul O'Neill a plaque until 2014. He retired in 2001. The off-the-field stuff is a legitimate obstacle for A-Rod. He sued the team during his suspension appeal in 2014! That's why I think it'll take some time for things to blow over. A-Rod does still work for the Yankees as a special advisor, so the bridge hasn't been completely burned. He won two MVPs, spent 12 years in pinstripes, won a World Series, and was a major factor in that World Series run. A-Rod is clearly Monument Park worthy for me. I think it'll be a while before he actually gets a plaque (or No. 13 is retired!) though. The Yankees don't seem to be in a rush to recognize Alex in any way.
Dennis asks: What would it take to acquire Baltimore's Competitive Balance draft pick? Nestor Cortes enough? Have any of these picks been traded before?
Competitive Balance Lottery Picks, the extra draft picks given to small market teams, are the only draft picks eligible to be traded. The O's have the second pick in Competitive Balance Round A, which is the 37th overall selection. Usually those picks are included as the second or third piece in a larger trade. They've been traded straight up twice:
2015: Braves trade 75th overall pick to Diamondbacks for outfield prospect Victor Reyes (ranked 22nd best prospect in the system by Baseball America).
2014: Marlins trade 39th overall pick to Pirates for middle reliever Bryan Morris.
Dennis sent his question in before Cortes was returned to the Yankees as a Rule 5 Draft pick. Based on the Morris trade, could the Yankees get that 37th pick from the O's for Jonathan Holder? Maybe they'll take back Cortes. The draft pick is nice. The additional bonus pool money is the real prize. That allows you to spend more freely, and be in better position to sign elite talent that falls.
I should note the Orioles have a history of trading their competitive balance picks. They traded it in 2014 (Bud Norris trade), 2015 (attached to Ryan Webb to unload contract), and 2016 (attached to Brian Matusz to unload contract). I guess the O's don't like spending to add amateur talent. Maybe the Yankees and O's could get together for a big mid-range prospects for competitive balance pick and international bonus money deal this summer.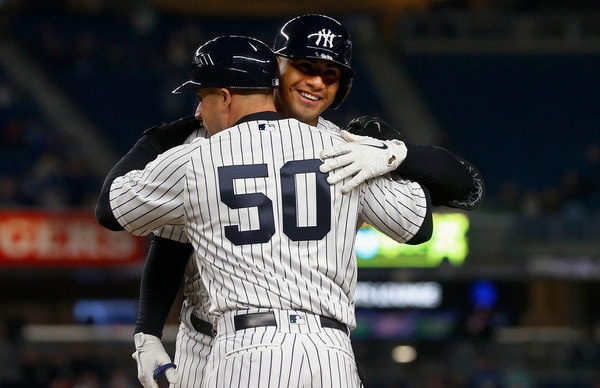 Mike asks: If Gleyber Torres is still on the roster come the double header on June 4th, is he eligible to play in those games being that he wasn't on roster at the time that game would've actually taken place?
Yep, absolutely eligible to play. It doesn't matter who was on the roster the day the game was postponed. Anyone can play in the makeup game. If the game had been rescheduled for September, all the call-ups would've been eligible to play too. It'd be pretty much impossible to force teams to play the makeup game with the roster they had the day of the postponement. Trades and injuries happen.
Matt asks: With the OF depth remaining pretty thin due to injuries and Wade having been optioned out, do you see him getting time in the OF at AAA, or will it strictly be SS/2B/3B? With Torres up, Andujar hot, Drury on the verge of starting a rehab assignment, and Torreyes pretty firmly entrenched as the utility infielder, Wade's best path forward may be as a supersub.
Yes, definitely. Tyler Wade can play the infield. We know that much. Giving him more time in the outfield to increase his versatility only makes sense. It helps the Yankees and it helps Wade, who doesn't have a clear path to playing time with the Yankees at all. Getting more comfortable in the outfield and becoming a versatile supersub may be his only chance to stick with the Yankees long-term. I think he'll see time in the outfield with Triple-A Scranton for sure, possibly once Thairo Estrada joins the team and they have another infielder available. The RailRiders' roster is kinda thin at the moment.
Alessandro asks: Watching the Yankees position player core play this week has got me thinking. Can you see a scenario where the Yankees pass on both Bryce and Machado and focus on the FA pitching (Corbin and others)?
Oh yes, absolutely. I'm not convinced the Yankees will spend huge in free agency this coming offseason, and if they don't, pitching should be the priority over another bat. Don't get me wrong, Manny Machado and Bryce Harper are incredible and I'd take them on my team any day of the week. But if Hal Steinbrenner sticks to his "you don't need a $200M payroll to win the World Series" credo, then pitching should be upgraded before the offense. Let's worry about this after the season. The Yankees could very well end up acquiring a cheap impact pitcher at the deadline, making rotation help less of a priority come wintertime.
Marc asks (short version): Does Jonathan Loaisiga qualify for a fourth option?
Loaisiga was added to the 40-man roster over the winter and this season is his first minor league option year. He has two more remaining, presumably for 2019 and 2020. Some players do qualify for a fourth option year, however. If a player burns his three options years within the first five years of his career, he gets a fourth option. That would've applied to Joba Chamberlain had he gone up and down back down back in the day.
There's also an injury component. Here's the fourth option injury criteria from an old Keith Law article that appears to have been scrubbed from the internet:
"A player who has missed one or more seasons to injury – meaning an entire season, or enough time to accrue fewer than 90 days on an active roster – may get a fourth option if, exclusive of those injury-shortened years, he has fewer than five full seasons in pro ball.

Seasons spent entirely in short-season leagues (the New-York Penn, Northwest, Pioneer, Appalachian, Gulf Coast, and Arizona Rookie Leagues, as well as the Dominican and Venezuelan Summer Leagues) don't count as seasons for the purposes of a fourth option."
None of that applies to Loaisiga. He's had plenty of injuries, but he hasn't been on the 40-man roster for any of them. Losing most of 2016 and part of 2017 to Tommy John surgery doesn't count towards a fourth option because he wasn't on the 40-man. Otherwise every minor leaguer who blows out his elbow gets a fourth option, and that's not the case.
Now, if Loaisiga were to get hurt again and miss the rest of this season, he would qualify for the fourth option. He's on the 40-man, he's in a full season league, and he would spend fewer than 90 days on the active roster. That triggers the fourth option. There are some other weird fourth option rules, so I suppose Loaisiga could qualify that way. His past injuries won't net the fourth option though. He wasn't on the 40-man for any of them.
Michael asks: This might sound like a weird thing to say, but shouldn't the Yankees move Gardner down in the lineup? His on-base skills are good, but his best-case net production is maybe a 115 wRC+, and shouldn't we want more of those at-bats to go to players like Stanton, Judge, Sanchez, Didi, Hicks – someone who will hit better in the aggregate?
It's something to consider, for sure. Gardner's hitting .230/.358/.299 (92 wRC+) in the early going, and I suspect that in a few weeks, he'll be back in that familiar .260/.350/.400 range. He is 34 though, and you never really know when the decline is coming. Aaron Hicks, the obvious leadoff hitter alternative, is hitting .256/.400/.436 (135 wRC+) and it's not at all crazy to think he'll out-hit — or at least out-OBP — Gardner the rest of the way. Gardner is a real pain in the butt at the plate. He works the count and fouls off a lot of pitches, but you know what? So does Hicks! I don't think a lineup change is anywhere close to imminent. Things are going pretty well right now. But if we get into the summer months and it's becoming increasingly clear Hicks is the better leadoff option, yeah, a change could be in order.