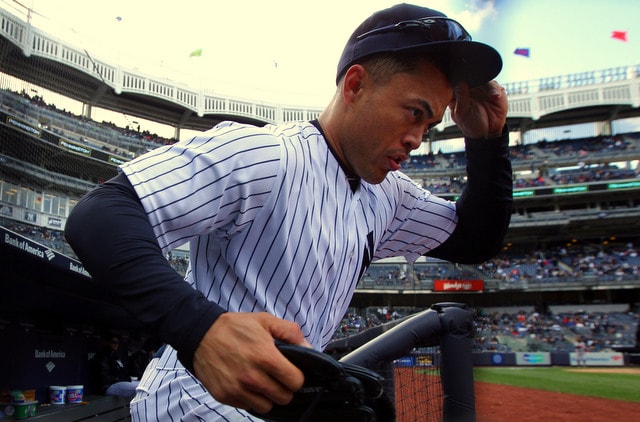 Yesterday afternoon the Yankees suffered a brutal loss when a 5-0 first inning lead turned into an 8-7 loss in 12 innings. When a team blows a five-run lead, even that early in the game, the blame has to start with the pitching staff, especially when the starter doesn't get through the fifth. But still, losing a game like that requires a team effort. It's never just one guy.
Despite that, all the headlines today are focusing on Giancarlo Stanton, who went 0-for-7 with five strikeouts yesterday — it was his second five-strikeout game in a week — and 3-for-28 (.107) with 16 strikeouts during the six-game homestand. Yesterday's game dropped his season batting line to .167/.271/.429 (98 wRC+) with 20 strikeouts in 48 plate appearances. The super early strikeout rate leaderboard:
Ian Happ, Cubs: 56.7%
C.J. Cron, Rays: 44.8%
Miguel Sano, Twins: 43.8%
Paul DeJong, Cardinals: 42.9%
Giancarlo Stanton, Yankees: 41.7%
You're surprised Giancarlo isn't higher, aren't you? It's okay, I was too. Stanton stunk during the homestand and the Yankees lost some heartbreakers, which is a great combination for boos. He heard them throughout the homestand and they were full-throated yesterday. I haven't heard an individual Yankee booed that loudly at Yankee Stadium since Alex Rodriguez. Booing is dumb, but fans are going to do it, so whatever.
"They're not gonna cheer," said Stanton after yesterday's game. "What do you expect?"
As bad as things have been lately, we have already seen the good version of Giancarlo Stanton this season. He smacked two home runs on Opening Day, and they were the kind of home runs only a handful of players can hit. Absolute lasers the other way and back up the middle. Stanton struck out five times in the home opener and was booed, then hit a pitch to the moon in his first at-bat the next day, which was a nice response. He cares. He's trying.
Any time a player struggles like Stanton struggled on the homestand, there's never just one reason. It's always a combination of things. For starters, his timing is off. That much is clear. Stanton looks jumpy at the plate — so does Gary Sanchez, for that matter — and he's in that bad place where he's late on fastballs and out in front of offspeed stuff. His small sample whiff-per-swing rates tell the story:
Fastballs: 36.2% (25.9% last year)
Breaking Balls: 40.6% (41.6% last year)
Offspeed: 57.1% (33.8% last year)
Secondly, Stanton sure does seem to be pressing. During the home opener I thought it looked like he was trying to hit the proverbial five-run home run each time up. First home game (and first homestand) in front of the new fans. I get it.
And third, Stanton is seeing some new pitchers and new teams for the first time, which isn't easy. That all comes with the territory. New opposing pitchers, new game plans, new coaches, new city, the works. J.D. Martinez is going through all the same things and he's hitting .226/.286/.419 (92 wRC+) with a 31.4% strikeout rate. No one cares though because the Red Sox are winning.
There are two possible explanations for Stanton's performance this season. Either he is actually this bad, now and forever, or he's just in a regular old baseball slump. I'll go with the latter. This isn't his true talent level. Stanton has had plenty of slumps in his career. He is 7-for-42 (.167) with 20 strikeouts right now. At one point last June he went 8-for-48 (.167) with 17 strikeouts. He's slumping now and you know what? He'll snap out of it, then he'll slump again at some point. That's baseball.
At this point of the season it's hard to break down anything — good or bad, it should be noted — with something other than "it's been ten games," but it's been ten games. Ten bad games for Stanton, especially yesterday, but still ten games nonetheless. We can acknowledge Giancarlo has been bad so far without thinking he'll continue to be this bad going forward. It's baseball. Weird things happen in small samples, and because it's early in the season, those weird things get magnified.
"You've just got to look at it as a bad week," said Stanton after yesterday's game. "The season's much longer than a week. A couple of good games, turn it around and help us win … It will be alright."