The home opener was worth the wait. After getting snowed out Monday, the Yankees opened the Yankee Stadium portion of their schedule Tuesday evening against the Rays, and their shortstop had a record-setting performance in the 11-4 win. Love this team, you guys.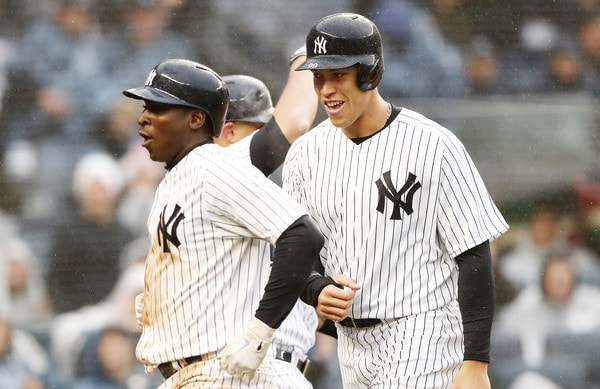 Sir Didi The Cleanup Hitter
Three years ago Didi Gregorius started the season so poorly there were "De-Rek Je-Ter!" chants at Yankee Stadium. During the home opener Tuesday, there were "Di-Di!" chants ringing throughout the ballpark. Two homers, one double, one single, one walk, and eight runs driven in. Eight! Aaron Boone has trusted Gregorius to hit between Giancarlo Stanton and Gary Sanchez, and that decision is paying major dividends early this year.
First came the double, a bullet to right to start the second inning. Didi later scored the game's first run on Tyler Wade's two-out single. One inning later, Brett Gardner and Aaron Judge opened the frame with back-to-back singles against Chris Archer — Gardner slapped a single up the middle and Judge poked a soft liner to left —  setting the stage for Stanton. Exciting! He struck out looking. Anticlimactic! Fortunately, Didi picked up the big guy. He jumped on a juicy fastball …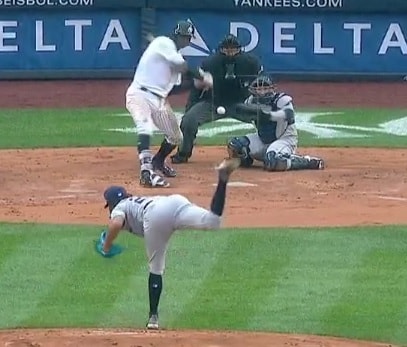 … for a three-run home run into the short porch. That pitch is pretty much in the exact same spot as the two Corey Kluber pitches Gregorius smacked out of the park in Game Five of the ALDS. That's his wheelhouse. Inner half and down a touch. Didi has that perfect golf swing for the right field short porch. His three-run bomb turned a 1-1 game into a 4-1 game.
But wait! Didi wasn't done. After the bullpen blew the 4-1 lead (more on that in a bit), the Yankees regained the lead when Tyler Austin doubled and Gardner bunted into an error in the seventh. I'm not sure if the wet field contributed to Matt Duffy's errant throw, but I'll take it. Judge singled to set up Gregorius for the three-run home run, this one a no-doubter tomahawked into the second deck in right field for an 8-4 lead. A curtain call followed.
Gregorius chipped in a two-run bloop single in the eighth inning to turn this one into a laugher, giving him the four-hit day. The 8 RBI are a) the most by a Yankee since Alex Rodriguez's 10 RBI game against the Angels in 2005, and b) the most ever by any player in a home opener. Hot damn. Also, Didi's seven extra-base hits are the most ever by a Yankees' left-handed hitter in the first five games of the season. Oh, and that eighth inning single? It was his first single of the season. What a game by Sir Didi.
The Return of Montgomery's Changeup
The Yankees decided against starting Luis Severino on normal rest Tuesday, allowing Jordan Montgomery to make the home opener start. He walked four in five innings and I'm willing to chalk some of that up to the rain and cold, though he didn't exactly pound the zone last year. A single, a walk, and a Brandon Drury throwing error gave Tampa their only run against Montgomery. The wet field may've contributed to the error. Either way, a run scored.
Montgomery's final line: 5 IP, 2 H, 1 R, 1 ER, 4 BB, 4 K. The most notable thing about the start was his changeup. Montgomery said he didn't have that pitch last season and he threw it a ton Tuesday. Some quick numbers from his first start of the season:
Changeups: 17 (more than in all but one of his final 12 starts last year)
% Changeups: 21.3% (15.2% last year)
Swings & Misses: 4 (as many as he had in his final six starts last year combined)
Players have been know to say they are working on certain things in Spring Training — especially pitchers and their changeups, good gravy — and have nothing come of it during the regular season, but in this case, Montgomery said he wanted to work on his changeup, he worked on his changeup, and he threw his changeup a ton in his first start. Excellent. See you in five days, Jordan.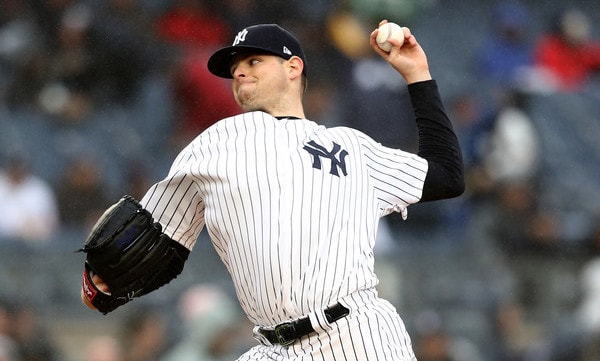 Death by Bullpen
Let's start with a few things about the latest bullpen meltdown. One, I am totally cool with pulling Montgomery after five innings and 80 pitches, especially in these conditions. The Yankees have been taking it easy on their starters early in the season and that works for me. These guys all threw a lot of innings last season and made a deep postseason run, meaning they had a shorter offseason to recover. I am all for the Yankees looking after their starters early in the season.
Two, Chad Green and Adam Warren obviously weren't available. Warren has the ankle issue and Green worked two innings Sunday, so Aaron Boone was probably trying to stay away from him. And three, Jonathan Holder against the middle of the lineup is bad news. Joe Girardi used to do the same thing too, and I complained about it all the time. He assigned innings and didn't deviate, which sometimes meant bad reliever against good hitters.
So out comes Holder with a three-run lead to pitch the sixth. First batter: Three-pitch strikeout. Awesome! The next four batters: Double, single, single, single. Just like that, the 4-1 lead became a 4-2 lead, and the Rays had the bases loaded with one out. Sigh. Holder was booed off the field, Tommy Kahnle came in, and he nearly got out of it before leaving a two-strike changeup up in the zone to Denard Span. The two-run double tied the game 4-4.
Fortunately David Robertson and Chasen Shreve closed things out with ease after offense blew the game open. But that sixth though? Woof. The Yankees like something about Holder, I'm not sure what (probably his curveball spin rate), but nine of the last dozen big league batters he's faced have reached base dating back to last year. I said it yesterday and I'm going to repeat it: If you don't want the eighth reliever blowing games, get rid of him.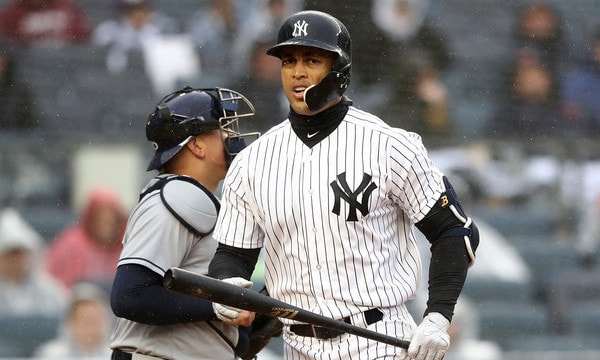 Leftovers
Rough first game at Yankee Stadium for Stanton. Five strikeouts! Yikes. That's a career high. He was booed after his final two at-bats, which is the dumbest thing ever. Giancarlo will be vaporizing balls in no time and all you herbs will be cheering like crazy. Go watch some Starlin Castro at-bats tonight as your penance.
Anyway, Judge had two hits and two walks, and has reached base safely seven of his last nine plate appearances. And yet, all you hear about is his slow start at the plate because he hasn't hit a ball into orbit yet. I told you this would happen. Two hits for Gardner, one hit apiece for Wade, Austin, and Neil Walker. Wade also had his first career homer robbed by Carlos Gomez at the short porch. Sucks.
Forgotten moment: Gardner threw a runner (Rob Refsnyder!) out at the plate to end the third inning. The sac fly would've given the Rays a 2-1 lead at the time. As I saw the ball in flight, I was hoping Gardner would let Judge catch the ball because he has the stronger arm, but Gardner made the catch and unleashed a perfect one-hop throw to the plate. Gary Sanchez made the scoop and the tag.
And finally, Shreve got into the game, throwing the ninth inning after the Yankees blew it open. He struck out two in the perfect inning. That means Ronald Torreyes is the only player on the active roster who has yet to appear in a game this season.
Box Score, WPA Graph & Standings
Go to MLB.com for the box score and video highlights, and ESPN for the updated standings. Here's our Bullpen Workload page. Here's the ol' win probability graph:

Source: FanGraphs
Up Next
More rain, unfortunately. The Yankees and Rays are tentatively scheduled to wrap this quick two-game series up tomorrow afternoon, but there's more rain in the forecast. We might be looking at another delay or postponement. Hope not. Luis Severino vs. Blake Snell is the scheduled pitching matchup.