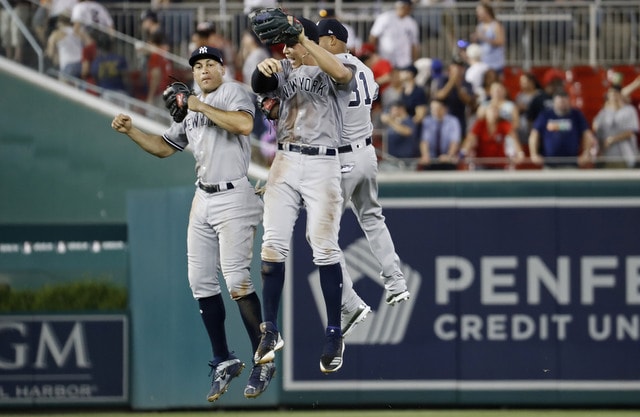 The Yankees are back in New York after that quick game and a half trip to Washington interrupted what was originally a seven-game homestand. The Mariners — the contending (!) Mariners — are in town to begin a three-game series tonight. They have the longest postseason drought not only in baseball, but all North American sports. The Mariners haven't played postseason baseball since Ichiro's rookie year in 2001.
Seattle has the AL's second best record since Robinson Cano was suspended, though that's selling them short. They are 35-16 since April 16th, the best record in the league behind the Yankees (35-13). Also, Mariners' second basemen are hitting .238/.264/.279 since Cano got suspended, so let's cool it with the "they're better off without Cano!" narrative that's brewing.
Anyway, enough about the Mariners. The Yankees are still trying to get their offense back on track, which will happen soon enough because there's just too much talent on the roster. Every team goes through (multiple) offensive funks each season. The Yankees are going through one now. Can't think of a better time to snap out of it than tonight. Here are the starting lineups:
New York Yankees
1. CF Aaron Hicks
2. RF Aaron Judge
3. DH Giancarlo Stanton
4. SS Didi Gregorius
5. C Gary Sanchez
6. 2B Gleyber Torres
7. 1B Greg Bird
8. 3B Miguel Andujar
9. LF Clint Frazier
RHP Domingo German
Seattle Mariners
1. 2B Dee Gordon
2. SS Jean Segura
3. RF Mitch Haniger
4. DH Nelson Cruz
5. 3B Kyle Seager
6. 1B Ryon Healy
7. LF Denard Span
8. C Mike Zunino
9. CF Guillermo Heredia
LHP Marco Gonzales
Another hot day in New York today, though at least there's a little bit of a breeze. Baseball weather in the Bronx. Tonight's series opener will begin at 7:05pm ET and you can watch on YES. Enjoy the game.
Injury Update: Brett Gardner (knee) ran the bases and hit today, and he is available off the bench tonight, if necessary. The hope is he'll be back in the starting lineup tomorrow.
All-Star Voting Update: MLB released the second AL update for the All-Star fan voting earlier today. Aaron Judge is the only Yankee in line to start the All-Star Game. Gary Sanchez has slipped narrowly behind Wilson Ramos at catcher. Gleyber Torres, Miguel Andujar, and Giancarlo Stanton are all distant seconds at their positions. Didi Gregorius is fourth among shortstops. Judge has a comfortable lead on an outfield starting spot. Here's the All-Star ballot.