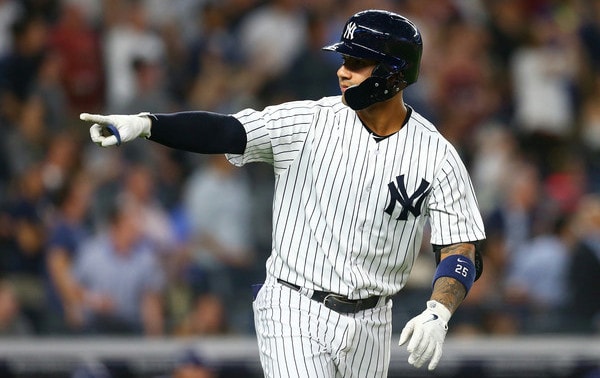 The Yankees won for the 11th time in 14 games last night because, once again, Gleyber Torres socked a clutch home run. The rookie has 13 homers in 45 games and eight of the 13 have either tied the game or given the Yankees the lead. Despite not being called up until three weeks into the season, Torres is third on the team in win probability added, behind only Aaron Judge and Brett Gardner.
Last night's home run was Gleyber's first outside the No. 9 spot in the lineup. He was hitting fifth against lefty Blake Snell, which is something Aaron Boone indicated could happen a few days earlier. "There will be a select day, maybe in the coming days, frankly, where I could hit him fifth or sixth," said Boone to Erik Boland earlier this week. Yesterday was the third time Torres hit fifth and the first time against a lefty, surprisingly. The other two starts came against Justin Verlander and Mike Fiers. Huh.
Boone has said — repeatedly, I should note — he likes Torres at the bottom of the order in the No. 9 spot because it lengthens the lineup a bit and also allows him to serve as a second leadoff man. I was totally on board with this a few weeks ago too. Seemed like a natural spot for a high-end rookie who was still cutting his teeth at the MLB level. Hard to argue with the results too, right? Torres is mashing, the bottom of the lineup has been great, and the Yankees are winning a ton.
"Our lineup and how it sets up, I just think the nine-hole is such a valuable spot in our order because of our team," added Boone. "I think his value in that nine-hole is significant, and I think it's played out that way where he's come up in a lot of big situations in that spot. And also as we turn over our lineup ahead of Gardy and Judge, in essence in a lot of cases it does become like a second leadoff hitter down there."
Torres is now hitting .295/.351/.577 (151 wRC+) with those 13 home runs on the season, and as well as things have worked with Gleyber in the No. 9 spot, I think it's reached the point where he's too good to hit that low in the order. It took Joe Girardi about 30 games to move Judge up into the middle of the lineup last year, and while Torres hasn't been 2017 Judge good, he's been really good. We're talking about 45 games of top notch production. Can't ignore his impact any longer.
Where should Torres bat, exactly? That's up for debate. I love love love the Gardner-Judge dynamic atop the lineup, and, going forward, I'd bet on both Giancarlo Stanton and Gary Sanchez being the very productive power hitters they've been their entire careers. This has been the top of Boone's lineup pretty much all season:
Brett Gardner
Aaron Judge
Didi Gregorius
Giancarlo Stanton
Gary Sanchez
Aaron Hicks
Torres, Miguel Andujar, and the first baseman du jour have then occupied the bottom of the lineup. Greg Bird's return has put an end to the first base revolving door, though he himself has not yet really gotten going at the plate. It'll happen soon enough, I'm sure.
Anyway, that's the standard top six of the lineup and I think the best thing to do is flip Torres and Hicks. Bat Torres sixth and Hicks ninth. The season is 64 games old, almost exactly 40% complete, and to date the No. 6 spot in the Yankees' lineup has received 23 more plate appearances than the No. 9 spot. Roughly one extra plate appearance every three games. Doesn't sound like much, but it adds up. It could be 50 extra plate appearances the rest of the way.
Moving Gleyber up is pretty self-explanatory. He gets more at-bats and it puts him in position to do damage in the middle of the lineup. As for Hicks, two things about him. One, Hicks is Actually Good. Can't believe I have to explain this. He's hitting .243/.343/.434 (113 wRC+) overall — it's .300/.354/.650 (158 wRC+) with runners in scoring position and .286/.359/.543 (146 wRC+) in June, so spare me the "he's not clutch" or "he's sucked lately" arguments — and he's a really good defensive center fielder. And he's what, the eighth best player in the lineup? The Hicks hate is one of the weirder things going on in Yankeeland right now.
And two, I think Hicks has the more appropriate skill set to serve as that all-important second leadoff hitter in the nine-spot. Torres has more power — we're talking about 13 homers and a .282 ISO vs. seven homers and a .191 ISO — and you want that power in the middle of the lineup. Also, Hicks is the better on-base player. He draws significantly more walks than Torres (13.2% vs. 6.4%), and, over the last 30 days, he's reached base much more often as well (.375 OBP vs. 333 OBP). More power in the middle of the lineup and more on-base ability for the second leadoff guy. Perfect.
"I'm not protecting him by any means. He's a good player and wherever I hit him I don't worry about him," said Boone to Boland when asked whether he worries a move up the lineup would put too much pressure on Gleyber. I'm with Boone there. I don't worry about Torres at all. He still has his rookie moments, but he's mature and he's super advanced at the plate. He has that slow heartbeat so many great players seem to have. I don't worry whether moving up into a more premium lineup spot will throw him out of whack.
I'm not normally a big lineup hawk, though in this case, we're talking about what, the third or fourth best hitter on the team batting ninth? I have no trouble with leaving the rookie at the bottom of the order as he gets his feet wet. Gleyber's feet are wet now. He's producing at a high rate, too high to get the fewest at-bats among starters. Hicks is the perfect second leadoff hitter replacement, so flipping them in the lineup is an easy move that could make an already very good lineup even more dangerous.