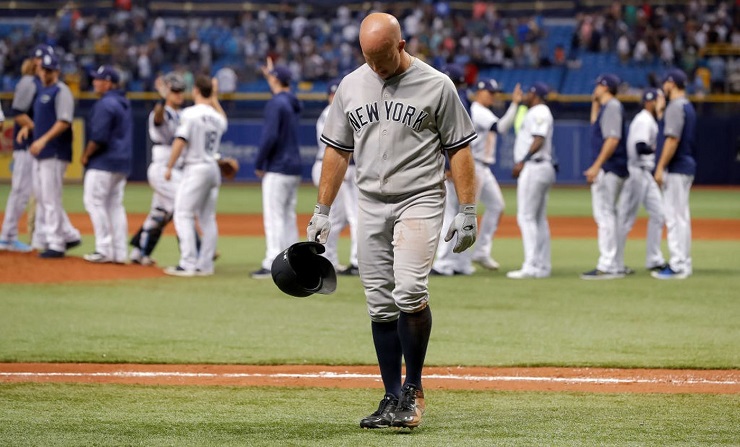 Terrible at the Trop, Part I
The Yankees hit the road this weekend but left their bats at home, opening the series in Tampa with a pathetic 2-1 loss. They were held to just five hits, extending their recent clutch-hitting slump. Friday's 1-for-9 RISP performance made then 12-for-94 (.128) over their last 15 games dating back to June 6 against the Blue Jays. That was the worst batting average with RISP of any MLB team in that span (June 6-22). Prior to June 6, the Yankees were hitting .275 with RISP, the third-best mark in MLB at that point.
But … the Yankees still went 11-4 over those 15 games, the second-best record by any MLB team from June 6-22. The answer to that riddle isn't too hard to figure out:
Yankees June 6-22

| | Stat | MLB Rank |
| --- | --- | --- |
| Opp BA with RISP | .144 | 1st |
| BA with RISP | .128 | 30th |
| Team W-L | 11-4 | 2nd |
There was really nothing spectacular to highlight from this game, so let's have some fun with a few Obscure Yankeemetrics.
This was just the second time in the last 20 years that the Yankees lost a game in which they allowed at least 10 hits but no more than one earned run (it also happened on May 18, 2004 at Anaheim).
The only other time in franchise history they were held to one run or fewer by at least six different pitchers — and none of them got more than 10 outs — was when they were no-hit by the Astros staff on June 11, 2003. Thanks, #TheOpener.
Brett Gardner's GIDP in the top of the ninth sealed the Yankees loss. It was the first time in his career he grounded into a game-ending double play with the potential winning or tying run on base.
Ok, that's the end of #FunFacts for this series.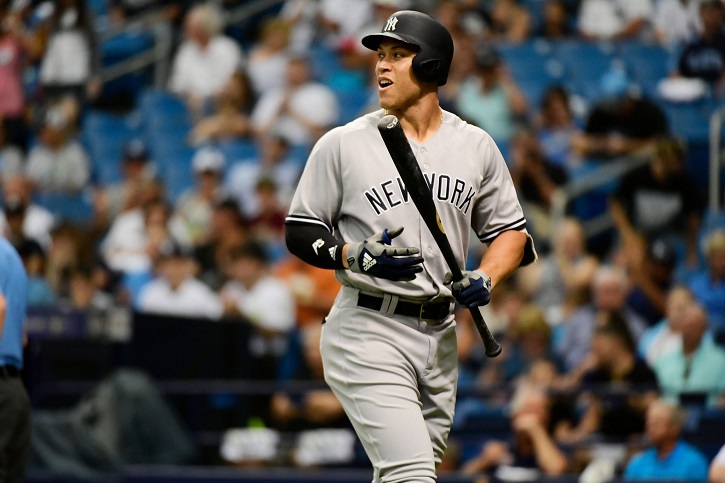 Terrible at the Trop, Part II
As a wise Hall of Fame catcher used to say … it was deja vu all over again for the Yankees on Saturday afternoon. Yet somehow it was even worse than Friday, as they were blanked for just the second time this season and held to four hits in a 4-0 loss.
It's the first time ever that the Yankees have scored no more than one run and had no more than five hits in consecutive games within a series against the Rays. It's also the first time they lost back-to-back games to any team this season since May 22-23 at Texas. In that month-long span since then, every other team had lost at least two games in a row.
Tropicana Field has been a legit house of horrors for the Yankees this decade. After dropping the first two games of this series in Tampa Bay, they fell to 30-43 (.411) at the Trop since 2010, their worst record at any AL ballpark in that span.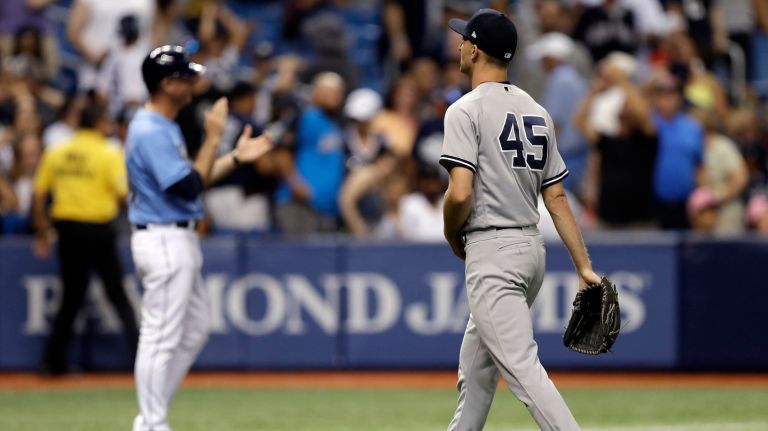 Terrible at the Trop, Part III
The Yankees capped off their worst stretch of the season with a horrible 7-6 loss in 12 innings to the Rays. There were a bunch of firsts in this game, all of them forgettable:
First three-game losing streak of season; they were the only MLB team this season without a losing streak of three or more games. This was the farthest the Yankees went into a season with losing more than two games in a season since 1954 (games 122-124).
First time swept in a series of at least two games; the only other teams this season that haven't been swept in a multi-game series yet are the Red Sox and Astros.
First walk-off loss of season; they were the only MLB team this season without a walk-off loss. This is just the fourth time in last 80 years that the Yankees had zero walk-off losses in their first 74 games. The other seasons? 2005, 1999, 1998. #SilverLining?
It hardly seemed like the Yankees would even have a chance to play free baseball on Sunday based on the first few innings when Domingo German was pummeled by the Rays. He gave up six runs on nine hits, six for extra bases, before getting pulled with no outs in the fourth. Only three other pitchers in franchise history have allowed at least six earned runs and six extra-base hits in a game: Mike Mussina (2002), Dave Eiland (1991), Doyle Alexander (1982).
Giancarlo Stanton was in full beast-mode, the lone offensive star in this game. He went 5-for-5 with two doubles and a game-tying homer. He's the first Yankee with a five-hit game in more than six years, when Curtis Granderson did it on April 19, 2012 vs Twins. Since that date, every other MLB team has had at least one player get five hits in a game.
It was also his fourth game with at least four hits this season, tied with Jose Altuve for the most in MLB; the rest of the Yankees have combined for four four-hit games (no one else has more than one).
The Yankees bullpen held the Rays scoreless for eight innings after German's early implosion, until … Mr. DFA (uh, Chasen Shreve) entered in the bottom of the 12th and gave up a solo homer to Jake Bauers on the very first pitch he threw.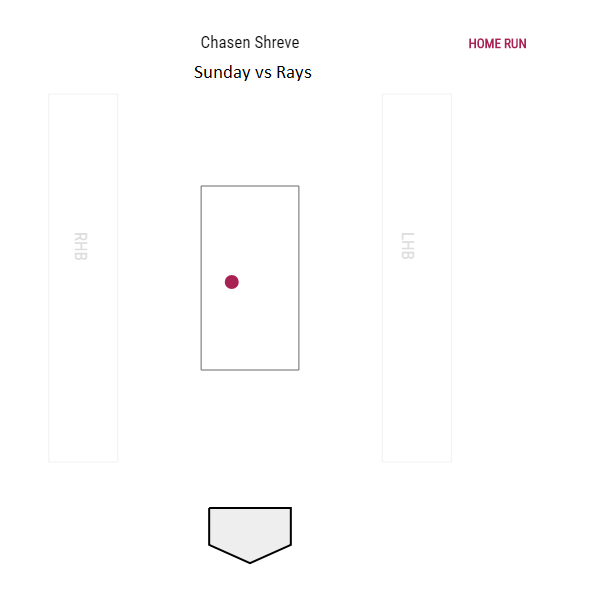 Gross. It's no secret that Shreve has been awful recently. In his last nine appearances, he's pitched eight innings, given up nine runs on 13 hits, including four homers. The more insane stat might be that he's literally been the lone weak link in the Yankees bullpen over the last three weeks:
Yankees Bullpen Last 18 Games (since June 5):

Chasen Shreve: 6.1 IP, 5 R, 3 HR
Rest of team: 54 IP, 0 R, 0 HR

— Katie Sharp (@ktsharp) June 24, 2018