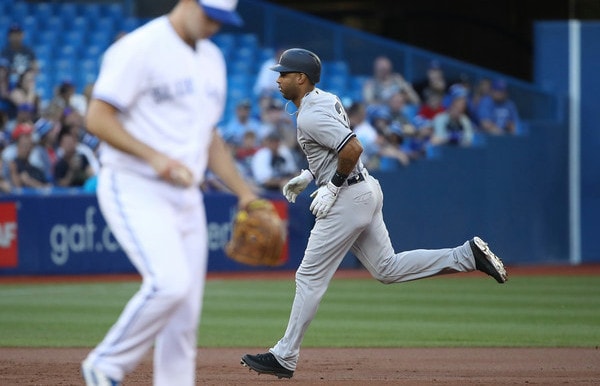 6:31pm ET: Hicks left the game with a left leg cramp, the Yankees say. Phew. Cramping hurts like hell but it's no big deal in the grand scheme of things. Hopefully Hicks will be back in the lineup soon, though it wouldn't surprise me at all to see him sit out the series finale on the turf tomorrow.
6:06pm ET: Aaron Hicks was removed from this afternoon's game after the top of the fifth inning for an unknown reason. The Yankees held a 7-3 lead at the time, which is comfortable, but isn't "take one of your best players out for extra rest two days after an off-day" comfortable.
If Hicks was removed due to injury or as a precaution, there was no obvious play where he got hurt. Hopefully he didn't tweak an oblique or intercostal taking a swing again. Hicks went on the disabled list with an intercostal strain following a game at Rogers Centre earlier this year. He missed a few weeks.
The Yankees have not yet announced an update on Hicks, so stay tuned. Needless to say, losing him for any length of time would be very bad, even with Clint Frazier ready to step into the lineup. The Yankees are without Gary Sanchez (groin) and Gleyber Torres (hip) already. No Hicks would be bad news.