A well-deserved loss, this was. The Yankees had plenty of opportunities — plenty of opportunities — to put this game away both in regulation and overtime, and failed time and time again. The Braves won Monday night's series opener 5-3 in eleven innings. Annoying loss is annoying.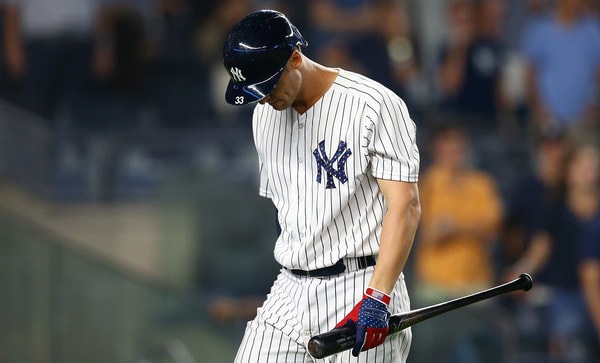 An Airing of Offensive Grievances
The Yankees scored three runs three different ways Monday night — Aaron Judge hit a solo homer, Gleyber Torres scored from third on a wild pitch, and Didi Gregorius got a run home with a sacrifice fly — and they also stranded runners every which way. It wasn't until that final 11th inning that they went down 1-2-3. The Yankees had ducks on the pond all night.
Lots of little things added up in this loss. First and foremost, Gleyber Torres is still hitting ninth, which is pretty ridiculous with Gary Sanchez sidelined. Torres should've been moved up a few weeks ago. Instead, he's still ninth, and four times — four times! — he was left on deck because Kyle Higashioka's lineup spot make the final out of the inning with a runner in base. To recap:
Second Inning: Higashioka flies out with a runner on second.
Sixth Inning: Higashioka strikes out with a runner on first.
Eighth Inning: Pinch-hitter Neil Walker strikes out with runners on the corners.
Tenth Inning: Austin Romine strikes out with the bases loaded.
Oy vey. Look, using the No. 9 hitter as a second leadoff guy is a nifty little move. Torres led off four innings and reached base three times! But when your starting catcher — and backup catcher! — are hurt, maybe don't bat your third string catcher ahead of the Rookie of the Year favorite and one of your better hitters? Who knows how the game plays out with, say, Torres batting fifth instead of ninth. But seeing him left on deck four times really drove home the silliness of batting him behind Higashioka.
Secondly, why in the world is Brandon Drury on the roster if he's not going to pinch-hit for Greg Bird against a lefty with the bases loaded in the tenth inning? (Or instead of Walker in the eighth?) Even if the Braves bring in a right-hander, who cares. It's not like Bird has hit them much this year. He looks like he's swinging underwater right now. The lefty (Jesse Biddle) struck Bird out on three pitches and holy cow it was an ugly at-bat. Totally noncompetitive. And don't even get me started with Romine's inning-ending strikeout as the next better.
Alrighty then. Yankees' catchers are 2-for-24 (.083) since Gary Sanchez got hurt and Romine personally is in a 4-for-37 (.108) skid. Please hurry back, Gary. I think everyone who thought the Yankees would be better off with Romine behind the plate have learned their lesson.
And third, it blows by mind Judge and Giancarlo Stanton still aren't hitting back-to-back. Squeezing literally any other player on the roster between them — except maybe Sanchez when he's hitting like we know he can — feels like a gift to the pitcher. Gregorius went 1-for-5 with a sac fly but also grounded into an inning-ending double play in the seventh and struck out to end the game. Also, three times the top of the order faced a lefty! Worrying about the matchups is so 2008. Bat Judge and Stanton back-to-back and let 'em eat. Fin.
Loaisiga Labors
In two of his four big league starts, Jonathan Loaisiga put up zeroes and really impressed. In his other two starts, Loaisiga looked like a kid with minimal pro experience who jumped straight from Double-A to the big leagues. This was one of those starts. The Double-A to the big leagues starts. The Braves worked Loaisiga hard — they didn't chase his slider down below the zero much at all — and forced him out of the game after four innings and 92 pitches.
Loaisiga faced 65 batters in his first three starts and allowed just one extra base hit total. That was a double. Then, in the span of eight batters Monday, Loaisiga allowed four extra-base hits. Regression is cruel. The first of those four extra-base hits was a Johan Camargo game-tying solo home run into the short porch in the third inning. Wasn't a bad pitch! Camargo went down and golfed a two-strike slider out to right field.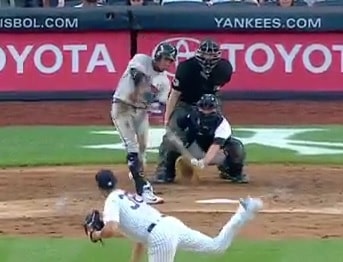 The other three extra-base hits came consecutively in the fourth inning. Nick Markakis doubled to right — Judge nearly threw him out at second base, but Markakis slid in just ahead of the tag — then Kurt Suzuki and Ronald Acuna Jr. pulled doubles down the third base line. Suzuki put up an eleven-pitch at-bat and Loaisiga just couldn't put him away. He showed him everything and Suzuki spoiled it all. Alas.
Loaisiga's final line: 4 IP, 5 H, 3 R, 3 ER, 0 BB, 3 K, 1 HR on 92 pitches. That works out to 5.41 pitches per batter and 7.67 pitches per out. Young and inexperienced pitcher is inefficient. News at eleven. It it notable that, for the fourth time in four starts, Loaisiga's velocity faded as the game progressed. His fastball velocity throughout the night: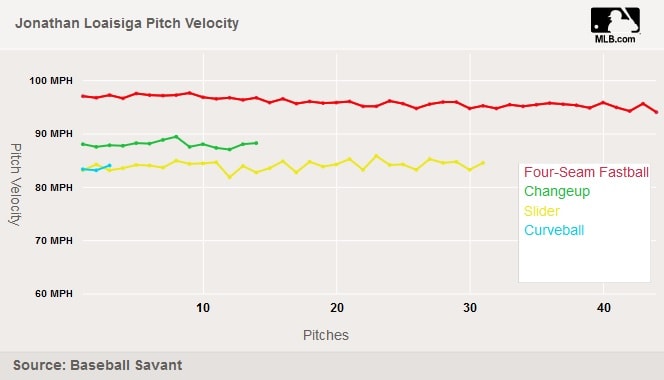 Velocity loss is always a red flag, but this has happened in every start so far, so chances are this is all about Loaisiga not pitching much the last few seasons. His arm strength is not where you would expect it to be for a 23-year-old. The stuff is good. Loaisiga has the three pitches he'll need to start. Now he just needs some innings and experience. The Yankees sent Loaisiga down after the game — A.J. Cole was activated off the disabled list — and he'll benefit developmentally by going back to Triple-A for a bit. He held his own in the big leagues, and it is appreciated.
A Lost Battle of the Bullpens
The loss was not on the bullpen. Yeah, David Robertson allowed Acuna's go-ahead two-run homer in the 11th, but the offense should've won the game like four times over by then. And besides, it was a cheap little short porch job. Judge would've caught it if it were 6-foot-9 instead of 6-foot-7. Live by the short porch, die by the short porch.
Overall though, the bullpen was great following Loaisiga's short start. Two shutout innings for Jonathan Holder, two shutout innings for Chad Green, and one shutout inning apiece for Aroldis Chapman and Dellin Betances before Robertson gave up the homer to Acuna. Also, Dellin made Ozzie Albies do this:
Dellin's breaking ball stole Albies's soul away pic.twitter.com/NmqXoc3j37

— Sung Min Kim (@sung_minkim) July 3, 2018
The relievers did their part, especially after the Loaisiga bowed out early. At some point the offense had to hold up its end of the bargain and it just didn't happen.
Leftovers
You know what really stinks? Aaron Hicks had the game won. He dunked a double into the right field corner with one out in the tenth and Gregorius would've scored from first on the play had it not hopped over the wall for a ground-rule double. Bah. I hate that. Of course, the Yankees had the bases loaded and one out later in that inning before Bird and Romine barfed all over everything.
There seem to be people upset Brett Gardner didn't bunt following Didi's leadoff single in the ninth. I mean, I know Gardner grounded into a double play, but if he bunts Judge gets walked. You know that, right? That's bad. Totally cool with letting Gardner swing away there. He hit it basically to the one spot where they could turn a double play, and he still nearly beat it out.
Two more hits for Hicks, who is up to .264/.347/.509 (132 wRC+) on the season. Gardner (two walks), Judge (homer, two walks), Andujar (single, walk), Bird (single, walk), and Torres (two singles, double, walk) all reached base multiple times. The Higashioka/Walker/Romine lineup spot was the only one that failed to reach base. Bah. What a dumb game.
Box Score, WPA Graph & Standings
Check out ESPN for the box score and updated standings, and MLB for the video highlights. Here is our Bullpen Workload page and here's the loss probability graph:

Source: FanGraphs
Up Next
Same two teams Tuesday night, in the middle game of this three-game interleague series. Domingo German and Sean Newcomb are the scheduled starters for that one.