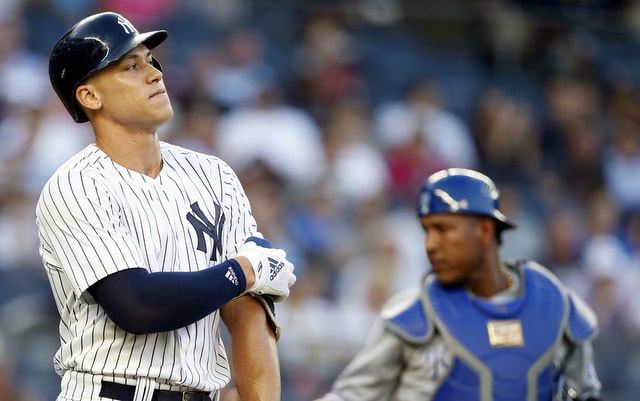 The Yankees lost even though they won last night. Aaron Judge took an errant pitch to the right wrist and suffered a chip fracture that will sideline him at least three weeks. Judge is the best player on the team and one of the very best players in baseball. For all intents and purposes, he is irreplaceable. The Yankees will have to get by without him the next month or so. Sucks, but it is what it is.
The best way for everyone to feel better about Judge's injury? Another win. The Royals stink. They've scored the fewest runs (367) and allowed the most runs (564) in baseball this season, and we saw enough sloppy defense and silly baserunning — I still can't believe Alex Gordon got thrown out at the plate to end last night's game — that it's no mystery why they're so bad. Treat them accordingly. Go win a game for Judge. Here are tonight's lineups:
New York Yankees
1. LF Brett Gardner
2. RF Giancarlo Stanton
3. SS Didi Gregorius
4. CF Aaron Hicks
5. 2B Gleyber Torres
6. 1B Greg Bird
7. DH Miguel Andujar
8. 3B Neil Walker
9. C Austin Romine
LHP CC Sabathia
Kansas City Royals
1. CF Whit Merrifield
2. RF Rosell Herrera
3. 3B Mike Moustakas
4. C Salvador Perez
5. LF Jorge Bonifacio
6. DH Lucas Duda
7. 1B Hunter Dozier
8. SS Alcides Escobar
9. 2B Adalberto Mondesi
RHP Brad Keller
The bad news (aside from Judge's injury, of course): It is raining in New York. Has been for a while and there are scattered showers in the forecast pretty much all night. Not sure if there's enough of a window to play a full nine innings, so make sure you have a lead after the top of the fifth, Yankees. First pitch is scheduled for 7:05pm ET and you can watch on WPIX. Back-to-back WPIX broadcasts? That's weird. Anyway, enjoy the game.
Injury Updates: Judge (wrist) could begin taking dry swings as soon as next week, and Aaron Boone said it is "pretty realistic" that he'll return to game action in three weeks. Boone made it sound like Judge could be back with the Yankees in three weeks. That'd be cool … Sonny Gray (hand) is fine after taking that comebacker to the thumb yesterday. X-rays came back negative and he'll make his next start as scheduled … Clint Frazier (post-concussion migraines) is going to Tampa to continue his rehab. He won't be cleared to return until he is completely symptom free and the Yankees don't have a firm timetable for his return … Jacoby Ellsbury (oblique, hip, foot, back) has not yet started baseball activities and there is no timetable for his return. Frazier and Ellsbury won't be options while Judge is sidelined.
Roster Moves: Tyler Wade was called up to fill Judge's roster spot. Will he actually play this time around? Who knows … J.A. Happ is not with the Yankees yet because his flight to New York was delayed by the weather. He's not on the active roster yet. Happ is tentatively scheduled to start Sunday and, if you care about such things, he will wear No. 34.
Update (6:47pm ET): The Yankees say they "do not intend" to start tonight's game on time. That's a new way of announcing a delay. No word on a start time yet.