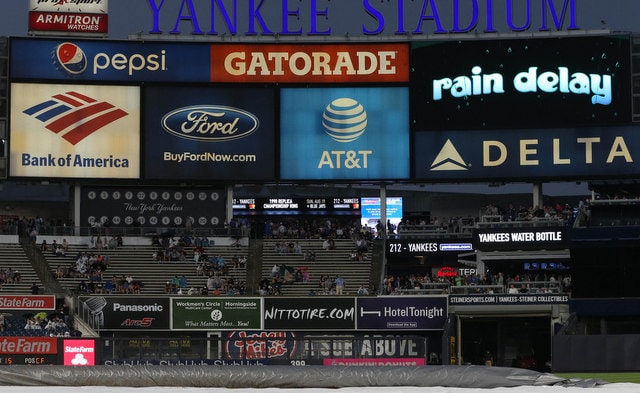 Another day, another rainout. Tonight's game with the Royals has been postseason due to rain, the Yankees announced. It'll be made up as part of a split doubleheader tomorrow. The first game is scheduled for 1pm ET and the second game is scheduled for 7pm ET. Here is the rainout ticket policy.
The 1pm ET game tomorrow is the regularly scheduled game, and if you're hoping to score a CC Sabathia bobblehead tomorrow night during the makeup game, forget it. The Yankees say the bobbleheads were fully distributed to fans at the ballpark tonight. Too late to get one. Alas.
Because the doubleheader was not scheduled 48 hours in advance, the Yankees and Royals can add a 26th man for the second game only tomorrow. They have to play with a 25-man roster in the first game. Gio Gallegos has been the designated 26th man pretty much all season. I assume he'll get the call. Here are the rotation plans:
Saturday vs. Royals: Luis Severino (Game One) and CC Sabathia (Game Two)
Sunday vs. Royals: J.A. Happ
Monday: Off-day
Tuesday vs. Orioles: Masahiro Tanaka
Wednesday vs. Orioles: Sonny Gray
That lines up Severino, Sabathia, Happ, and Tanaka for the four games at Fenway Park next weekend. I should mention that Happ has not yet joined the Yankees. His flight to New York was canceled today because of the weather. So he's going to arrive tomorrow and pitch Sunday? Wonder if he gets pushed back to Tuesday. We'll see.
Anyway, this is now the ninth — ninth! — postponement of the season for the Yankees, including the suspended game against the Nationals. They still have a doubleheader tomorrow, a makeup game (lost an off-day) against the Mets on Monday, August 13th, and a doubleheader in Baltimore on Saturday, August 25th. So annoying. So, so annoying.